Socios.com Extends Fan Token Deal With Argentina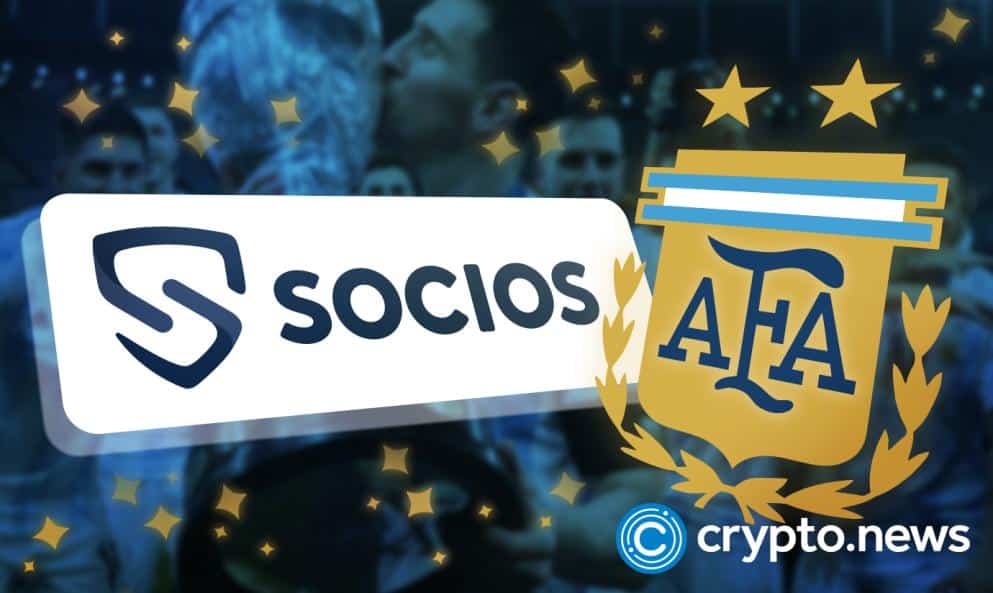 Crypto fan token platform, Socios, on 31 August 2022 announced an extension of its current deal as exclusive providers of the official $ARG Fan Token until at least 2026 with the Argentine Football Federation (AFA), to help drive Web3 fan engagement.
Fans to Get More Exclusive Offers and Benefits
In May 2021, the $ARG token was released and built on the Chiliz blockchain. Owners of the $ARG tokens can participate in games and competitions and vote in polls. Fans are also rewarded for their loyalty with VIP experiences, merchandise, and free non-fungible tokens.
"AFA's commitment to continuing our agreement aimed at further expanding our Fan Token partnership is great news for Argentina fans." Alexandre Dreyfus, CEO of Chiliz and Socios.com, said "As strategic partners, we'll work continuously with AFA to create new ways for fans to engage and be rewarded through $ARG Fan Tokens. We're excited by all the possibilities on the horizon, starting with this year's FIFA World Cup, and look forward to building a vibrant, connected community for all Argentina fans on Socios.com."
The AFA President, Claudio Tapia also expressed delight with the deal stating that it was vital for both parties to extend the partnership as it will "continue generating digital income" which will foster a closer bond between the federation and Argentine football fans all over the world.
He went further to say that with the Qatar 2022 World Cup in sight, it is an important year for AFA and the federation is looking to "strengthen all our projects and increase the presence of our brand in all markets."
Serious Legal Tussle
It's worth noting that it has not been all sunshine and rainbows between Socios and the AFA. In January 2022, the fan token platform sued the Argentine Football Association (AFA) for terminating its sponsorship contract. This came after AFA announced cryptocurrency exchange Binance as a headline sponsor, including for fan tokens, sponsorship, and naming rights.
An Argentine court issued an injunction, ordering AFA to recognize the three contracts signed with Socios "including the fan token, sponsorship of the national team and naming sponsor, and to refrain from performing any action, carry out any proceeding, or apply any measure that would hamper the exercise of Socios' exclusive rights."
The controversy didn't deter the agreement with Binance, In May 2022, Binance confirmed its sponsorship as the main global sponsor of the national team alongside Adidas. Many believe that Socios' successful extension of their deal with the AFA was in part owed to the existing partnership with Argentina National team captain Lionel Messi as a global brand ambassador for Socios.com. Messi himself is no stranger to crypto fan tokens as it was revealed early last month that the Argentine would receive a portion of his wages at French football club Paris Saint-Germain in $PSG fan tokens.
There appeared to be some changes in the terms of the new deal as Socios no longer seems to have naming rights or is listed as a sponsor, but both parties would work together to come up with exciting programs for fans' engagement in the upcoming FIFA World Cup 2022, Copa América in 2024, and the FIFA World Cup in 2026.
Socios is actively redefining fan engagements and revenue mechanisms for fans and clubs respectively. Many top football clubs like FC Barcelona, Juventus, and so on are already jumping in on the 'crypto train.'