Solve.Care is Bringing DeFi to Healthcare, To Launch a Governance Token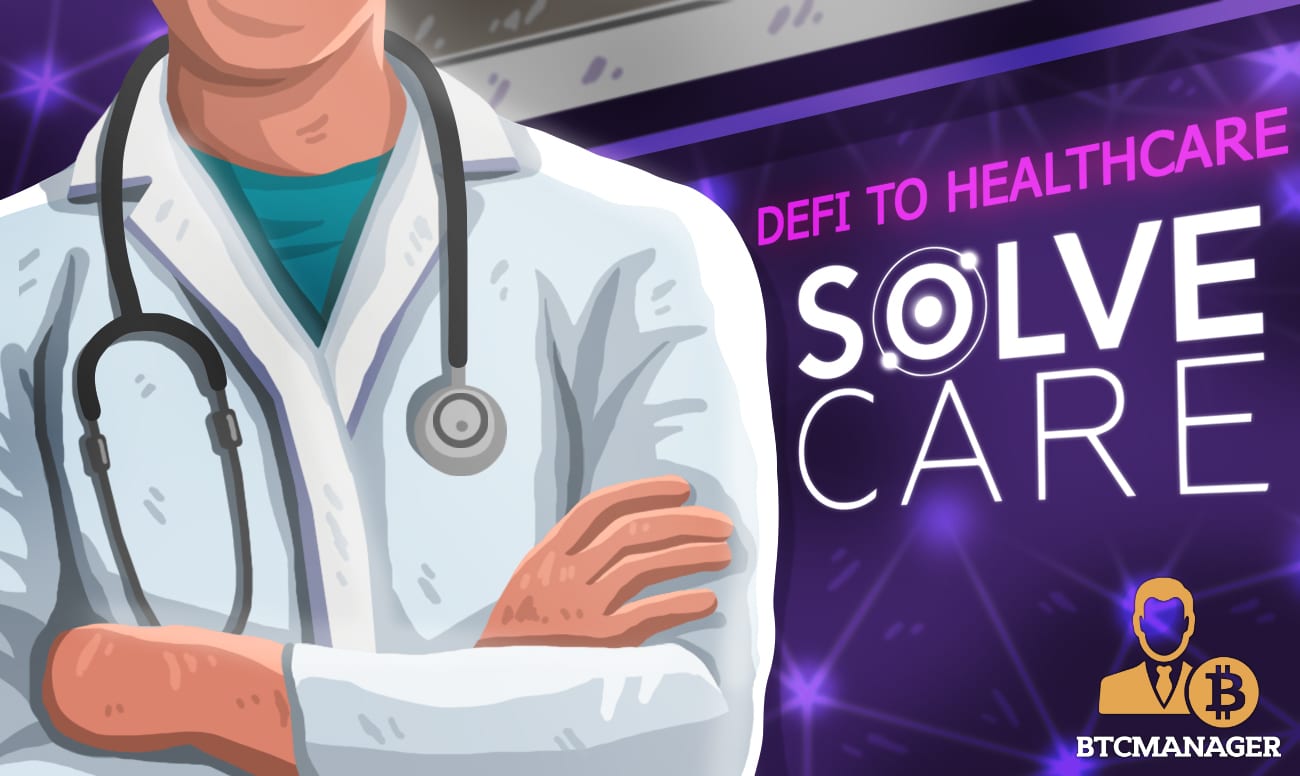 There is an ingenious way through which the multi-trillion dollar healthcare sector can positively tap the emerging DeFi market to directly benefit real doctors and patients according to Pradeep Goel, the CEO of Solve.Care—an Ethereum-based global healthcare platform. They now plan to launch a DeFi solution and launch a new governance token to fill a gap in healthcare.
Fusing Healthcare and DeFi
In a Telegram presentation on Sep 11, the executive explained that DeFi is admittedly still at its infancy. 
As users race to farm protocols with the highest yields, the tenets underpinning DeFi — openness and transparency, can be used to transform healthcare, especially during these unprecedented times. 
Notably, if emerging protocols use community governance and funding, healthcare can be scaled and new DeFi use cases created, presenting interesting opportunities.
On the same vein, medical device financing and leasing can similarly reap massive benefits if the governing principles of DeFi are employed. Statistics show that the medical device sub-sector attracts over $470 billion per year. 
If medical devices primarily used in monitoring are financed or leased through trustless DeFi protocols, a crucial market–presently without a global solution, will be met now. 
Noticeably, the demand for such devices continues to exponentially rise especially now when the COVID-19 pandemic presents additional challenges. 
Healthcare is Moving Online and Solve.Care is Fast-tracking the Shift
The idea of healthcare and DeFi merging is, therefore, timely. Better still, it presents a lucrative opportunity where billions of dollars can be used to fund requisite monitoring devices to "improve healthcare for patients globally and create an incredible use case for the DeFi community." 
Doctors also admit of the paradigm shift and the digitization of healthcare. This need, therefore, means monitoring solutions ought to be globally available, fast-tracking the need of merging DeFi with healthcare.
Solve.Care is already redefining how healthcare is accessed, delivered, managed, and paid for by fronting efficiency, security, costs, and accuracy. They are in dialog with doctors who are presently signing up for the GTHE (Global Telehealth Exchange) and DCAN (Diabetes Care Networks). 
Solve.Care is Bringing DeFi to Healthcare
Cognizant of the opportunity and the pressing need to solve a glaring problem that's over 100X the size of DeFi, Solve.Care has been in discussion with doctors, lawyers, and financial specialists to define a fitting and practical model for its users. 
Presently, they are currently working on a governance constitution that acts as a framework for a truly decentralized healthcare financial solution managed by the growing SOLVE community.
The model encompasses five key arms touching on governance, financing, distribution, administration, and scaling and expansion. With this, the overarching goals of the new DeFi model will be to create a solution that's global and scalable while remaining community-governed, transparent, compliant with laid-down regulations, and attractive enough to drawn experts from around the globe. 
Launching of a Healthcare Governance Token and Asset Pools
At the heart of their new DeFi solution is a governance token useful when adopting, enforcing, and amending the constitution, required when designing and launching new healthcare DeFi decentralized asset pools and products, and for managing product distribution, setting interest rates, and income sharing. Users can stake SOLVE to earn governance tokens.
There will be two types of Solve.Care asset pools: Lending and Collateral. The Solve.Care Lending pool will be where liquidity providers pool their resources (stablecoins) to provide financing in exchange for interests and even a pro-rated share of generated revenue. Depending on the holders of Solve.Care governance token holders, there could be a provision for sharing of residual income from the pool to the liquidity providers. 
The Collateral pool is another interest yielding pool where assets supplied is used for guaranteeing finances, not for asset financing. Assets that can be used for collateral can include SOLVE tokens and other liquid assets. Like the Lending pool, revenue may be shared for liquidity providers however, the original principal will be returned in its original form. 
In the immediate term, Solve.Care plans to publish the governance model and token, release the Consumer Medical Device Financing Pool and the device distribution model, and activate the solution for both doctors and patients. 
The team is also evaluating other potentials like facility building and expansion, drug discovery and launch financing, cash flow factoring and invoice lending for doctors and hospitals, and consumer/professional device financing.
As BTCManager earlier reported, Angel Kids Pediatrics, the largest pediatric healthcare provider in Florida, is now using Solve.Care's Team.Care Network.