Solve.Care is Working on a Care.Labs Upgrade to Enhance Decentralization and Automation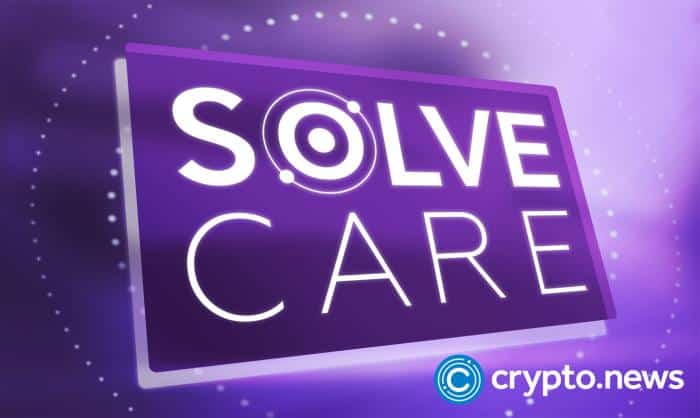 Care.Labs, a development by Solve.Care, is undergoing an upgrade to add functionalities and tools that will be released in three days. The development focuses on achieving ROIs faster than ever, innovating digital solutions, and making every component automatically interoperable. Furthermore, it will be easy to adopt for both users and authors, offering a secure, fast, and inexpensive solution.
Empowering Physicians to Transform the Healthcare Industry
The goal of Care.Labs is to assist in advising both doctors and programmers as they build and construct Care Networks on the Solve.Care decentralized blockchain platform. The Care Network is a digital healthcare network that connects healthcare professionals and enables them to provide streamlined care.
Through the development of healthcare dApps, Care.Labs enable physicians to improve healthcare quality by taking a more active role in its development. It also allows them to connect with like-minded individuals from all around the world.
The Care.Labs update allows anybody to create decentralized digital networks. It automatically handles critical elements like decentralized ID, decentralized data ownership and storage, security, infrastructure, and so much more. The platform also features videos, guides, and support blogs that make it easy for healthcare practitioners to learn the ins and outs of creating their decentralized networks.
Simply specify the network's participants' responsibilities, their course of action, the events that will occur, and Care.Labs will take care of the rest. In addition, if a physician is interested in creating a Care Network but lacks the time or knowledge to do so, they can get help from a dedicated developer team. This solution is a timely one due to the complexity of today's healthcare system.
Care.Labs is Powered by SOLVE
Solve.Care uses blockchain technology to build an ecosystem that enables transparent and fraud-free administration of healthcare services globally. SOLVE is a utility token used to perform an event on Solve.Care. Solve.Care has enhanced the functionality and utility of Care.Wallets and made them more accessible to SOLVE token holders.
All Care.Networks use SOLVE balances, which are visible in the Care.Labs Wallet. The Care.Labs web app's SOLVE Activity tab displays SOLVE activity, subtracted from the available balance after processing an event and kept up to date on a blockchain level.
Solve.Care is Revolutionizing the Health Sector
The Solve.Care platform is a revolutionary healthcare administration solution that simplifies providing care to patients and healthcare organizations. It enables individuals to make informed decisions and improve the efficiency of their healthcare. In addition, it eliminates the duplicative and inefficient systems used to deliver care.
Solve.Care platform is working to improve the coordination and efficiency of the healthcare delivery network. It enables various organizations to work together seamlessly, including hospitals, insurance companies, and pharmacies.
The platform also reduces waste and fraud in the healthcare system by implementing stringent measures to ensure that care administration is conducted transparently and accountable. It can also help employers and healthcare organizations reduce their costs.