Sotheby's to Accept Bitcoin (BTC), Ether (ETH) for 101-Carat Diamond Auction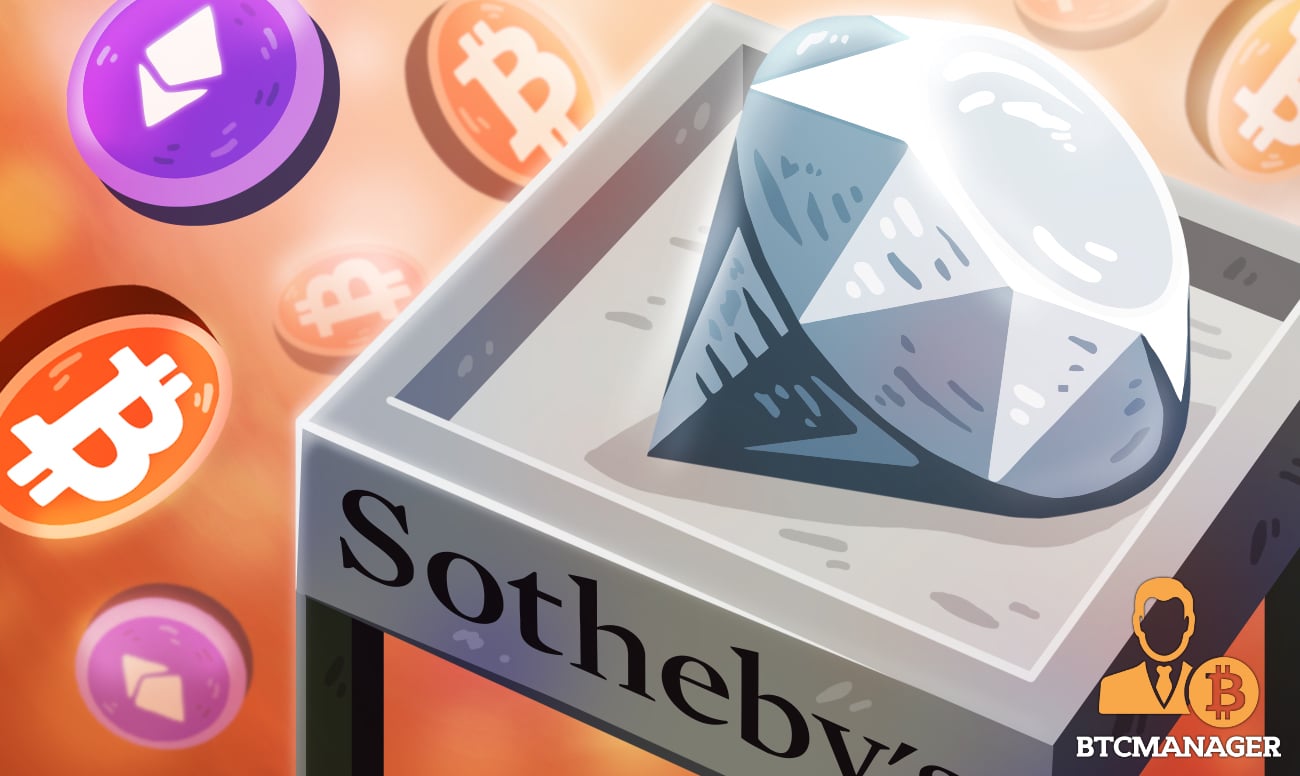 Famous auction house Sotheby's has revealed that it would accept crypto payments in Bitcoin or Ether for the sale of a 101.38-carat diamond. The auction scheduled for July 9 in Hong Kong will represent a major milestone for crypto adoption. 
Sotheby's Continues to Auction for Crypto
US news outlet Bloomberg revealed this development in a report today. The item on auction is a flawless pear-shaped diamond that experts believe could be worth as much as $15 million. According to Sotheby's the auction is the most expensive physical object publicly offered for sale with cryptocurrency. 
Auction houses globally have begun to accept cryptocurrencies as a means of payment for auctions.
The anonymous nature of cryptocurrencies fits the existing culture within the physical art collectible sector, where owners' anonymity is the norm. 
Sotheby's rival Christie's held an auction earlier in February where Ether was used to pay for a set of digital artworks.
Phillips also offered an art piece from street artist Banksy for auction in Ether and Bitcoin. This trend appears to be trickling down the chain as smaller auction houses have also looked to leverage the growing popularity of crypto payments. 
What makes Sotheby's auction unique is the rarity of diamond auctions above 100 carats. There have been fewer than ten diamonds above 100 carats that have been auctioned, with only two pear-shaped ones. 
Josh Pullan, managing director of Sotheby's global digital division, remarked an increase in the demand for precious gems in recent years. However, he added that the demographics were skewed towards the younger digitally native generation, many of whom are based in Asia. 
Crypto Adoption Still in Its Early Days 
George Bak, a Swiss-based art expert, and curator believes that crypto adoption was still in its early days. But, according to him, many auction house executives were surprised by the spike in interest from collectors on crypto payments. 
He believes that the crypto boom in the past 12 months has led to a new set of people that want to store their wealth invaluable art collections.
"Many people got rich really quickly from the volatility of the crypto market in the past year, so they're in a spending mood, With these developments, cryptocurrencies have once again shown their real-life use application in the auction industry," he remarked.