South Africa Tests Ethereum-based Interbank Payment System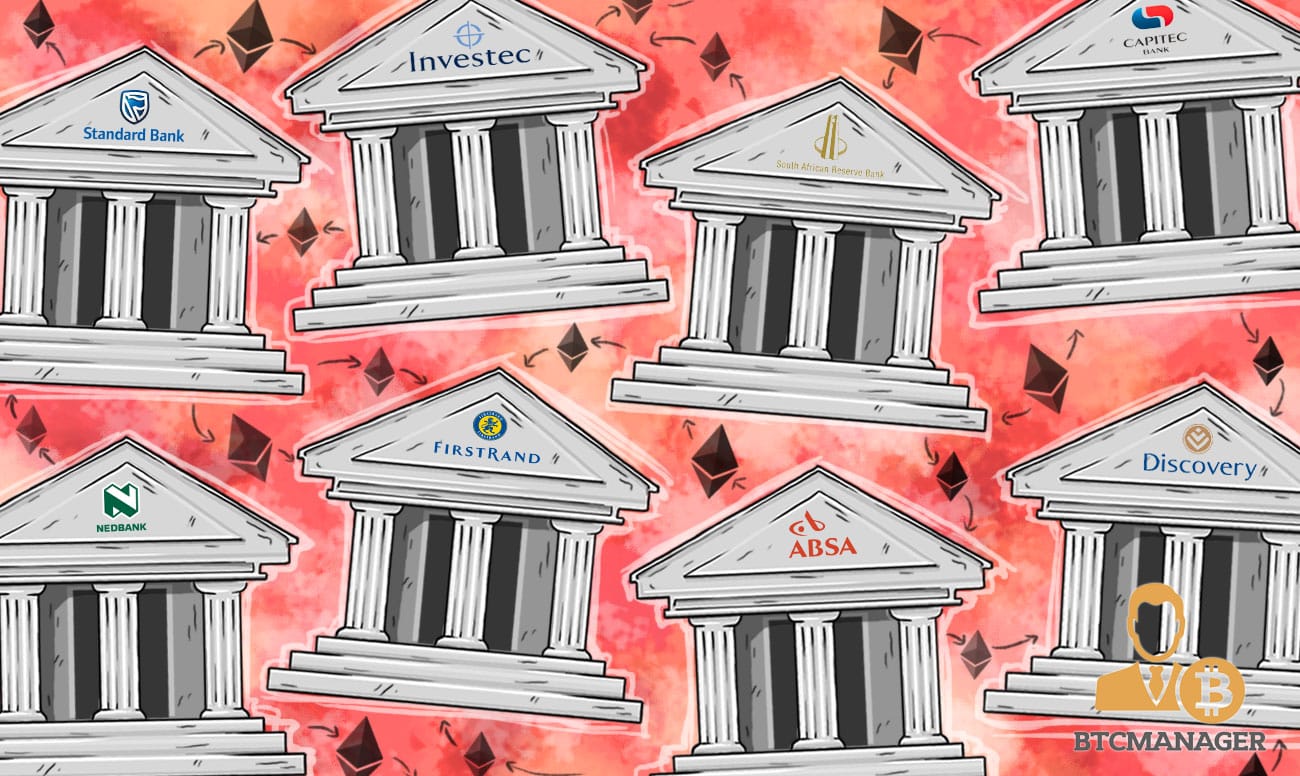 The South African Reserve Bank (SARB) concluded remittances tests on an Ethereum-based interbank payment platform called "Project Khokha."
South Africa's Cryptocurrency Push
A total of eight South African banks took part in the cryptocurrency-based tests, utilizing blockchain technology developed by Ethereum incubator ConsenSys Labs. Apart from the central bank itself, Absa, Capitec, Discovery, Investec, FirstRand, Nedbank, and Standard Bank took part in the pilot.
Currently, the SARB utilizes an indigenous technology, the South African Multiple Option Settlement System (SAMOS),  to perform real-time gross settlements between local banks. For the project, J.P. Morgan-backed Quorum, a permissioned blockchain product of ConsenSys Labs, was chosen to simulate the SAMOS functions in a decentralized ledger system.
"Project Khokha"
All participating banks had an individual node on Project Khokha. Each was configured with 16GB RAM and four virtual computing units. The specifications were made with Linux Open-Source operating system Ubuntu in mind, as it requires the bare minimum setup to operate.
A variety of servers and cloud-storage services were utilized for Project Khokha, including Amazon Web Services, Microsoft Azure, and physical servers. A visualization shows the setup below: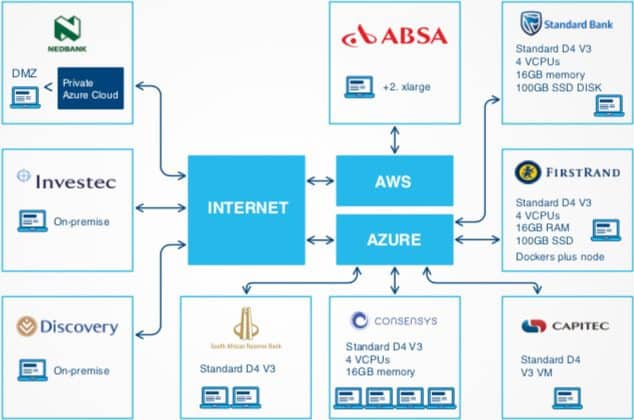 Project Khokha
(Source: My Broadband)
ConsenSys stated that the setup was made with existing bank infrastructure in mind, primarily to avoid extra hardware and software costs. The company added:
"We didn't actually specify hardware to get a heterogeneous system. We worked with the banks around their existing policies and existing relationships. It just happened to come out a heterogeneous network, which was great for the report."
The Mechanism
For the tests, the network was validated in two ways:
With only the SARB's node verifying every transaction between banks.
With every bank on the network verifying transactions.
The SARB revealed it was available to view each detail of the transactions, a significant insight for regulatory authorities, and used only ISO 20022 standard messages to communicate between servers.  Additionally, test results concluded that every bank was able to continue settlements uninterrupted and validate them for a bank if its node was offline.
The SARB concluded, "The specific implementation in Project Khokha is the first time that this has been used with Quorum, and it has delivered significant performance improvements over other confidentiality mechanisms."