Stellar 2019 Tezos (XTZ) Performance Could Shoot Token into Top-10 Ranking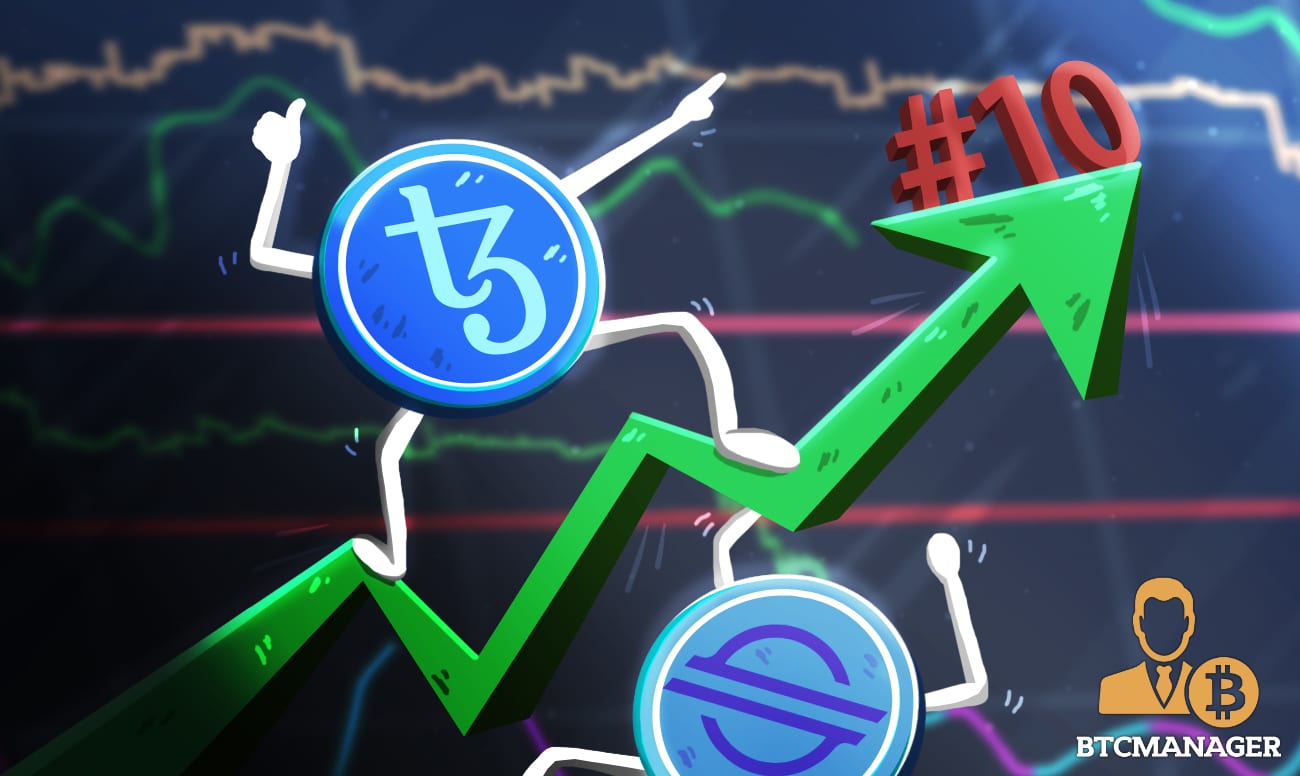 After a stellar 2019 performance, Tezos (XTZ) appears set to upstage Stellar (XLM) and break into the top-10 crypto rankings based on market capitalization. Meanwhile, Kraken has joined other crypto exchanges in launching XTZ staking promising returns of up to six percent.
XTZ Looking to Upstage XLM
According to data from CoinMarketCap, XTZ is less than $100,000 shy of XLM's market capitalization. Given the strong positive performance by Tezos in 2019, the 11-th ranked crypto might be able to break into the top-10 beyond the end of the year.
XTZ is up by almost 250 percent since the start of 2019, making it one of the best performing cryptos in 2019. Tezos' stellar performance has been against the backdrop of a poor run for altcoins.
XLM, by comparison, is one of the worst-performing tokens in 2019 along with the likes of XRP and Tron (TRX). Stellar's massive price drop has seen the token in danger of falling out of the top-10 with Tezos likely to take its place.
$XTZ set to replace $XLM in the top 10 soon, resulting in index based funds to sell their XLM and buy XTZ.

Wonder if @Delphi_Digital spotted that in Tezos' tokenomics…

— matt 💀 (@matt_chain) December 11, 2019
Tweeting on Wednesday (Dec. 11, 2019), Matt Kaye of BlockHeadCap remarked that index-based funds may soon ditch XLM in favor of XTZ. Such a situation will feed into the narrative of XTZ's strong 2019 performance. Tezos' strong run in 2019 comes after a prolonged difficult period marred by internal wrangling among the project's top hierarchy.
Kraken Becomes Latest Exchange to Launch Tezos Staking
In a related development, Kraken has joined the list of crypto exchange services to unveil XTZ staking. As previously reported by BTCManager, Coinbase and Binance launched XTZ staking back in early November and December 2019 respectively.
In a blog post published on Wednesday, Kraken revealed that XTZ staking will go live on its platform on Friday (Dec. 13, 2019). According to the announcement, users who stake XTZ will receive six percent returns annually with the rewards being paid out on Monday and Thursday each week.
Kraken also announced that it has taken steps to simplify the process for users to switch between staking and normal XTZ trading. According to the statement, traders can easily exit their staking position by transferring XTZ from their 'staking wallet' to their 'spot wallet.'
Kraken currently offers five XTZ trading pairs including bitcoin (BTC), ether (ETH), as well as fiat options like U.S. dollar (USD), and Euro (EUR).