SWIFT to Test Blockchain E-Voting Platform With Major Financial Entities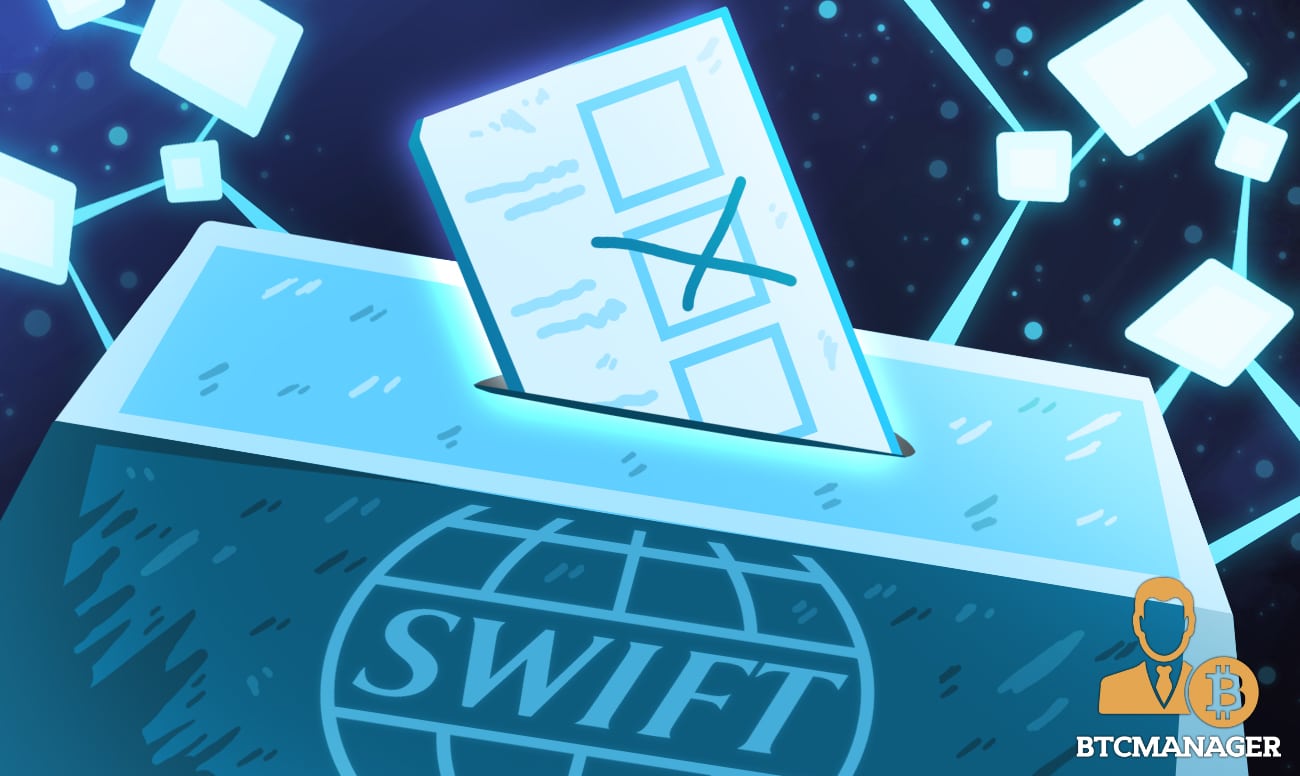 Shareholder voting is getting the blockchain treatment as SWIFT announced on March 6, 2019, that they will be testing out a new blockchain-based platform for that purpose with Deutsche Bank, DBS, HSBC.
Put to a Vote
All publicly traded companies rely on shareholder decisions before certain moves can be made, and this is sometimes tricky due to certain logistics factors such as current location and time differences. However, these are set to be made a lot easier as SWIFT has announced that they will be testing out a blockchain-based shareholder e-voting proof-of-concept with a number of major financial institutions.
The test will be carried out along with Deutsche Bank, DBS, HSBC, Standard Chartered Bank, securities software provider SLI and the Singapore Exchange (SGX) in the Asia Pacific region and should this trial be successful, it could revolutionize the way shareholders vote in the business world.
Blockchain has already been used for voting purposes in the past by the South Australian government and Thailand's NECTEC
Trial Details

The trial run of this system is set to take place in the first half of 2019 and has four major goals in mind. The first is to determine the viability of a blockchain-based voting system that is used by issuers and a Central Securities Depository (CSD) and secures the information on a private blockchain.
It will also test the ability of the technology to  combine "messaging and DLT to foster interoperability and avoid market fragmentation." This is also an opportunity for SWIFT to test it's hosting of outside applications on its blockchain platform while effectively carrying out its processes and maintaining security.
The final purpose of this test will be to test out ISO 20022, which is a financial electronic data interchange standard.
The roles of the various institutions in the trial have also been defined. DBS and SGX will act as both participants and issuers while HSBC, Deutsche Bank, and the Standard Chartered Bank will only be participants. All parties will work together to test the security and efficiency of SWIFT's DLT sandbox testing platform.
While the platform hasn't even been tested yet, top executives at SWIFT are confident that it will act as the solution to several industry-wide problems. Commenting on the development, one executive said:
"The emergence of blockchain technology is a new opportunity to look at improving these [current] processes. It is also an opportunity for SWIFT to offer flexibility in the adoption of this new technology through the re-use of ISO 20022 based solutions together with a high level of security and resilience that our industry requires,"