Sygnum Bank Launches Cardano (ADA) Staking Service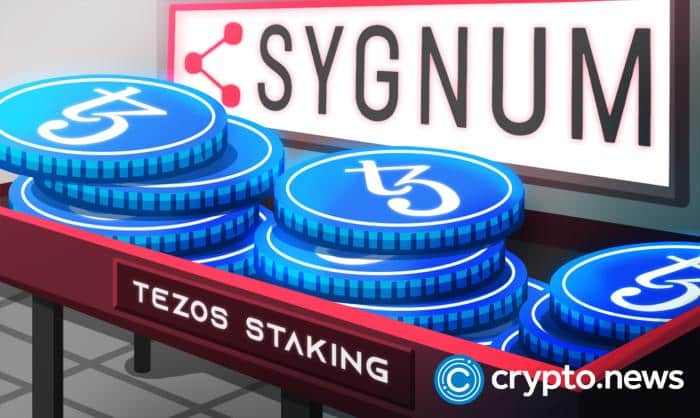 Sygnum expands its bank-grade staking offering on August 02, 2022, by adding Cardano (ADA) to the portfolio, which already includes Tezos (XTZ), Ethereum (ETH), and Internet Computer Protocol (ICP).
Regulated Bank and Decentralized Protocol
Sygnum, the world's first digital asset bank, has announced the addition of Cardano's blockchain native cryptocurrency, ADA, to its staking portfolio, which already includes other Proof-of-Stake cryptos like ETH and XTZ.
Cardano (ADA), the eighth-largest digital currency in the world by market capitalization, is a third-generation blockchain platform developed via peer-reviewed research and evidence-based methods, with a mission to provide security and sustainability to decentralized systems and applications.
Sygnum, a Switzerland-based crypto-friendly bank has staking services as an integral part of its regulated offerings, which clients can easily access on its eBanking platform. Adding Cardano (ADA) staking Sygnum's existing offerings will not only reinforce the bank's empowerment of professional and institutional investors in digital assets but will also strengthen the protocol's interoperability and scalability.
This expansion also speaks to the trend and ramp-up of the adoption of digital assets by financial institutions, meeting the "demand for the ability to earn rewards alongside upsides from the underlying protocols," according to the Head of Business Units at Sygnum Bank, Thomas Eichenberger. He further explains that by including Cardano, the bank's clients are offered "a broad selection of investment opportunities backed by the peace of mind of a regulated bank."
Risk-Free Staking
The steady growth of Sygnum over the years has included launching both altcoins and stablecoins on its platform and getting approval for wider activities from appropriate authorities, and this expansion of Sygnum and the addition of Cardano comes a little over a year after adding ETH to the staking portfolio, and almost two years after adding XTZ.
The bank's impact is slowly spreading thanks to its collaboration with major players in the crypto space.
Cardano is also breaking ground in the crypto space. From taking charge among altcoins and entering into the NFT space with the Cardano NFT marketplace to the slightly delayed hard fork, the proof-of-stake platform may truly be on its way up.
As both platforms are on a steady upward trajectory, the recent collaboration is no doubt a win-win scenario for members of both ecosystems.
According to the CEO of the Cardano Foundation, Frederik Gregaard, the offering will help the bank's clients participate in their thriving ecosystem, where they get to "enjoy a risk-free staking experience without having to transfer the asset nor lock it." Frederik expects that both the retail and institutional clients will get a unique experience as ADA holders.
In the same vein, the Head of Accounts and Custody at Sygnum Bank, Thomas Brunner, believes that by offering Cardano (ADA) staking to the clients, they give them an opportunity to access a unique asset that not only offers staking rewards to participants but also "enables them to structure their digital asset portfolios in more diversified ways."
In this collaboration of the regulated and the decentralized, another hybrid of the financial system is created.