Texas Securities Board Issues BitConnect Emergency Cease and Desist Order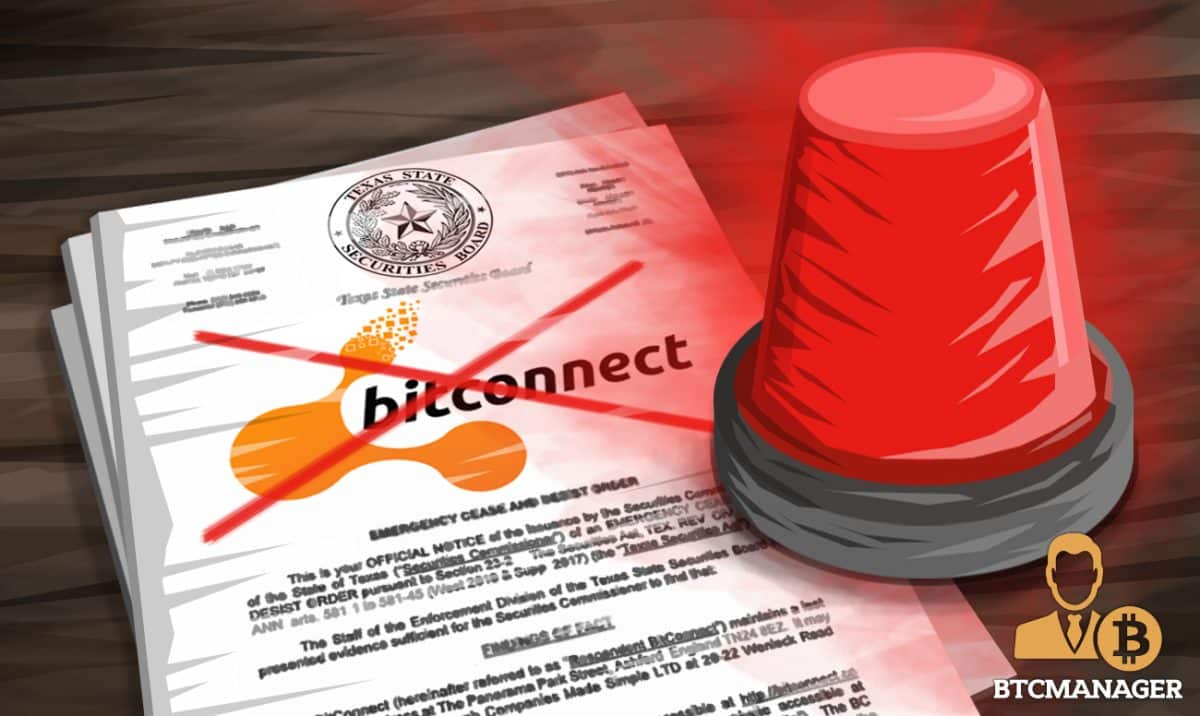 One of the more infamous members of the bitcoin community, BitConnect, was handed an emergency desist order from the Texas State Securities Board (TSSB) on January 4, 2018. According to regulators, the lending platform has had a history of fraudulent behavior and has thus been banned from the state.
Financial Principles and Public Strategies
The handful of different investment channels occupied by the English crypto-firm include a lending program that promises 40 percent returns via its trading bot. To the new entrant to the crypto-market, this may ring of truth.
The staggering growth of bitcoin has spread to multiple other cryptocurrencies but is far from standard. Perhaps, onlookers can be excused from this flimsy promise.
The next red flag, identified early in November 2017, was the lack of physical address. BitConnect claims to be based in England but hasn't been able to supply a specific address. Also in November, the firm was threatened to be shut down by the UK Registrar of Companies for similar activity.
On top of that, the firm has failed to yield a coherent financial strategy, risk analysis, or how exactly investors will be enjoying 40 percent returns.
Does it promise regular returns that exceed average market returns?

It's a Ponzi

Does it focus more on recruiting new people than any product?

It's a pyramid scheme#litmustests

— Andreas (@aantonop) December 1, 2017
Naturally, the crypto community has been up in arms as the BitConnect trolls make their rounds. Unfortunately, legal action has never been formally issued until a year and a half since the company formed. They have even announced another token sale, BitConnectX, proposed for January 10, 2018, but this too has been ordered to shut down within 30 days of Texas' cease and desist order.
The primary concern detailed in the order revolves around the fact that BitConnect investments are not registered as securities under the Texas Securities Act and State Securities Board Rules and Regulations. An article in the report reads as follows:
"Investments in the BitConnect Lending Program and Staking Program have not been registered by qualification, notification or coordination, and no permit has been granted for their sale in Texas."
The infiltration of the program above is attributed to the work of sales agents, otherwise known as affiliates. These individuals have known "to direct Texas residents to the [BitConnect] Website for the purpose of investing in the BitConnect Lending Program," and then asked, "to promote Respondent BitConnect through social media, blogs, websites, and newsletters."
Bitconnect is advertising on my YouTube channel. I can't stop them. I've heard that (but can't confirm) that bitconnect may be a pyramid scheme. Be careful out there

— Andreas (@aantonop) November 14, 2017
This strategy has been entirely successful as well. The company has released 9.4 million tokens, roughly $4.1 billion, into the marketplace. The market cap for the product is 28 million tokens.
BitConnect does, however, have the right to "request administrative hearings" in which they can appeal the order. After thirty days, the trading of BCC will be illegal in Texas, and sales affiliates who continue to promote the crypto token will be sentenced to two years in prison, a $5,000 fine, or both.