The Custom Token Platform That's Making WAVES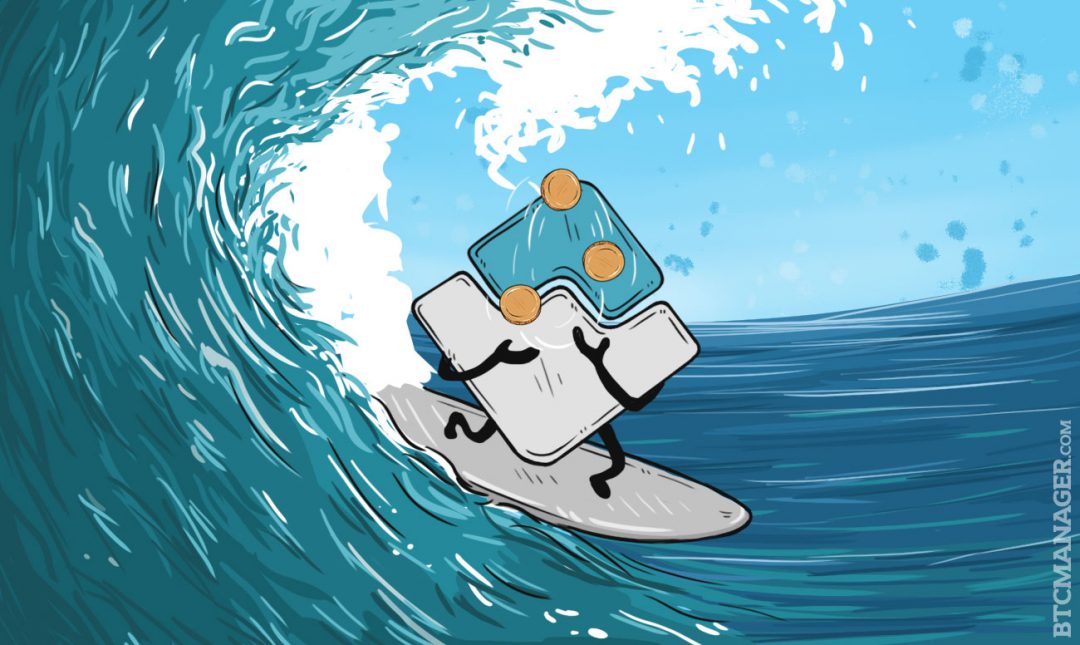 Over the past 18 months, a Moscow-based blockchain startup has been steadily building a tidal wave of momentum. Known as WAVES Platform, it is a decentralized online portal where users can issue, transfer, swap, and trade custom blockchain tokens on an integrated peer-to-peer exchange. Its main value proposition is the facilitation of fundraising, crowdfunding, and financial instruments on the blockchain.
The epicenter for all of this activity is the WAVES DEX (Decentralized Exchange) which was recently released on testnet. Here, tokens can be traded directly for other tokens, versus the trading of two tokens separately against a reference currency, as is required by most platforms. The platform also features a tool that allows trades to occur just-in-time, fueling high-frequency trading that securely settles on the blockchain.
WAVES' decentralized exchange (DEX) is functional and undergoing rigorous testing. Buy or sell orders can be created and placed in the OrderBook via the API on testnet. Community members are invited to assist with testing and bounties are offered for successful bug hunters. Priority one is to ensure a user-friendly frontend for integration into the lite client.
The overall seamless functionality of the WAVES platform has been touted for its ease use compared to other platforms like Ethereum. This feature will likely make it attractive to companies seeking to launch their own crypto-tokens. And in another feature, WAVES plans to use a decentralized voting mechanism for capturing and assessing community views about new projects without direct risk to funds.
Currently, the WAVES team is hard at work creating fiat gateways that will allow for the use of blockchain-centric EUR, USD, and CNY currency tokens among others. These on- and off-ramps tethering the traditional financial sector with the blockchain are accountable for ensuring compliance in their regulatory jurisdictions. The WAVES DEX directly helps to fuel this.
The Scalability Conundrum
The WAVES Platform team has high hopes for achieving mass market consumer and business adoption. A key element here is building scalability for its blockchain network.
Scalability is an issue that has been a roadblock for many cryptocurrency platforms as they experience increasing demand for information processing and storage. Until blockchain can scale properly, it will be challenged to compete with traditional payment processors that can pump out thousands of transactions per second on an average.
Toward this aim, WAVES' efforts at introducing a series of measures to foster greater network scalability are now under way. This includes refactoring and optimizing storage capacity to increase transaction capacity and boost security. An updated scalability roadmap is forthcoming, outlining various methods that will allow the platform to achieve sufficient capacity for global adoption
Waves Community Token's
Recently, WAVES launched a new token called the WAVES Community Token (WCT). The launch is a part of its recently introduced Custom Application Token (CAT) on the mainnet. These new tokens were distributed after January 15, 2017.
The goal behind this token release is to foster community-based KYC screening of new assets in addition to building user engagement over the next several months. These tokens will be withdrawable as bitcoin via the forthcoming bitcoin gateway.
To receive WCTs, community members must have a balance in their WAVES local wallets. However, WAVES tokens on exchange platforms are not eligible for WCT distribution.
WAVES Community Token (WCT) can be traded and transferred freely. The lifetime value of a token is predicated on the eligibility of WCT holders to receive a constant stream of asset rewards. In the end, the WCT distribution model aims to further incentivize the long-term holding of tokens in the local wallets, keeping them away from exchanges.
Sasha Ivanov, CEO of WAVES Platform, in an interview with BTCManager says there are some attributes that distinguish WAVES from other crypto platforms. "There are certainly a number of quantitative and qualitative differences. Waves has a focus on mass-market adoption and an open blockchain approach (vs. permissioned ledgers). We've put a lot of work into making our user experience familiar and our blockchain scalable, to prepare for businesses and end-users to come on board in large numbers."
Ivanov calls it "a very versatile platform," one that has been designed for 2.0 tokens, which he sees as the next frontier of cryptocurrency adoption, but without the complexity and vulnerability of existing smart contracts.
"Ethereum and The DAO showed us why these (smart contracts) are not yet ready for widespread use."
Continues Ivanov: "From a technical point of view, we are utilizing a new proof-of-stake algorithm that is both secure and more sustainable than mining. We've put a lot of academic work into researching ways to improve the security and scalability of the blockchain. There is a fixed supply of 100 million WAVES, so there's no inflation as there is with Ethereum. And our crowdfunding campaign yielded us plenty of resources for development and marketing, and much better distribution than most other cryptocurrencies."
Ivanov notes that WAVES is not intended to be a form of money. Yes, he says, it has value, of course, and is the fuel for every form of activity on the platform (creating and sending tokens, voting, running a 'mining' node, and so on). But Ivanov points out that we already have money. "Bitcoin is the first and best-trusted form of cryptographic money. Similarly, we have USD, CNY, EUR and so on. We simply want to see these moved onto the blockchain and we are working on gateways that will allow financial organizations to act as intermediaries between the blockchain and the traditional financial system. Our existing forms of money can be better, but we don't see them being replaced any time soon – whether with bitcoin or fiat."
Amid all of the excitement around WAVES as well as blockchain technology and cryptocurrencies in general, Ivanov wants to leave us with this message:
"It's important to work together and show each other mutual respect. Cryptocurrency communities can be quite tribal. They can often think in zero-sum terms, that for one platform to succeed the others have to fail. But it's still very early days in the history of blockchain – Bitcoin itself has only been around for eight years, after all. We're still learning a lot, and we're only just starting to see the first mass-market applications. There is more to be gained from collaboration than from needlessly competing against each other at this point – there's far greater market share to be gained from the fiat world than from other cryptos' market caps."