The Perfect Storm: India Discovers Bitcoin as the Government Annuls High-value Banknotes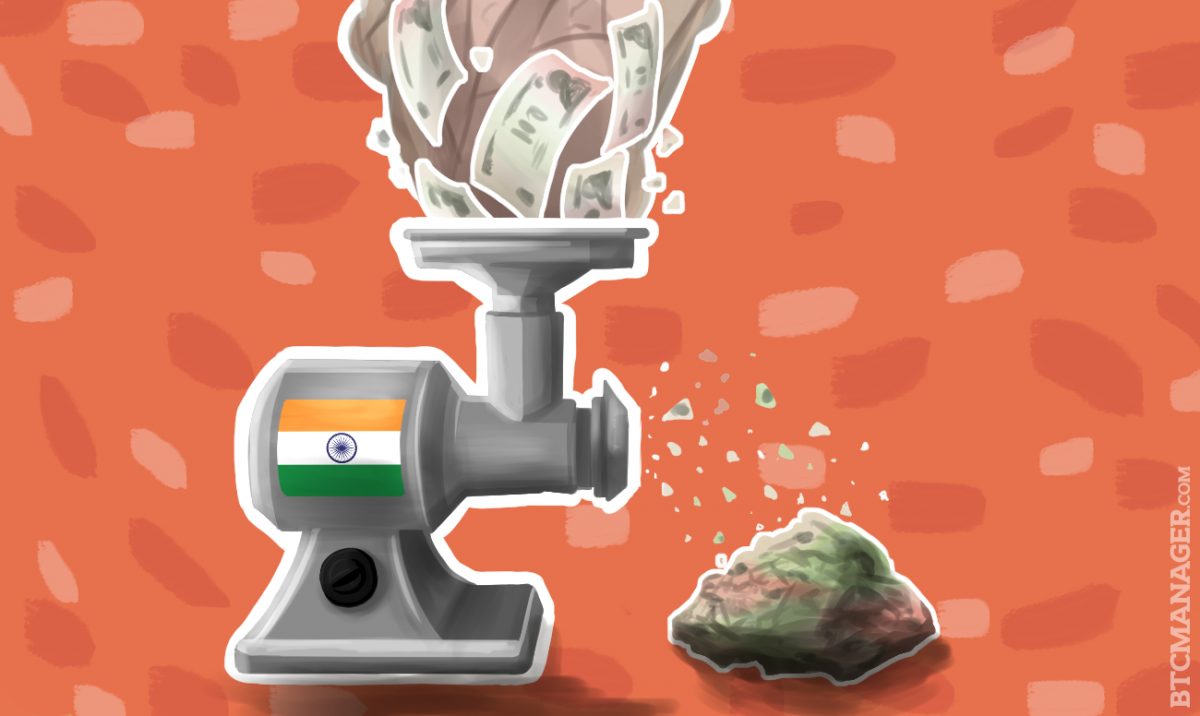 The government of India starts one of the biggest economic experiments of all time; the country has started to withdraw most of the cash in circulation. This might provide a boost for the Indian Bitcoin economy.
On November 8, India's Prime Minister Narendra Modi announced that all bank notes bigger than 100 Rupee (around $1.50) will be withdrawn from the financial system overnight, that is the 500 and 1,000 Rupee notes. These notes make up to 86 percent of the whole cash in India, as the BBC reports.
Prime Minister Modi presented his surprising move as a crusade against corruption. "Black money and corruption are the biggest obstacles in eradicating poverty," Mr. Modi said. India is heavily reliant on cash, in which around 90 percent of payments are done with cash. According to a publication of the government in 2013, only 1 percent of the population paid income taxes. A result of this huge informal economy is that many Indians hold a lot of cash.
The recent move of the government tries to push the money from the informal economy into bank accounts. One day after the announcement, banks were closed and the ATMs did not work. Later, citizens could exchange their old cash against new notes with a value of 500 or 2,000 rupees. At first, the amount to be changed was limited to 4,000 Rupees, with this limit to be raised toward the end of the year. Cash deposits on a bank account can be made without a limit, but all deposits beyond 250,000 Rupees will be reported and could cause a tax investigation.
The BBC called it "an extraordinary economic experiment." German magazine Telepolis compared it with "trying to fish with dynamite" because the restriction will effectively harm lower income Indians but will be ineffective in fighting big crime. The introduction of 2,000 Rupee notes could even make it easier to launder bigger amounts of money.
The same day India started to turn the most of its cash in worthless paper, the online searches for Bitcoin in India spiked. Google trends noted the most searches since late 2013.
"Those who possess bitcoin in India feel the government's drive against black money will help the paperless, bank-less, and stateless currency gain ground," wrote the Hindustan Times. The newspaper quotes Saurabh Agrawal, CEO of ZebPay, India's leading Bitcoin exchange, "People who never talked about bitcoin called me. Financial companies also want to invest in bitcoin."
Sathvik Vishwanth, the CEO of Unocoin, another Bitcoin exchange in India, welcomes the abolition of cash as a big chance for Bitcoin. "If going cashless is the only way forward, certainly Bitcoin, a borderless, trustless and transparent currency makes more sense," he said, as well as calling for more support from government and regulators to help the adoption of Bitcoin in the country.
Both exchanges report a lot of calls and registrations after the abolition of cash. Most wanted to buy bitcoin with cash and left disappointed after learning that this cannot be done anonymously at the exchanges. "I've had to put most of my operations guys in fielding calls and telling callers that this would not be possible," said Sandeep Goenka, co-founder of Zebpay.
It is not only the lack of anonymity that makes Bitcoin a bad substitution for cash. Indians lack the infrastructure and technical education to use Bitcoin like they use bank notes. In respect to its number of citizens, with only five nodes, India might have the lowest nodes per head ratio. Also, it is questionable whether Bitcoin provides enough transaction capacity to fulfill this role.
The fight of the Indian government against money circulating in the informal economy meets a rising demand for Bitcoin in the country with a population of around 1 billion. India has been the subject of Bitcoin news for several times during the last months.
The country is considered the fastest growing Bitcoin market in the world with exchanges like Unocoin and ZebPay demonstrating a significant growth in volume. One of the major reason is said to be the large Indian market for remittance. With more than $70 billion in 2015, India is the world's leading receiver of remittances. And since people start to realize that Bitcoin can be a cheap alternative to money transmitter Western Union, Indian Bitcoin businesses are blossoming.
Unocoin recently made news with a cooperation with Bitcoin startup Blockstream and a funding round worth $1.5 million. The exchanges opened up its API for worldwide users to facilitate the use of Bitcoin for international payments.
Some days before the cash restrictions were announced, Agrawal from ZebPay told the media about the increasing interest in Bitcoin. "Stock markets may crash due to political instability, and during these times, people look at gold and bitcoin as alternate tools for investment. There has been a spike in volumes of bitcoin trading by about 20 percent globally and even we are seeing a surge in trading in recent weeks," he said.
While Bitcoin may be increasingly used by Indians to protect against the volatility of their currency and as a digital substitution of gold, there are also indicators for a growing use of the cryptocurrency in illicit markets. The Narcotics Control Bureau (NCB) recently detected "drug traffickers using the DarkNet and Bitcoin for running the illegal drug racket in India," NCB Director General R. R. Bhatnagar told the media.
Under these circumstances, the war against the informal economy might boost Bitcoin in India, while Bitcoin might help the Indian economy to better deal with the pains of getting rid of cash. Other countries, such as Australia, could follow suit and reinforce the rising demand for Bitcoin, whereby UBS have recommended that the A$100 and A$50 denominations should be removed from circulation to reduce crime, increase tax revenues, and boost bank deposits.