These Countries Could Be the Next to Follow El Salvador's Bitcoin Adoption Lead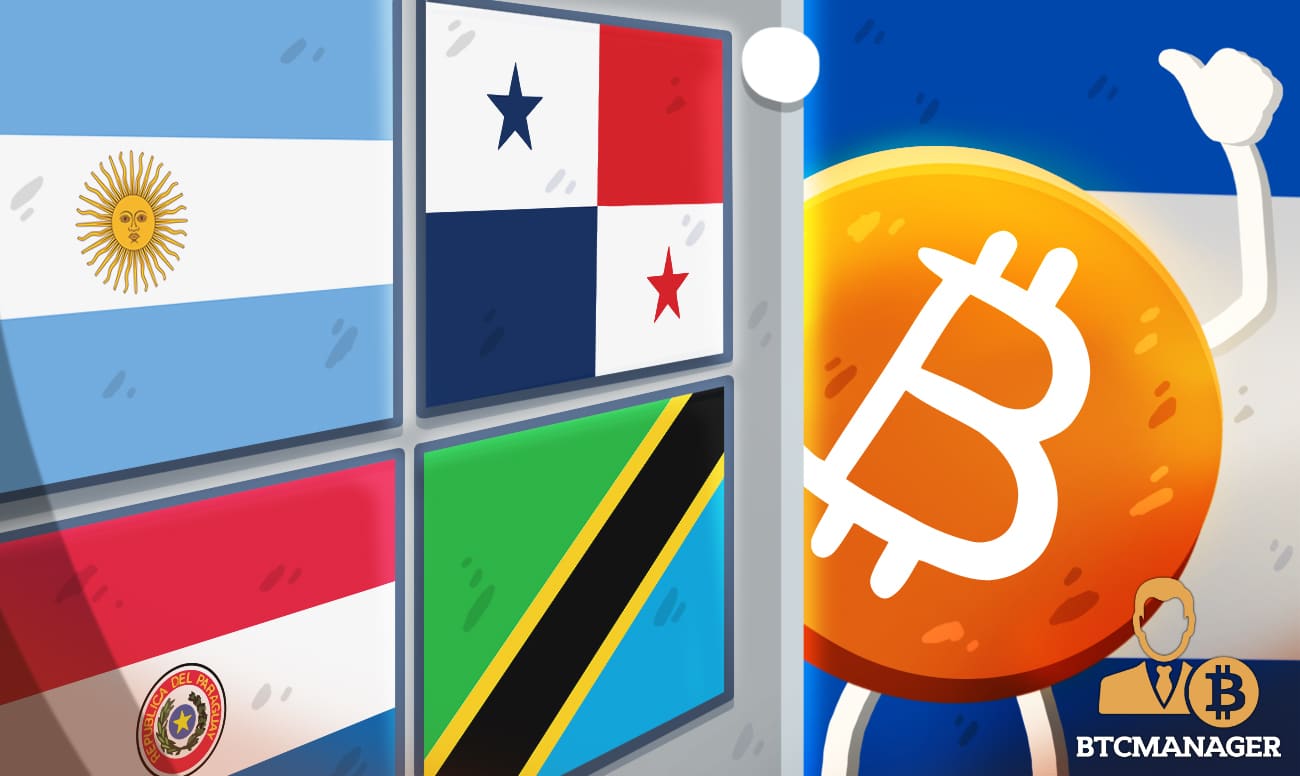 It's no news that El Salvador recently commenced its journey towards becoming a global hub for innovative technologies by approving bitcoin (BTC) as legal tender in the state and its success would no doubt spur more countries to join the cryptocurrency bandwagon.
More Nations May Adopt Bitcoin (BTC)
At a time when authorities in various jurisdictions still see bitcoin and other cryptocurrencies as nothing but a tool with which criminals carry out their illegal operations such as money laundering and terrorist financing, El Salvador has created a whole new narrative for crypto by making it its second official currency aside from the dollar.
While the Bank for International Settlements (BIS) has revealed that at least 86 percent of apex banks across the world will issue their own central bank digital currency (CBDC) in the next three years, with fresh surveys making it clear that the demand for digital payment methods such as cryptocurrency has increased exponentially, no sovereign state has thus far had the audacity to go all-in on bitcoin like El Salvador.
However, all that could change in the coming months or even years, especially if the tiny Central American nation succeeds in turning its dwindling fortunes around by becoming a destination for fintech and blockchain-linked businesses.
Most Likely Bitcoin Adopters 
Tanzania – Located on the eastern coast of Africa, Tanzania is one of the very first nations on the continent to have a female head of state. President Samia Suluhu Hassan has called on the country's financial authorities to start laying the foundations for the widespread use of cryptocurrencies within its shores.
"We have witnessed the emergence of a new journey through the internet. I know that throughout the nations, including Tanzania, they have not accepted or started using these routes. However, my call to the Central Bank is that you should start working on that development. The Central Bank should be ready for the changes and not be caught unprepared," she declared.
Paraguay –  Buoyed by El Salvador's bold move, Carlos Rajala, a 36-year-old entrepreneur and member of the Paraguayan Congress has hinted that he's floating a bill that would give the Latin American nation a crypto-friendly status. If Rejala's bill sees the light of day, Paraguay will become a hotbed for crypto-related businesses, offering bitcoin miners cheap and completely green energy sources for their business, and ultimately pave the way for bitcoin to be a legal tender in the state.
Panama – with a fledgling tourism sector, Panama understands that adopting bitcoin would be a forward-thinking maneuver and Congressman Gabriel Silva has urged the nation to follow El Salvador's lead. "This is important. And Panama cannot be left behind. If we want to be a true tech and entrepreneurship hub, we have to support crypto. We will present a bill to the Assembly. If you are interested in formulating it, you can contact me," he declared.
Argentina – the country's economic crisis has been well documented over the years and it appears the government may be nursing plans to open its doors wide for crypto startups. As reported by BTCManager on June 1, 2021, more and more Argentines are now taking advantage of the country's new electricity subsidies to mine for bitcoin.  
Indeed, crypto has come to stay and it's a good thing that nations are beginning to see the usefulness of these revolutionary technologies.