THX Network – Easiest and Most Flexible Way to Embed Gamification in Your App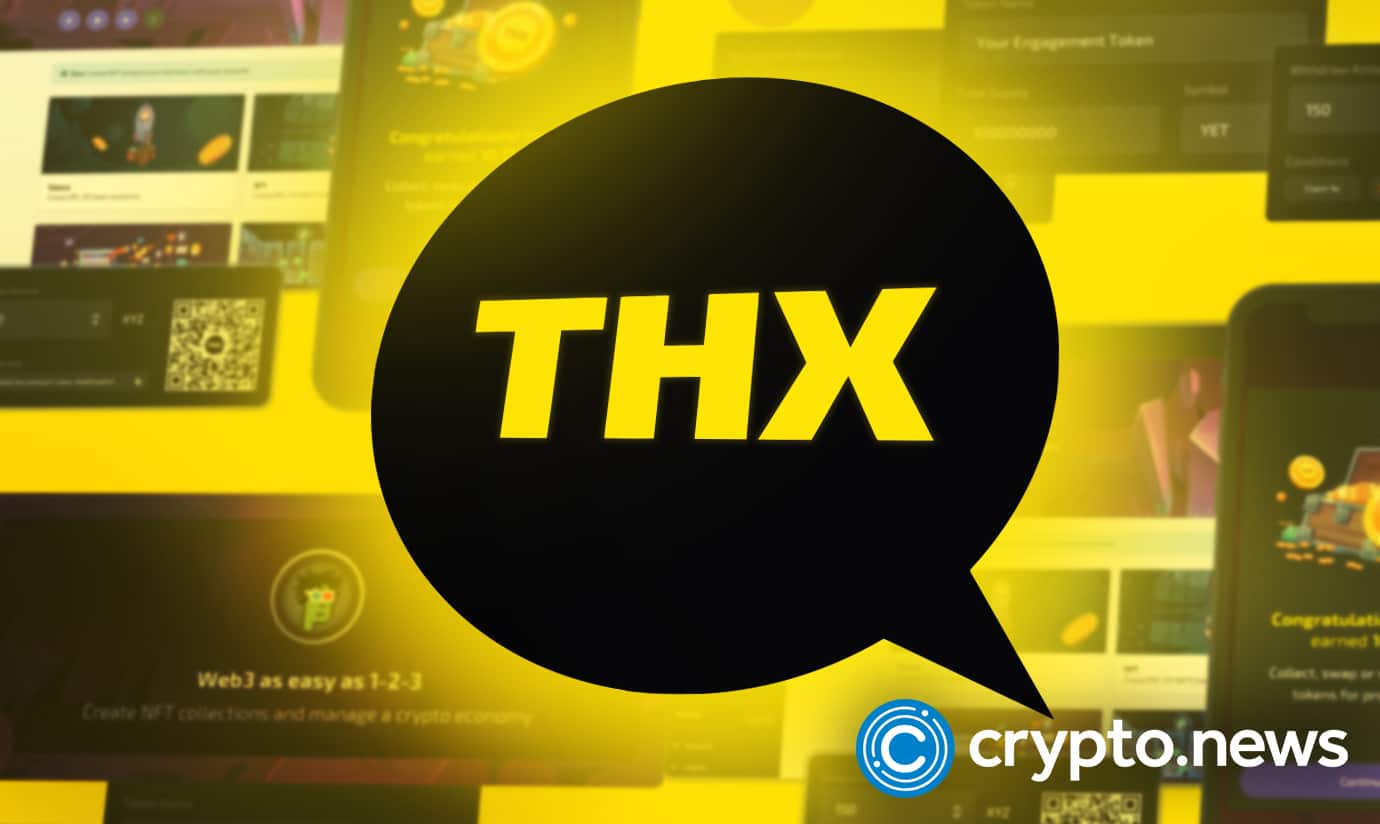 THX Network is an Amsterdam-based Web 3 startup that enables companies to embed blockchain tokens in their apps, increasing revenue and engagement. The platform believes that programmable money will have a transformative effect on their economies.
How THX Works
Through the THX Protocol, organizations can benefit from emerging blockchain technology by allowing their employees to add cryptocurrency to their apps. These can be used for various purposes, such as loyalty programs and the promotion of products and services.
To understand the THX Network, we must first learn about its architecture. The network has components that help its users integrate blockchain technology into their applications without worrying about security and performance.
The main component of the THX Network architecture is the asset pools. These smart contracts allow users to hold various types of tokens and collectible coins that use Ethereum's ERC-20 standard. These tokens represent anything from lottery tickets, financial assets, a gram of silver, and more.
In addition to this, it also supports the ERC-721 standard for collectible coins. These are representations of unique properties, such as paintings, photos, and videos.
The flexibility of the THX Network architecture allows users to create and implement different types of tokens and collectible coins in their applications. Consumers can use them in various ways, such as through stablecoins and payments. With the THX protocol, you only need to add it to your app.
A Modular Architecture
Nick Mudge's EIP-2535 framework is used to build and manage asset pools. To maintain their maintainability, THX have grouped the facets into modules representing their dependencies: THX Module Proposals.
The implementation of the diamond framework provides various benefits to the code. These include no contract size limit, maintainable contract functionality, and a deterministic contract address.
The diamond framework's modular structure allows THX to combine multiple contracts into a single asset pool. That eliminates the need for them to create a predefined set of features for each type of asset pool. THX can also reuse existing functionality to come up with new types. This list shows the addresses of the diamond facets that are currently maintained.
Plug-in Asset Pools Into Your App Using the THX API
THX Network's API allows you to easily integrate the various features of the Diamond framework into your web applications and e-commerce platforms.
Through Polygon, THX Network can provide end users with fast and cheap transactions. By sending all contract state changes to the API admin account, which will then pay the network's gas fees, THX eliminates the need for them to pay gas in $MATIC.
Feature that Make THX Stand Out
Token Swaps
In the THX Network Web Wallet, you can swap your tokens for another one. The pool owner can set various parameters for the swap, such as the number of tokens exchanged and the address you can swap.
You can also create value for your partners through the THX Network Web Wallet by allowing them to exchange their tokens for one another. For instance, you could earn a thousand tokens if you watched a Marvel movie at a local cinema. The cinema's dashboard can then set up token swaps for its partners.
Users can easily swap their $CINEMA tokens for other cryptocurrencies, such as the $BEER, $POPCORN, or the $STUDENT. That allows your community members to spend their tokens in the ecosystems of their partners.
Cross Chain Payments
To maintain a multi-chain future for the THX Network, the platform is currently working on developing a list of potential EVM-based blockchains. One of the first steps is using the Polygon POS bridge to allow payments from Ethereum to THX pools on layer 2 of the network.
While they love the eco-friendly and fast nature of the Polygon network, THX also believes that providing more flexibility to our customers is positive. That allows projects and organizations to adopt THX Network as their preferred partner for the web3 journey.
Chatbots
THX Network has built-in support for Slack and Discord, but will expand and refine these features due to the low demand for them.
Chatbots are commonly used to automate recurring processes in a variety of ways. The platform uses them to reward users for being active in a community, for instance, by giving them tokens or NFTs or by displaying a list of users who are most frequently active in the group.
NFT Authorization
With the SDK release, you can add a gate to any content section in the software or on websites. Customers can do it through the login system of THX Network. That allows you to access the content sections based on their ownership of NFTs.
With the release of an SDK, you can create an NFT that will allow users to access exclusive content or utility based on their THX Network wallet ownership. For instance, you can reward your fans for attending an event by creating an NFT that only allows them to claim at the event.
For instance, you can create an NFT allowing users to register for an upcoming meeting and purchase a front-row seat. That will allow your community members to purchase a front-row seat.
Enabling Impactful Engagement with THX
Through blockchain-based gamification, THX enables the UNDP to identify and reward its highly active members on SparkBlue, a digital platform for policymakers and employees. SparkBlue is powered by Open Social, a community-building solution that enables organizations to build effective digital communities.
Through this process, the UNDP can now manage its policy discussions in a more detailed manner. That will allow them to reach the right experts on certain topics.
Studies have shown that the right incentives can tremendously impact the value that apps can create. With THX, Web 3.0 can now provide a toolset for non-monetary and monetary incentives. The platform believes that programmable money will have a transformative effect on our economies.
THX Platform Use Cases
The THX platform was made for these groups:
Community
Through tooling, brands and communities can easily create and manage a tokenized appreciation program for their online and offline communities. THX also allows them to integrate gamification principles into their internal platforms.
You can sign up for a basic account on our website to get the most out of the tool. It gives you access to the mainnet and most of its features, excluding the creation of NFTs. If you want to try the tool before committing to a full account, sign up for a free account.
As part of their rewards program dubbed "Sales Mining," you can earn up to 40.000 $THX when onboarding new members.
Athletes
Through their tooling, web3 can also provide athletes with unique features, such as the ability to embed their tokens in their platforms. That allows them to connect with their community and share their values.
Boosting engagement and boosting revenue is made possible by providing athletes with infrastructure and tools.
Creators & Artists
With THX's low-code tooling and infrastructure, web3 technology can be easily accessible by artists and creators. It allows them to connect with their fans and share their values.
As a creator, you can embed the tokens your fans will use to increase their engagement and revenue. Your fans can then use them on various platforms, such as social media, email, and websites.
Governance
THX is a governance token that allows users to participate in the protocol's various improvements and parameters. That includes voting on the management of the community treasury, incentives, and distribution.
Claim protocol fees
If the community decides that the token should be issued, then it will be able to accrue protocol fees, which will then be distributed to its token holders. This mechanism performs market buys for the token using the fees collected.
Protocol Fees: When depositing an asset pool, a protocol fee is charged. The fee percentage that the registry has set is currently at 2.5%.
Pool Registry: A pool registry is a tool that allows asset pools to store various protocol parameters. These will eventually become governable. Asset pools currently see the fee collector and percentage parameters.
Fee Collector: The fee collector contract will collect charged fees. It will periodically swap the collected tokens for THX tokens. These tokens can be claimed by THX users who have THX tokens in their web wallets.
Claim your Fees: It will be possible to claim THX tokens from your THX wallet address using the THX Web Wallet.
Rewarding the Community's Authentic Engagement
Rewarding, authentic engagements is very important to prevent the misuse of these systems. For instance, the user might game the automated system if a user likes a video or retweets a certain amount of content. THX is rewarding those who engage in positive social media behavior manually.
After an engagement, a reward link will be sent to the new followers, retweeters, or active Discord users. It is a token of appreciation. In some cases, rewards are only given to a certain number of users.
Where are these Funds Coming From?
THX has allocated a portion of the $THX token pool for various community incentives, such as our Sales Mining program. This amount will be distributed over five years, equivalent to around 4.000.000 $THX annually. The token pool has been purchased with private funds, and the remaining 20000 $THX has been used to fund our program.
THX Pricing Plans
Although everybody's free to create an account and try out the software, from today, only paid users will have access to the mainnet. Free plan users can still use the testnet to try out the software. You can mint your own token (ERC-20), vote, and use the wallet.
The sweet part is that they have moved to a more accessible monthly pricing model for the Basic plan. With this, you no longer have to pay a set-up fee to start. There is also very little stopping you from launching your engagement token. You get access to the mainnet, add any existing token (ERC-20), and still receive all free plan benefits.
The Premium plan is for advanced community engagement and NFT strategies. You get all the basic plan benefits with addition of NFT collectibles.
Benefits of THX
Boost engagement
THX lets you reward your community members for all their engagements. You can reward them for completing their profiles or signing up for premium content; they can spend these points on whatever they choose. It can boost your engagement metrics and make your app or community more engaging.
ERC-20 token pools for blockchain projects
THX is a decentralized exchange that allows users to distribute and pool ERC-20 tokens. It handles the transaction costs so your users can enjoy fast and free interactions. You can also manage your community rewards through Slack or Discord, set up referral and signup rewards, and more.
Reward loyal customers
THX lets you reward your community members for all types of engagements. It allows them to earn points for completing their profiles and spending them on premium content. That is a great way to boost engagement metrics and improve your users' experience.
Money management for groups of people
THX is a secure and easy-to-use platform that allows users to distribute and pool money using stablecoins. Its API allows you to create and manage various programs and payment methods. With its flexible rules, you can easily create and implement peer-to-peer and cashback programs.
Providing community integrations
THX easily adds gamified rewards to your online community or app. Through their API, you can add these rewards to your software. There are a variety of integrations that the platform offers.
For example, the THX bot can reward message authors with points by reacting to their contributions using various emojis. You can also reward members of your Slack community with ERC-20 tokens by reacting to their contributions using various emojis.
What's Next for THX Network?
THX is working with the community to improve the protocol's design. In addition, they will be focusing on decentralization features in the ecosystem, such as using gateways such as Metamask and Wallet Connect to enable the governance layer of the asset pools to manage their rewards. That will involve using the gateways for THX Web Wallet to enable the governance layer of the asset pools to manage their rewards.