For Integrative Web3 Experiences, MetaMask Has Developed a Beta Portfolio Dapp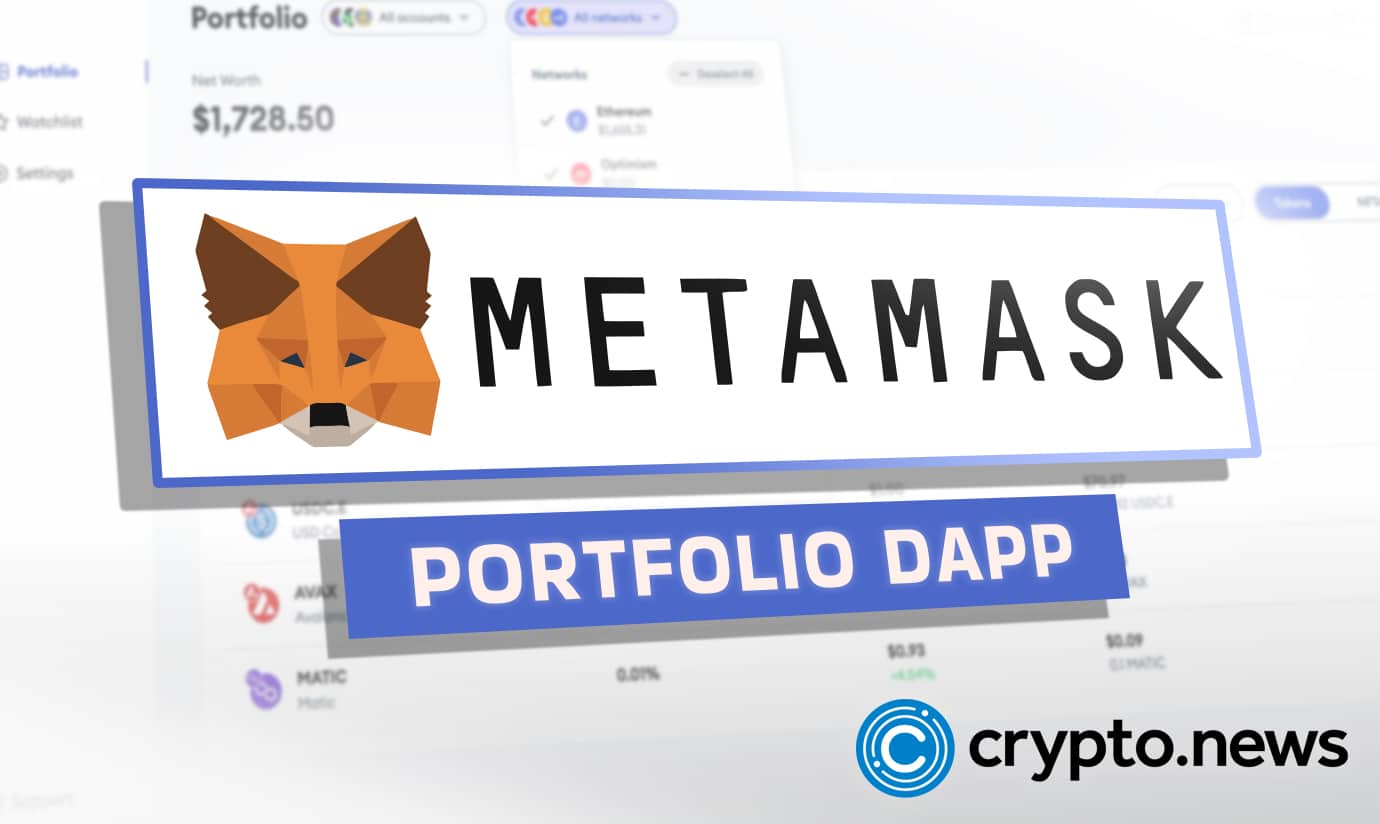 Users worldwide asked for the capability to see their assets in one location; thus, MetaMask developed a fully functional Dapp as an alternative. According to a blog by consensys, the Portfolio Dapp (in beta) will eventually be available to MetaMask users, providing an improved MetaMask interaction.
The Portfolio Dapp Is a Game Changer
To examine balances throughout one's DeFi activities, NFTs, and the general state of cryptocurrency, an operator may even get out their calculator, which is a hassle in MetaMask.
The Portfolio Dapp gathers all of a user's wallet information for them, so they no longer need to search to discover what is in their wallet, according to MetaMask.
Portfolio.metamask.io combines one's profiles and holdings across several chains and is accessible to Extension and Mobile users. To begin, a user only has to tap the 'Portfolio' link on your Extension's homepage.
Many users could have many cryptocurrency wallets or accounts. However, they could not have been aware of the cumulative combined worth of their assets in their MetaMask wallet up until this point. For that, one had to lean on other networks.
Using the 'watch any wallet' functionality of the Portfolio Dapp, users can add additional accounts, such as an offline wallet or hardware wallet, and give them names of their choosing along with linking their MetaMask wallet and various profiles. The Program can also add a peer's ENS domain or public address to the user's list.
A user might add 'vitalik.eth' and give it the moniker 'Cosmic Treasure Chest,' for instance. Any number of profiles can be added, changed, or removed from the view by the user.
In addition to wallets, one must monitor different cryptocurrency tokens by putting them on their watchlist to obtain crucial market information.
Although installing MetaMask is simple, cost-free, and available to everyone, accessing the dapp only functions for MetaMask users; non-Metamask users can still access Portfolio View via the 'watch any account' option.
You Can Choose From Various Networks
By providing a choice of platforms to pick from, including Ethereum, Optimism, BNB Smart Chain, Polygon, Fantom, Abritrum, and Avalanche, Portfolio Dapp endorses the notion that the future will be multi-chain.
Once members' wallets are linked, they may view all their properties from these chains in one location. Other systems will follow soon.
Brace Yourself for a Mind-Boggling NFT Experience
Being able to view your NFTs easily is necessary for enjoying them. One may receive a comprehensive glimpse of their virtual collection of art and other useful NFTs on Ethereum Mainnet and Polygon by switching to the 'NFT' side of the dapp.
Although one might come across a few NFTs that you don't remember obtaining or buying and are probably spam, you can quickly clean up your portfolio. To 'hide' any token from view, a user must click the three dots on it.
NFT valuations and pricing estimations are not yet accessible, but MetaMask ensures they will be, so stay tuned.
How To Connect to the Dapp
This dapp is simple for people who wish to explore their portfolio in a user-friendly style. You can: by just clicking Portfolio on the Extension home screen.
Connect several accounts, gather your assets, and then examine your NFTs. Now that dapp allows you to explore your assets across seven networks, and you can view your multi-chain assets. Any preferred coins can be considered across all compatible chains and added to a user's watchlist for tracking.
The additions we provide in the dapp, such as Portfolio View and NFT View, won't be the last; instead, MetaMask strives to improve members' experiences with each new feature.