Top 10 Cryptocurrency Projects by Git Metrics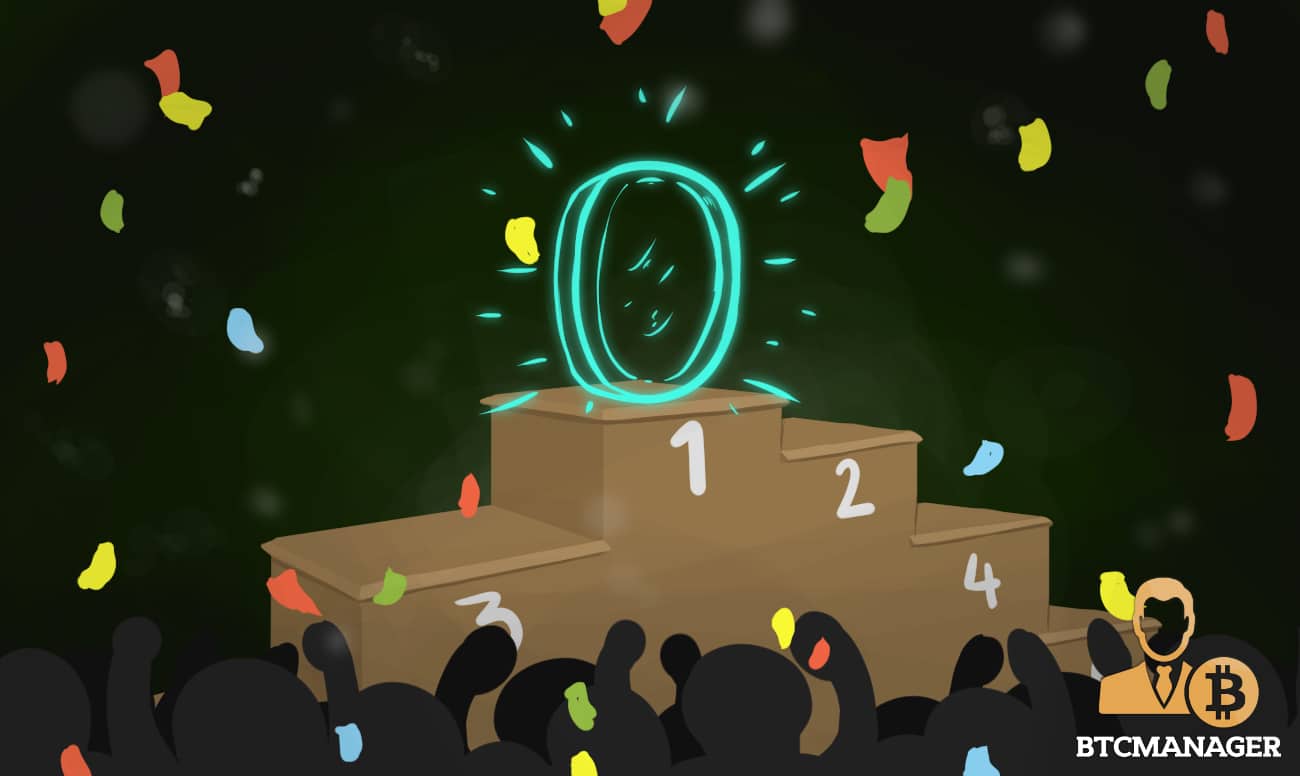 We explore top cryptocurrency projects by git metrics using the number of git commits and through the Darpal ratings, which is a more comprehensive git metrics analysis.
According to GitHub a commit:
Stores the current contents of the index in a new commit along with a log message from the user describing the changes.
CryptoMiso is a web platform that ranks cryptocurrencies in terms of their number of "commits" on GitHub. Commits help the track the level of developer activity on GitHub. This can be used as a metric for valuing cryptocurrencies.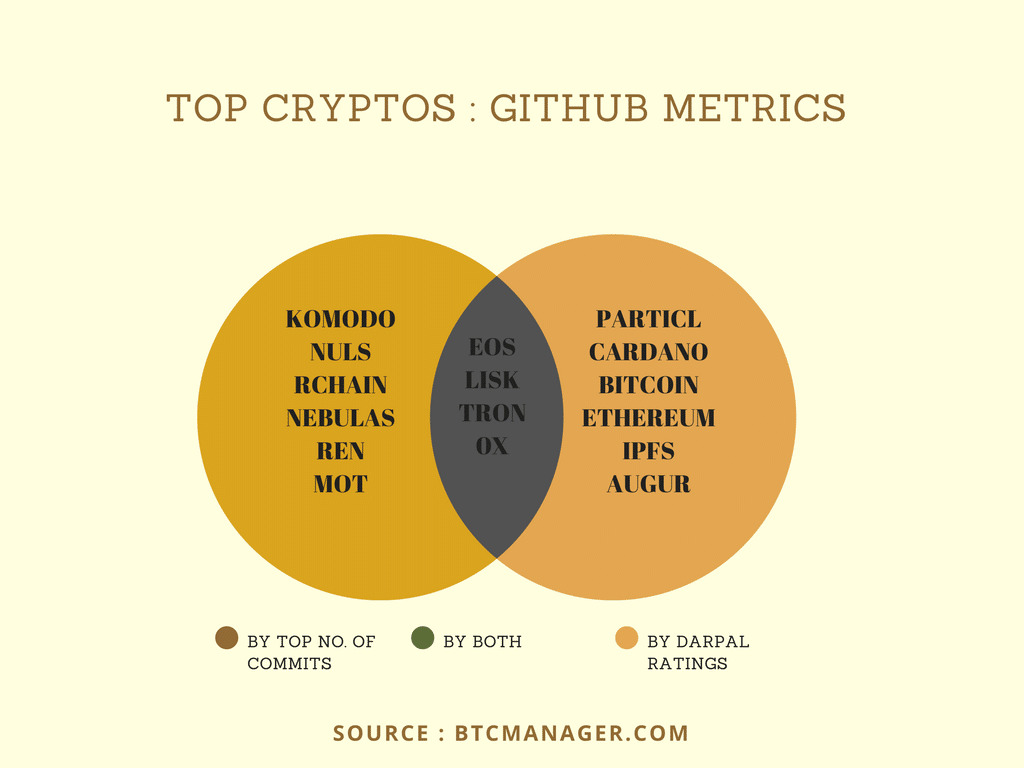 Below are the top ten cryptocurrencies based on their number of commits for the last six months.
1. Komodo (KMD): 3,314 commits
Market Capitalization: $438 million; 24-hour volume: $4.11 million
Komodo is a second-generation Bitcoin-based blockchain. It is a fork of the Zcash blockchain which in turn was a Bitcoin fork. KMD is the native token of the Komodo blockchain with a total supply of 200 million tokens. Komodo implements zero-knowledge proofs (zkSNARK) anonymity protocols.
2. Lisk (LSK): 2,640 commits
Market Capitalization: $1.35 billion; 24-hour volume: $60.14 million
Lisk is a fork of the Crypti blockchain. It is an open source blockchain platform that will enable developers to write DApps in JavaScript programming language. Lisk plans to implement a sidechain for each DApp to ensure scalability. The platform is powered by the LSK tokens.
3. EOS (EOS): 2,543 commits
Market Capitalization: $17 billion; 24-hour volume: $3.62 billion
EOS is a blockchain that is designed to provide a platform for businesses to build large-scale commercial DApps. EOS uses asynchronous communication and parallel processing protocols to ensure scalability. The platform's project includes an all-star cast of notable blockchain VIPs including Dan Larimer.
4. Nuls (NULS): 2,305 commits
Market Capitalization: $162 million; 24-hour volume: $17.7 million
Nuls is a blockchain platform that is focused on private blockchains. Nuls is developing a modular structure that will allow private blockchains have easy access to public blockchains.
5. TRON (TRX): 2,237 commits
Market Capitalization: $5.97 billion; 24-hour volume: $1.37 billion
Tron is a decentralized protocol that enables content creators to take complete control of the creative work. It features an incentivized platform where content creators can list their works, making it available for purchase. The native currency of the blockchain is called Tronix (TRX). The project looks to solve the problem of censorship and high channel fees in the content industry.
6. 0x (ZRX): 2,102 commits
Market Capitalization: $653 million; 24-hour volume: $10 million
0x is a decentralized exchange (DEX) platform. It allows the trading of ERC20 tokens on the Ethereum blockchain. The project aims to improve the functionality of decentralized exchanges by using off-chain orders in tandem with on-chain settlements. This approach aims to significantly reduce transaction fees associated with cryptocurrency trading on the DEX.
7. RChain (RHOC): 1,531 commits
Market Capitalization: $617 million; 24-hour volume: $1.05 million
Rchain is designed to be a scalable blockchain platform. Up to 40,000 transactions can be carried out on the Rchain network per second. It uses game theory and Mobile Process Calculi to deliver an efficient decentralized network.
8. Nebulas (NAS): 1,423 commits
Market Capitalization: $353 million; 24-hour volume: $38.67 million
Nebulas is a search engine for blockchains. It is an incentive-based, self-evolving platform with smart contract capabilities. The project aims to enable users to privatize their data thereby stopping large internet companies from profiting off users' data.
9. Republic Protocol (REN): 1,402 commits
Market Capitalization: $41 million; 24-hour volume: $3.62 million
Republic protocol is an atomic swap, darkpool trading platform. It enables private large-scale cryptocurrency trading transactions. The platform uses a zero-knowledge proof that only verifies the logic aspect of a trade without investigating any specific details.
10. Olympus Labs (MOT): 1,341 commits
Market Capitalization: $18 million; 24-hour volume: $1.49 million
Olympus labs is an ambitious process that aims to create a robust blockchain-based decentralized financial ecosystem. The platform combines a DEX with smart contract implementation and cross-chain exchanges.
DarpalRating
DarpalRating is another service that tracks GitHub developer activities on cryptocurrency and blockchain projects. The platform uses four parameters to rank crypto projects. These are:
The popularity of the library,
Number of contributors,
Release frequency,
Type and number of commits.
The top ten projects (as per data of March 2018) in the DarpalRating ranking are; EOS, Lisk, Particl, Cardano, Bitcoin, Ethereum, IPFS, TRON, 0x, Augur.