Top 5 Fundamental NFT Projects To Look at in Q3 2022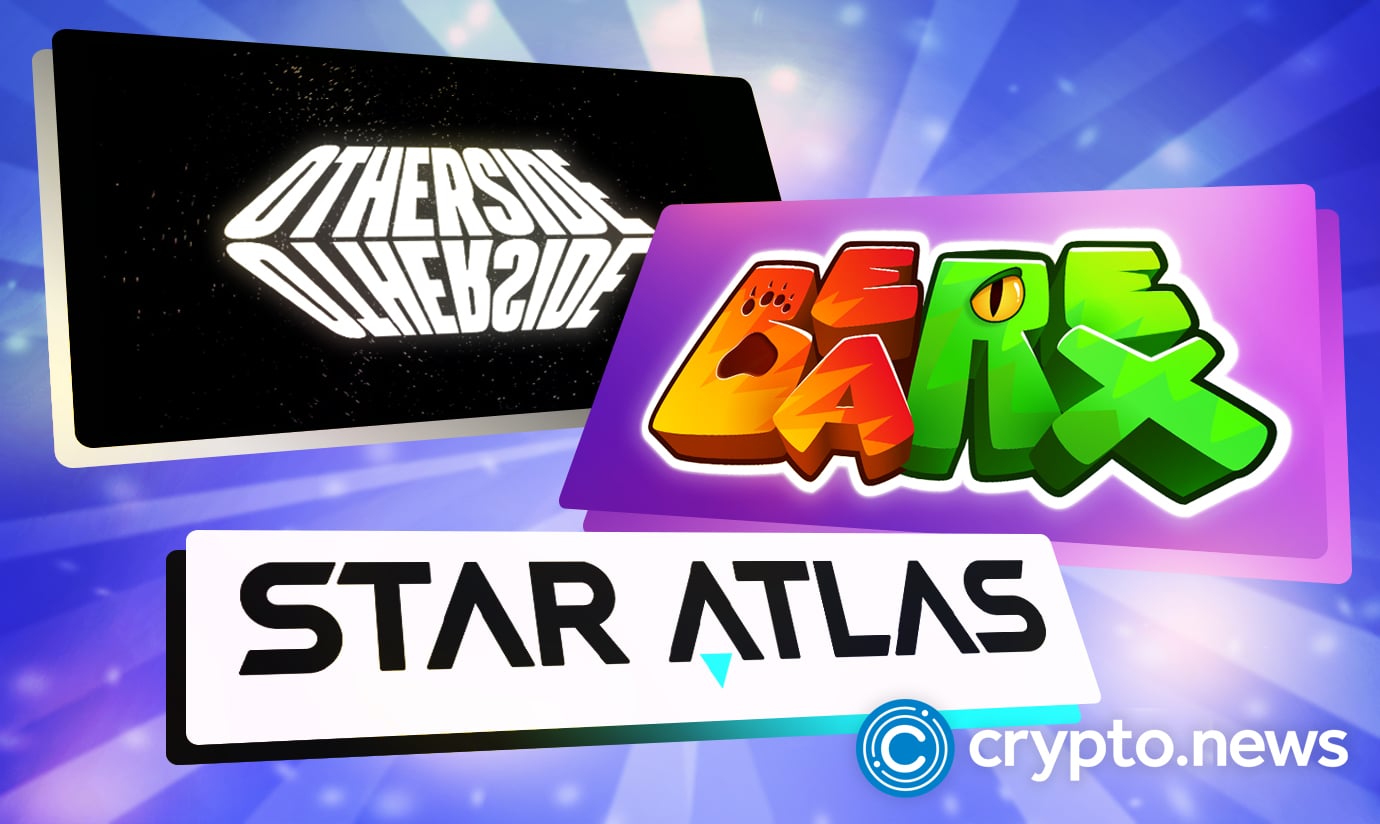 Over the past year and a half, the NFT market has shown the most powerful growth. NFT gave us a new look at digital art, and raised it to the top of popularity, as a huge number of investors have derived incredible benefits from owning non-fungible tokens. There has been a lot of talk about the NFT being an artificially inflated and overvalued story, however, it is already the third quarter of 2022, and the trend of growing interest in NFT does not show any signs of stopping.
In this article, we will discuss NFT projects that‌ may become the most interesting in terms of investment and growth prospects in the near future. One thing they have in common is their extreme ambition and persistent movement upward to the top of the NFT world.
1. OtherSide Metaverse from NFT Bored Ape Yacht Club
The BAYC project from Yuga Labs was launched just a year ago, but has already made history. All NFTs were sold out in the first 12 hours (now available only on the secondary market). Bored Ape Yacht Club (BAYC) NFT collection for many is a reference for this specific market. The cheapest NFT featuring funny monkeys from this collection is now on sale for hundreds of thousands of dollars, and two of them are known for being bought at a price above $1 million.
This year, at the end of April, BAYC launched OtherSide — the metaverse that broke all records for sales of virtual lands at the time of the demo presentation. On March 16, 2022, BAYC launched its own cryptocurrency ApeCoin, and with its help they expect to expand their influence on the gaming market. ApeCoin, according to the team, is a "token for culture, games and commerce" used within the decentralized community of the web 3.0 space.
By the way, after the release of Apecoin, the holders of NFT BAYC and MAYC received 15% of all tokens with which they can vote and make decisions related to the management of Otherside, as well as free lands. Virtual land was sold out in record time and broke the profitability of Sandbox. As a result, land sales broke all existing records by 2-3 times, overtaking the long-existing Sandbox and amounted to $320 million. One of the rarest virtual lands was bought for $1.5 million.
Yuga reported on its website that the project is being developed in partnership with Animoca Brands (the parent company of The Sandbox) and Improbable (engaged in metaverse technologies). Otherside World combines the mechanics of multiplayer online role-playing games (MMORPG) and virtual worlds with Web3 support.
According to the creators, they are trying to create a MetaRPG where players own lands and any NFT can become a game character (using a special SDK software development kit), while thousands of people will be online at the same time.
OtherSide combines elements of MMORPG and metaverse with NFT. Typical online gaming worlds can handle about 10,000 operations per second. OtherSide can process more than half a billion operations per second, which provides an unprecedented scale of gameplay and interactions that were previously impossible.
2. Star Atlas: the Long-Awaited Vast Universe
Star Atlas is a really large-scale project developed on the Unreal 5 engine, so the graphics here are excellent and beyond praise. Star Atlas is one huge universe where all game items will be NFTs. A special highlight and at the same time a special difficulty of Star Atlas is that any of your assets in the game are not protected from destruction, theft or loss. And since all network things are always at risk, blockchain-based insurance will certainly be used in the game.
Star Atlas is a really huge, almost endless world, and the gaming community was looking forward to plunging into this universe a year before its launch. There were gamers who purchased its native token long before the launch, in order to take advantage of this low price and support developers in their ambitious project.
3. BeaRex: the Gaming NFT Universe with Its Animated Series Involving Netflix
BeaRex is a kind of NFT industry dark horse, which can be recommended betting on before everyone else, while the project is young and you can become an early investor, having received the largest profits from the purchase of the first NFT collection. BeaRex is backed by a team with vast experience, which is building a large-scale ecosystem project under this brand, including four business lines:
Play-and-Earn game with in-game NFTs that can be used for developing within the game, or sold for profit.
The animated series starring NFT-Bears from the BeaRex universe, whose owners will receive royalties from the rental, which, by the way, is planned to be held on the Netflix platform. Also, a Netflix writer writes the script for the series, which will be created in the spirit of the Simpsons and Family Guy. The pilot is already underway, and the series is scheduled to be released before the end of this year.
Branding of goods in many areas — from teddy bears and clothes to food.
An educational metaverse where members of the BeaRex community will be provided with the tools for creating educational and entertaining content.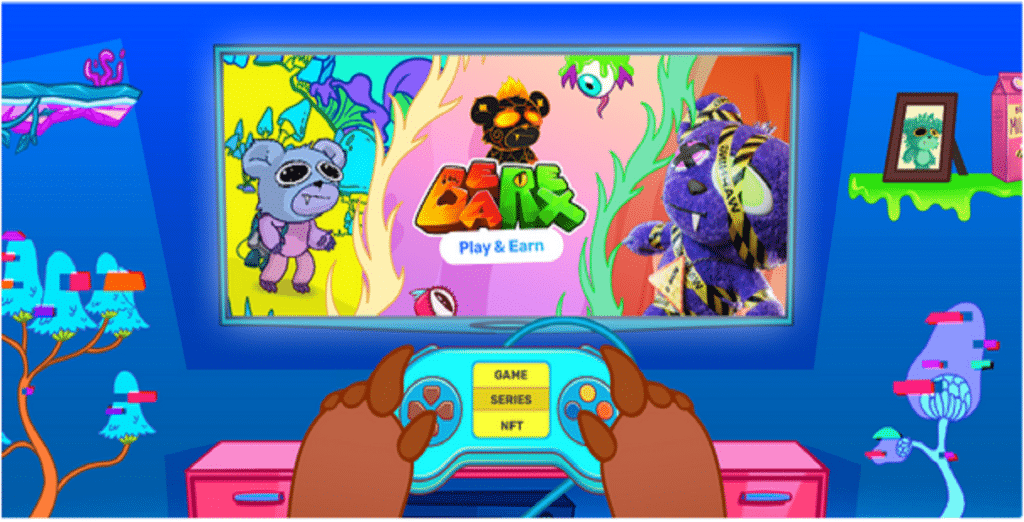 Let's tell a little more about the first one: the runner game like Super Mario where the protagonist Bear runs through an endless level, escaping the Dinosaur, picking up berries along the way and making smoothies from them that help the Bear move to new universes. With simple mechanics and bright, humorous visuals, the game appeals to players of absolutely all ages.
The main feature of the BeaRex game is that it combines two areas of GameFi that have existed separately until now: the Free-to-Play and the Play-to-Earn modes. Together, these two directions form a new, most democratic and promising one that is called Play-and-Earn. You can have a great time and practice playing the Bear in free mode, and then, if you wish, switch to P2E mode and start earning.
The BeaRex game props are presented as NFTs, the first and main among which are the Bears. Actually, all you need to do to start playing in the earning mode is buying an NFT Bear. That being said, you can keep all your progress from the free game by turning your Bear into an NFT and buying it. Can you imagine what opportunities this feature opens up?
In the earning mode, getting game resources becomes easier, and later you can use them for leveling up your Bear, buying new resources, or exchanging them for TripCoin — the in-game token which you can sell on the exchange, thus making a profit from pleasantly time spent.
Soon the team will announce the timing of the first BeaRex NFT collection presale, which will be sold on completely unique conditions. In order not to miss this opportunity, join the BeaRex telegram channel and get whitelisted.
At the moment, after the successful launch of the game in an AR mask on Instagram, BeaRex is undergoing beta testing on Telegram and its website. In honor of the launch, a 10,000 USDT giveaway is currently underway, which the team will distribute to the best players, as well as to those who have attracted more referrals and completed small daily tasks. You can receive prizes both in all categories, and separately. To take part, you need to go either to the website or to the BeaRex Telegram bot and, following the simple menu prompts, play the BeaRex beta game.
4. Illuvium: Catch Them If You Can
Illuvium is the game that is highly anticipated by many players. The game`s essence is searching and capturing of a huge variety of Illuviums, and then upgrading them in PVP (player VS player) battles in a special Preset Battle system. That is, you make an arrangement that is competent in your opinion, and then automatically launch the battle, where Illuviums fight against each other in teams.
You can start playing the game for free — in this mode, you have access to the first location only. Here you can play only with Illuviums of the zero level. In locations from "1" to "5" you need to pay for further playing. However, having developed your "0" level Illuvium from that starting location, you can sell it, and for this earned money, open access to the 1-5 levels. You can even withdraw this money to your wallet thus earning without having paid.
ILVL is the native token of the game and it's the base of Illuvium's economy. You can get it for completing various game tasks or get it for selling the mined items on the marketplace. The ILVL sale started at the very beginning of 2021 at a price of $60, it grew 10 times in 10 months and is now trading at $600. The Illuvium game has already proved to be a well-established serious project, so the price of the IVL coin is steadily growing.
5. Big Time: Your Gaming Skills Only Are Crucial
A game with significantly less hype around it, but with every opportunity to prove its true value over time. This game is very special because of its complete abandoning the Pay-to-Win model. It means that you won't be able to buy any progress in it. You can only earn it by honest gaming work. Then what is the NFT component needed for in this game?
NFTs are various gaming items that do not give you any advantage over other players. Nevertheless, players buy all these things for better experience, for pleasure, and also, because then they can earn by selling these later.
Big Time is an action RPG where with a group of co-teammates from either random players or your friends, you go through PVE (Player VS Environment) adventures in order to earn game progress by passing them (such as "character level" indicators, character development, strength, etc.) and get some NFT items.
In the spring of 2021, the game's creators attracted $21M from a group of investors for developing a vast collection of NFT items. Big Time has already launched several rounds of NFT items sales, and all of them were quite successful. Even before the official launch, the game has already made a lot of noise, attracting money and players through early access passports on Binance.
The Bottom Line
We reviewed the most promising NFT projects for the Q3 of 2022. The potential value of these NFTs is huge, which is why you should inspect them before their prices rise by thousands of percent. Such is the crypto market — an early bird catches a worm here, and the rest just have to look at this train rushing away with a sigh. We wish you good luck and inspiring, valuable shopping in this amazing market.