TRON (TRX) Now Second Largest dApp Ecosystem after Ethereum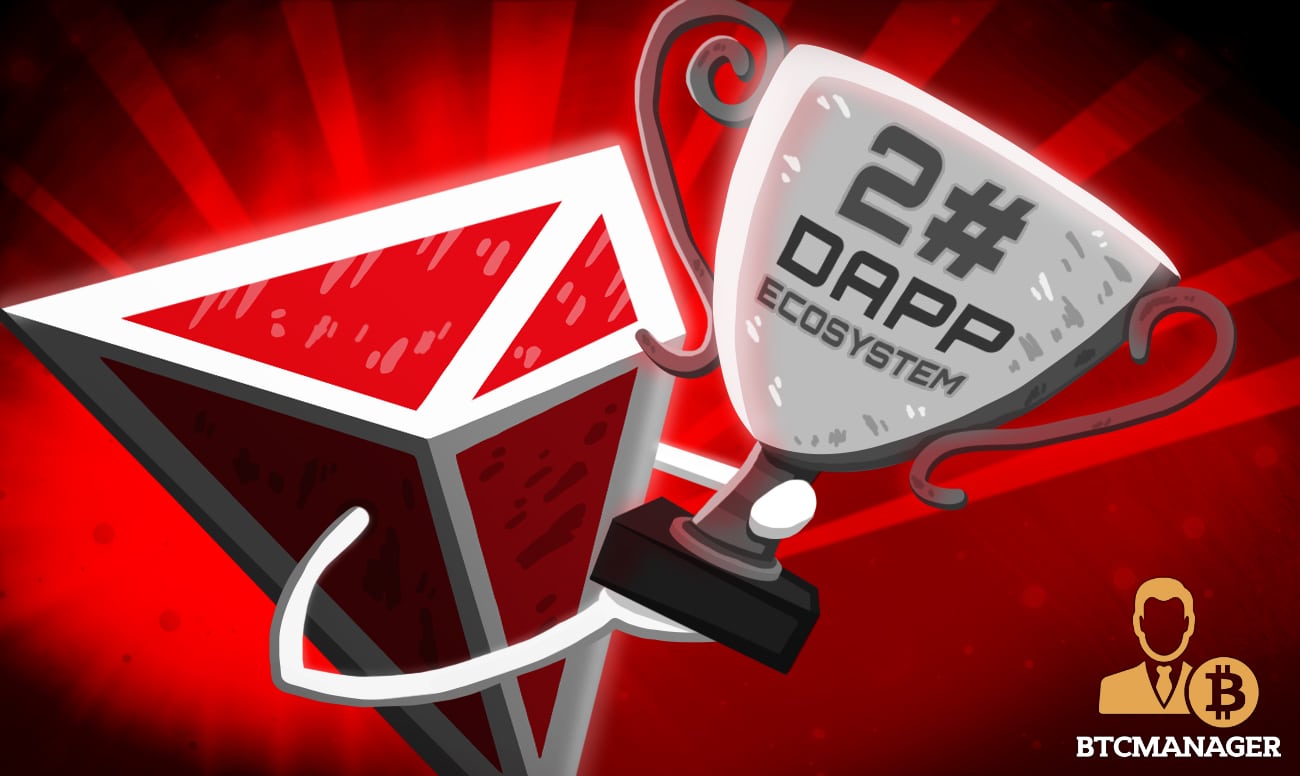 TRON (TRX), the blockchain network powering the 12th-largest cryptocurrency in the world by market capitalization, is now the second most used DLT protocol for the development of decentralized applications (dApp), after Vitalik Buterin's Ethereum, according to the Dapp.com 2019 Annual dApp Market Report.
TRON (TRX) Surpasses EOS, Others 
Despite the numerous controversies that have plagued TRON (TRX), Justin Sun's distributed ledger technology (DLT) project, the network has continued to grow from strength to strength.
Per sources close to the matter, TRON (TRX) was home to a massive 411 new decentralized applications by the end of 2019, with gambling and other high-risk dApps accounting for over 75 percent of the active users and volume.
Reportedly, although not all the dApps on the TRON blockchain were active, nine top projects on the network, however, succeeded in recording a massive 3.26 billion worth of transactions.
What's more, in addition to the gambling and high-risk applications, the TRON network also housed a vast array of financial services and DeFi dApps, with the latter attracting an impressive 1 million users.
Other Blockchains 
As reported by BTCManager earlier in January 2020, Ethereum maintains its status as the king of the decentralized financial ecosystem, despite the fact that the price of its native ether (ETH) altcoin has not met the expectations of its hodlers.
Notably, the Ethereum network attracted about 600 new dApps, which attracted over 1.4 million active users. In addition to that, Ethereum was also the network of choice for more than 200k gamers and game developers, the report says.
Interestingly, EOS failed to live up to expectations, as some of the top dApps on the network, including EOSbet, Karma and Prospectors migrated to the Wax Blockchain.
Despite this, the 260 new dApps on EOS, managed to generate around $5 billion.
Even with its recent success, the TRON team is not relaxing on its oars, working round the clock to maintain its top position.
On January 12, 2020, BTCManager informed that Justin Sun had announced on Twitter that the network is putting the finishing touches to a secret project that could attract billions of dollars to the BitTorrent and TRON (TRX) ecosystems.
At press time, the price of TRX is down by 5.18 percent at $0.015955, as seen on CoinMarketCap.