Twitter Suspends Accounts of Major Crypto Influencers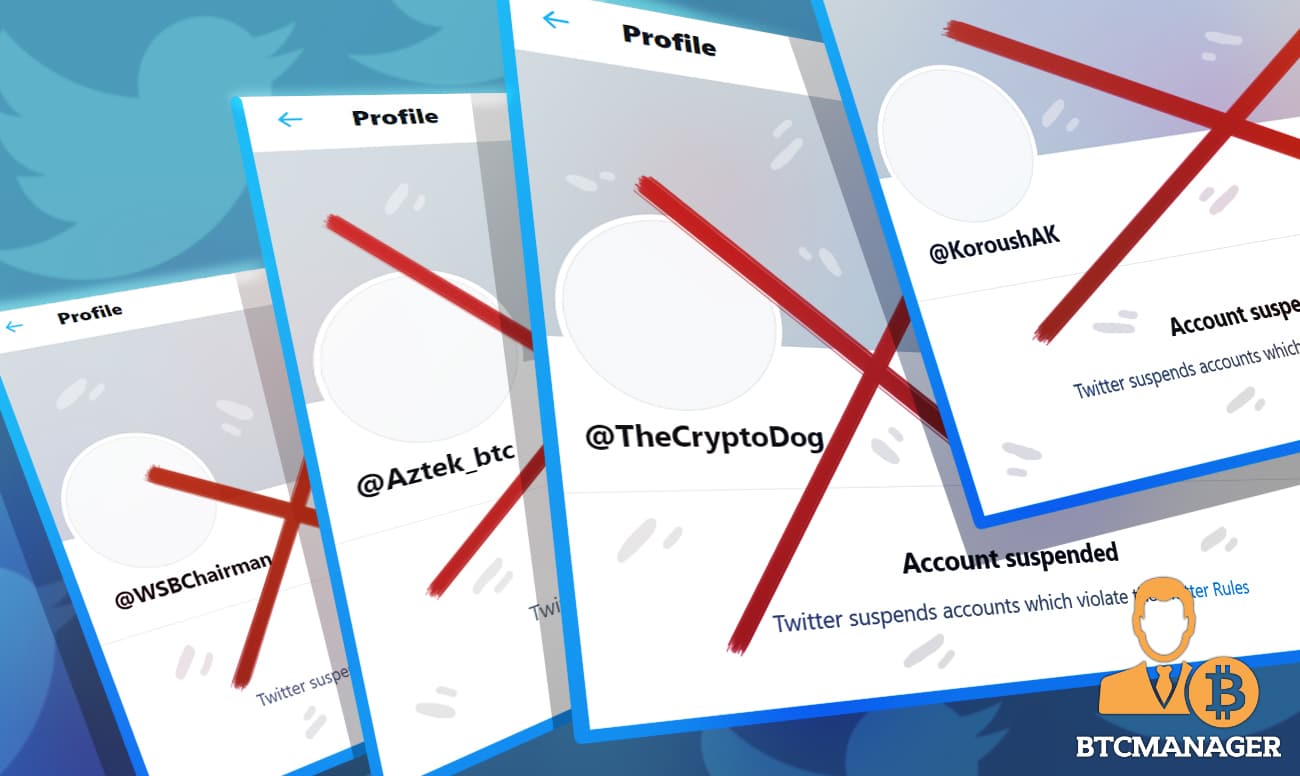 Major social media platform Twitter, headed by bitcoin proponent Jack Dorsey, has suspended the accounts of some influencers in the cryptocurrency space.
Crypto Accounts Mistakenly Considered as Scams
According to a tweet by popular YouTuber Tone Vays on Wednesday (Mar. 10, 2021), accounts belonging to a bunch of well-known crypto influencers like bitcoin analyst Willy Woo and Plan B, creator of the Bitcoin sock-to-flow model, got suspended by Twitter. 
Usually, Twitter accounts get suspended if the holders act in contravention of the laid down rules. A suspension also comes after various individuals report accounts for abuse, harassment, and other related matters. 
In the case of the affected accounts, it was not known what they did or why they got suspended. Meanwhile, apart from Willy Woo and Plan B, other notable influencers in the crypto space were suspended.
In a tweet by Peter McCormack detailing the full list, other accounts include MMcrypto, WSBchairman, themooncarl, KoroushAK, and TheCryptoDog. However, of the seven affected accounts, only those belonging to Willy Woo and Plan B have been restored. 
Following the restoration of his account, Plan B stated that the reason Twitter suspended the accounts was that the platform thought they were spam. The crypto influencer also noted that verifying the accounts with its notable blue mark check would prevent such mistakes from recurring.
"So the reason for suspension was twitter flagged our accounts as spam by mistake. Note that victims of scammers and impersonators think it is us and report the real accounts…a blue "verified" checkmark would solve this and prevent a lot of harm."
Social media centralization heightens calls for decentralized options
Meanwhile, Twitter is not the only mainstream platform to take down crypto-related accounts. YouTube, a major online video-sharing platform also banned various cryptocurrency channels. 
As previously reported by BTCManager back in 2019, YouTube deleted various crypto-linked contents on its platform, while stating that such contents were dangerous or harmful. The platform later said that it acted in error. In March 2020, YouTube again deleted a video belonging to YouTuber Ivan on Tech.
With centralized platforms like Twitter and YouTube censoring what its users can post, it becomes imperative for the crypto community to start considering decentralized options. 
Meanwhile, Twitter chief Jack Dorsey has always been aware that the decentralization route was the way to go. Back in 2019, Dorsey said Twitter hired a team of developers to build a decentralized social media protocol called BlueSky. 
Earlier in January 2021, Dorsey spoke up following Twitter's ban on the account belonging to former U.S. President Donald Trump. In a tweet thread, the Twitter CEO lauded the decentralized nature of bitcoin, saying:
"The reason I have so much passion for #Bitcoin is largely because of the model it demonstrates: a foundational internet technology that is not controlled or influenced by any single individual or entity. This is what the internet wants to be, and over time, more of it will be."