UNICEF Cryptocurrency Fund Invests 125 Ether (ETH) to Mitigate COVID-19 Impact on Children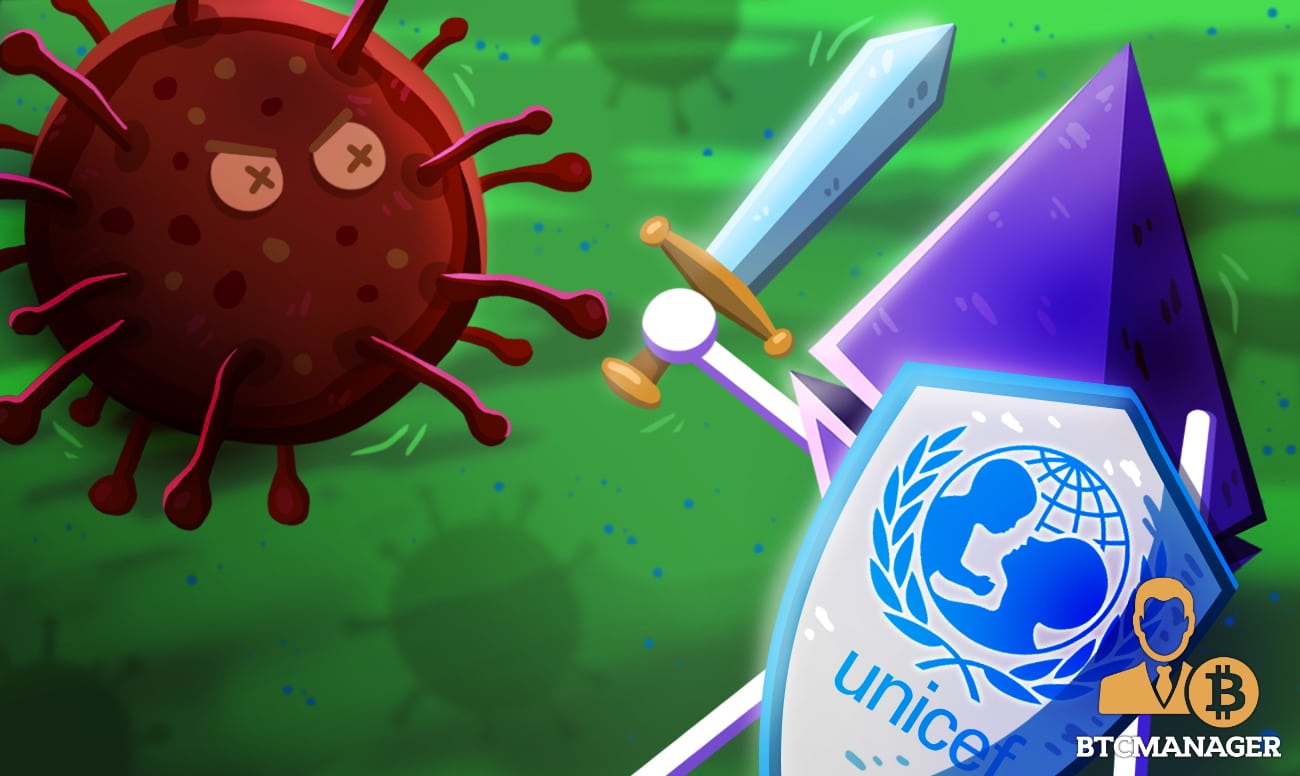 The UNICEF Cryptocurrency Fund recently announced its largest-ever investment — to the tune of 125 Ether (ETH) – to help eight promising technology startups from seven countries expand their work to mitigate the hardships brought about by the COVID-19 pandemic on children and youth.
UNICEF Invests Ether to Fight COVID-19
According to a recent announcement by the UNICEF, the supranational organization's cryptocurrency fund will invest 125 ETH in eight technology startups in developing and emerging countries to mitigate the impact of COVID-19 on the younger populace.
Dubbed CryptoFund, the digital currency investment fund will aid the companies to develop prototypes, pilot, or scale their tech products or services over the next six months. These companies are Afinidata, Avyantra, Cireha, Ideasis, OS City, StaTwig, Somleng, and Utopic.
Notably, all the eight aforementioned companies have previously received up to $100,000 from UNICEF's Innovation Fund. This time, however, the companies will receive the financial aid in the form of cryptocurrencies that have steadily matured as a medium of payment over the past few years. The digital currency aid – in the form of ETH – will be utilized toward the development of open-source and digital public goods.
These tech startups, according to the announcement, are working with their respective national governments toward minimizing the impact of COVID-19 on children and youth around the world.
Much More than a Cryptocurrency Investment
The firms are involved in a wide range of humanitarian work, including sending vital messages on COVID-19, tracking the effectiveness of rice delivery to vulnerable communities, improving children's literacy via remote learning, and treating pandemic-induced anxieties.
Commenting on the development, Chris Fabian, Senior Adviser, co-Lead, UNICEF Ventures, said:
"We are seeing the digital world come at us more quickly than we could have imagined – and UNICEF must be able to use all of the tools of this new world to help children today and tomorrow."
Adding:
"The transfer of these funds – to eight companies in seven countries around the world – took less than 20 minutes and cost us less than $20. Almost instant global movement of value, fees of less than 0.00009% of the total amount transferred, and real-time transparency for our donors and supporters are the types of tools we are excited about."
In addition to the financial impetus, the startups will receive business growth mentorship, product, and technical assistance, open-source and UX and UI development, access to experts and partners, and opportunities to display their solutions.
Earlier this year, Ethereum Classic Labs (ETC Labs) had announced a $1 million donation to the UNICEF Innovation Fund.