Uniswap's Trading Volumes Soared to over $50 Billion, More ETH Now Under Management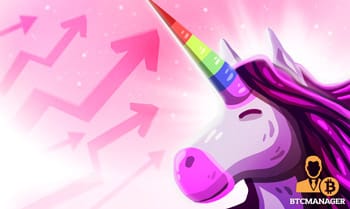 Last week, the cumulative trading volume in Uniswap soared to over $50 billion, an all-time high on a week-over-week basis. In a tweet posted by the founder, Hayden Adams, on Dec 14, the Ethereum-based decentralized exchange attracted $51.68 billion in volume posting a new 2020 high.
Uniswap Dominance, adds over 7.4k ETH in 24 Hours
Uniswap is the largest DEX in the world.
According to trackers, the exchange, on average, registers over $300 million in daily trading volumes. On Dec 14, Uniswap posted daily averages of $343.8 million.
Coincidentally, the uptick in trading volumes is at a time when there is an observable change in the trend of total value locked (TVL) in DeFi. 
On Dec 15, there were $14.9 billion of digital assets under management by different dApps. A majority is locked in Maker, but Uniswap added 7.4k ETH on the last day.
At this rate, the exchange is the most dominant, drawing more volumes than competitors like Bancor, Ox, Sushiswap, and Curve.
DEXes Are Taking Market Share from Centralized Exchanges
Overly, more users are shifting over to decentralized exchanges and the fluidity created by the rise of DeFi protocols. 
DEXes form a big part of DeFi.
The absence of KYC and the incentives created by project creators mean there is more benefit in trading via trustless swapping protocols.
All that's needed is a compatible—mostly a web browser wallet like MetaMask. 
With this, a trader can hop from protocol to protocol, swapping tokens and participating in other yield farming activities, increasing their bottom line.
The Spike in 2020
Notably, the overall DEX trading volumes have exponentially surged in 2020. Compared to trading activities in early January 2020, there is a marked increase not only in trading volumes but in swapping protocols with AMMs. 
While Bancor and Ox were some of the earliest, Uniswap—launched in late 2018, and Sushiswap, control a significant market share in trading.
At the peak of DeFi in September, Uniswap transacted more than some of the earliest centralized exchanges, including Coinbase Pro. The former is established with applicable KYC protocol. It allows users to directly connect their accounts with banks, trading fiat currencies as a result. 
On the other hand, though adopting a simplistic approach, Uniswap is trustless without KYC or fiat support.
However, innovation in the space has seen an increase in the use of a stablecoin, DAI, and other alternatives, which algorithmically brings the stability of fiat to crypto.
As BTCManager reported, the initial UNI distribution came to an end on Nov 17. However, a subsequent proposal may see the second phase of distribution at half the initial rate.