US SEC Warns Coinbase Over the Exchange's Plan to Launch a Lending Program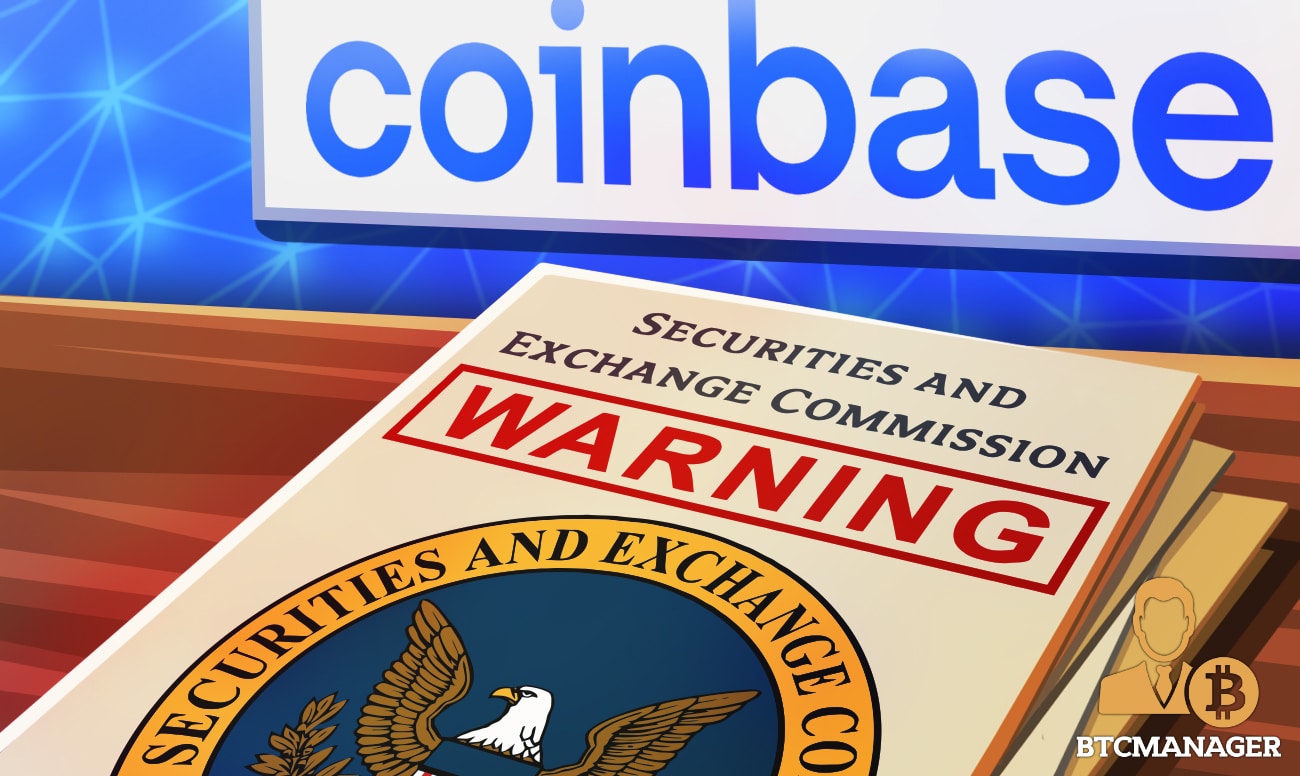 The Securities and Exchange Commission plans on suing Coinbase if it goes ahead to launch its lending program. According to a blog post, the exchange got a Wells Notice from the regulator. From the looks of things, the SEC could soon lead Coinbase to a court proceeding. 
Reasons for the Legal Action
The U.S watchdog doesn't state any clear reason for issuing a Wells Notice. Before, Coinbase held meetings with the SEC to discuss details on the program. The chief legal officer at Coinbase confirms that the discussions went on for about six months. 
In the program, Lend users can make a living from their digital assets. The product takes a similar approach to other lending platforms available today. Thus, USDC holders can earn an interest of 4% APY.
Listening to the Warning
Coinbase made its decision not to launch the product. Instead, the exchange sought to get the SEC's remarks before proceeding with anything. In June 2021, Coinbase made a waitlist for the upcoming lending program. 
After holding talks, the SEC concludes that the product is related to a security. What's more, the SEC plans on examining the case using the Howey and Reves test. 
Coinbase believes that official guidance can help them enforce regulatory standards. However, SEC's actions overlook its regulatory procedures and opt for a court proceeding instead. The Wells Notice forces Coinbase to postpone the launch of Lend until October 2021.
BlockFi is Yet Another Victim
Crypto regulators in the U.S launched a crackdown on BlockFi in mid-2021. BlockFi enables users to earn interest from their cryptocurrencies. Aside from that, holding digital assets in an account gives users access to loans. 
Having crypto in the BlockFi Interest Account (BIA) earns users an interest of up to 7.5% APY. Borrowers receive a minimum loan amount of $10,000. Such offerings are making various regulators question BlockFi's products. 
In July 2021, New Jersey regulators gave BlockFi a cease-and-desist order. According to the New Jersey Bureau of Securities, the BIA operates unlawfully. To the regulators, BlockFi's products put investors at risk of losses. As such, the New Jersey body terms BIAs as securities that don't follow the state laws. 
It doesn't stop there, as the Alabama Securities Commission was also on BlockFi's case. Alabama regulators gave BlockFi 28 days to explain why it shouldn't stop offering unregistered securities. 
The action comes in support of New Jersey's cease-and-desist order. A third regulatory body from Texas also came after BlockFi to start another cease-and-desist order. Such investigations from regulators could end up affecting many crypto businesses.