US SEC Delays Decision Concerning Bitcoin ETF Until September 30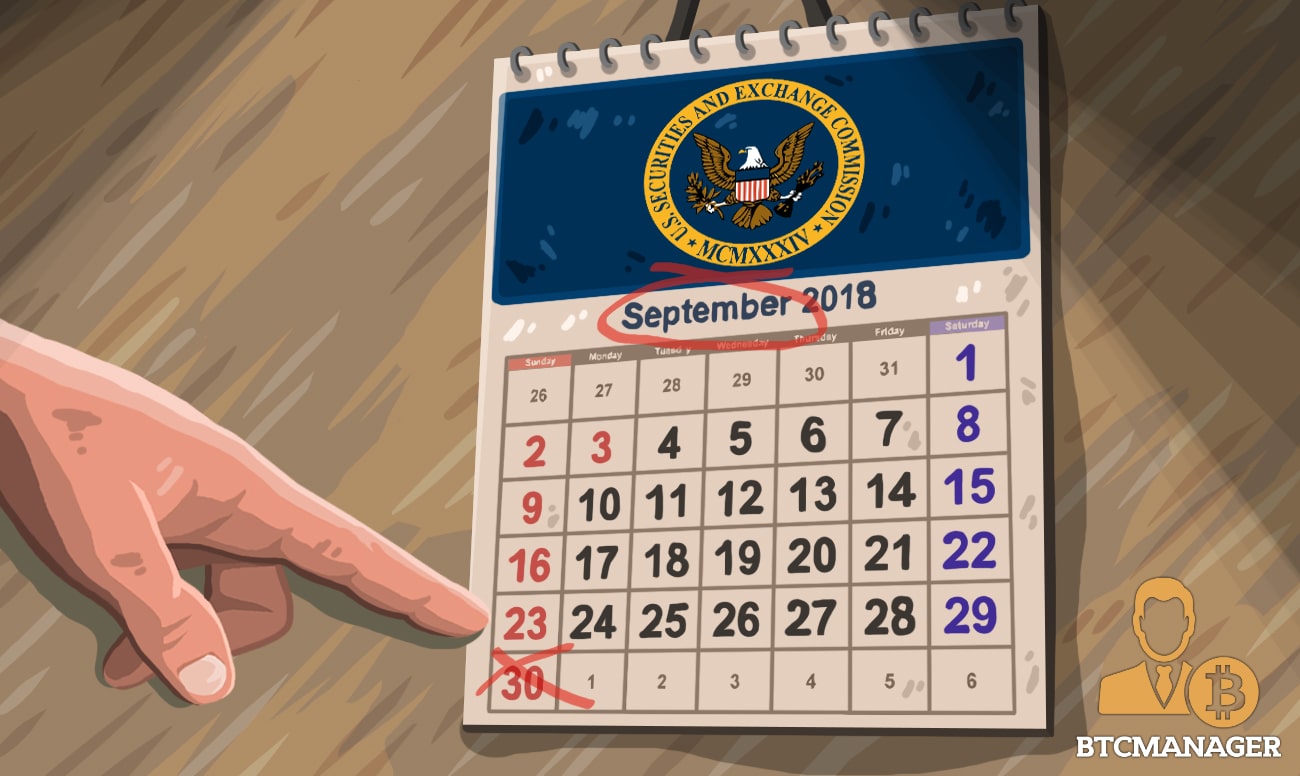 The US Securities Exchange Commission (SEC) released an official document on August 7, 2018, which outlined their decision to defer the listing and trading of a Bitcoin exchange-traded fund (ETF) until September 30.
SEC Delay a Major blow to Cryptocurrency Enthusiasts
An ETF is a form of investment that tracks the performance of a basket of assets or a given index. They often provide access to every major asset class and are seen as great investment options since they are easy to use, transparent, flexible, and reasonably low cost.
When it comes to the cryptocurrency industry, ETFs have a significant advantage since investing in cryptocurrencies requires a decent amount of knowledge and information in terms of logistics. With an ETF, the company can take care of the sourcing and holding of cryptocurrencies. Therefore, if the SEC accepts a Bitcoin ETF, it would be a positive step forward for the cryptocurrency industry which could even potentially pave the way for the mass adoption of cryptocurrencies.
According to the official document, the SEC has until September 30 to "approve or disapprove, or institute proceedings to determine whether to disapprove" the proposed rule change. The fund the US SEC is considering is from the investment firm VanEck and the financial services company SolidX Bitcoin Trust, which will list on the CBOE BZX Equities Exchange. The original deadline will expire next week, however, with the new delay, the SEC now has just under two months to make a decision.
VanEck's CEO, Jan van Eck stated in June,
"We believe that collectively we will build something that may be better than other constructs currently making their way through the regulatory process…A properly constructed physically-backed bitcoin ETF will be designed to provide exposure to the price of bitcoin, and an insurance component will help protect shareholders against the operational risks of sourcing and holding bitcoin."
Cryptocurrency Community Is Torn over Bitcoin ETF
Bloomberg reported that the SEC's delay and inability to make an immediate decision has hurt cryptocurrency enthusiasts. The SEC previously denied a request for an exchange run by Tyler and Cameron Winklevoss in late July. Many believed that VanEck's proposal had a significantly higher chance to gain approval since it had a minimum share price that is fairly discouraging to retail investors and insurance.
The SEC, therefore, sought opinions in the cryptocurrency community on whether an ETF tied to Bitcoin is a positive thing. While the SEC has closed the comments, there are many mixed opinions on Bitcoin ETF. Many skeptics believe that if Bitcoin is an ETF it "is a very ominous step forward, not only for the world of finance but also the world as a whole," said Varun Gaur. Commentor Gaur added that while Bitcoin has come a long way, it may be ready to become an ETF one day, but not today.