Virginia Pension Fund Interested in Crypto Yield Farming, Already Invested $70 Million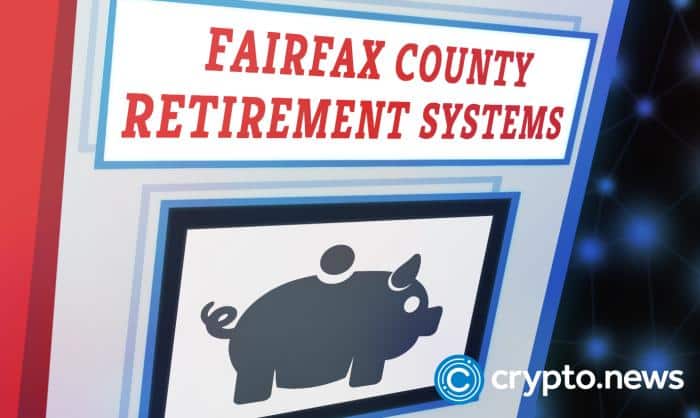 Despite the recent market downturn, Fairfax County Retirement Systems, a pension fund based in Virginia, has shown interest in the cryptocurrency lending market, as it seeks ways to bolster returns.
Pension Funds Already Inject $70 Million in Crypto Yield Funds
According to the Financial Times on Thursday (August 4, 2022), the Fairfax County Retirement Systems, which includes the Fairfax County Police Officers Retirement System and the Fairfax County Employee Retirement System, obtained approval for the board of trustees to invest pension fund money in yield farming.
Meanwhile, the Fairfax County Retirement Systems already went a step further to invest in crypto yield farming, as the pension fund recently injected $35 million each into VanEck's New Finance Income Fund, and Parataxis Capital Management's digital yield fund. Both projects generate yields for investors who provide liquidity.
Speaking to the Financial Times in an interview, Chief Investment Officer (CIO) for the $1.8 billion Fairfax County Police Officer Retirement Systems, Katherine Molnar, said:
Some of the yields that you're able to achieve in a yield farming strategy are really attractive because some of the people have stepped back from that space. For those that are still willing to provide liquidity, decent profit seekers, they're actually able to earn more attractive yields at the moment.
However, the pension funds do not seem to be deterred by the current problems experienced by platforms offering crypto lending services. Major companies like Celsius, Voyager Digital, and Three Arrows Capital (3AC) are struggling to stay afloat, with all three having filed for bankruptcy.
In July, 3AC liquidators were given consent to issue a subpoena to the hedge fund's founders. Voyager and Celsius suspended withdrawal, with the latter also facing legal battles, and recently announced a breach of its customers' data.
Meanwhile, a Canadian pension fund, Caisse de dépôt et placement du Québec (CDPQ) which earlier invested $150 million in Celsius, was affected by the platform's decision to halt withdrawals and file for bankruptcy.
Not a Stranger to the Crypto Industry
Interestingly, it is not the pension managers' first foray into the cryptocurrency industry. In 2019, both the Fairfax County Police Officers Retirement System and the $5 billion Fairfax County Employee Retirement System, invested $11 million and $10 million respectively in the Morgan Creek Blockchain Opportunities Fund.
Both pension funds said that due diligence was carried out before delving into the burgeoning sector. Since then, the funds have made additional seven digital allocations regarding hedge funds and private equity, with the latest being yield farming.
According to the CIO for Fairfax County Employee Retirement System, Andrew Spellar:
We started in venture capital and private equity. But once we got more comfortable in the space, we started to think a bit broader about how we might be able to use strategies in digital assets in other parts of the portfolio.
Despite the crypto industry situation, Molnar said the funds are optimistic that the market will be in the green again. The pension systems' initial investment in the sector is still up 350%, despite the plunge in prices.