Virtue Poker Launches the Binance Mysterybox Collection ahead of Celebrity Charity Poker featuring Justin Sun, Sandeep Nailwal, and Joe Lubin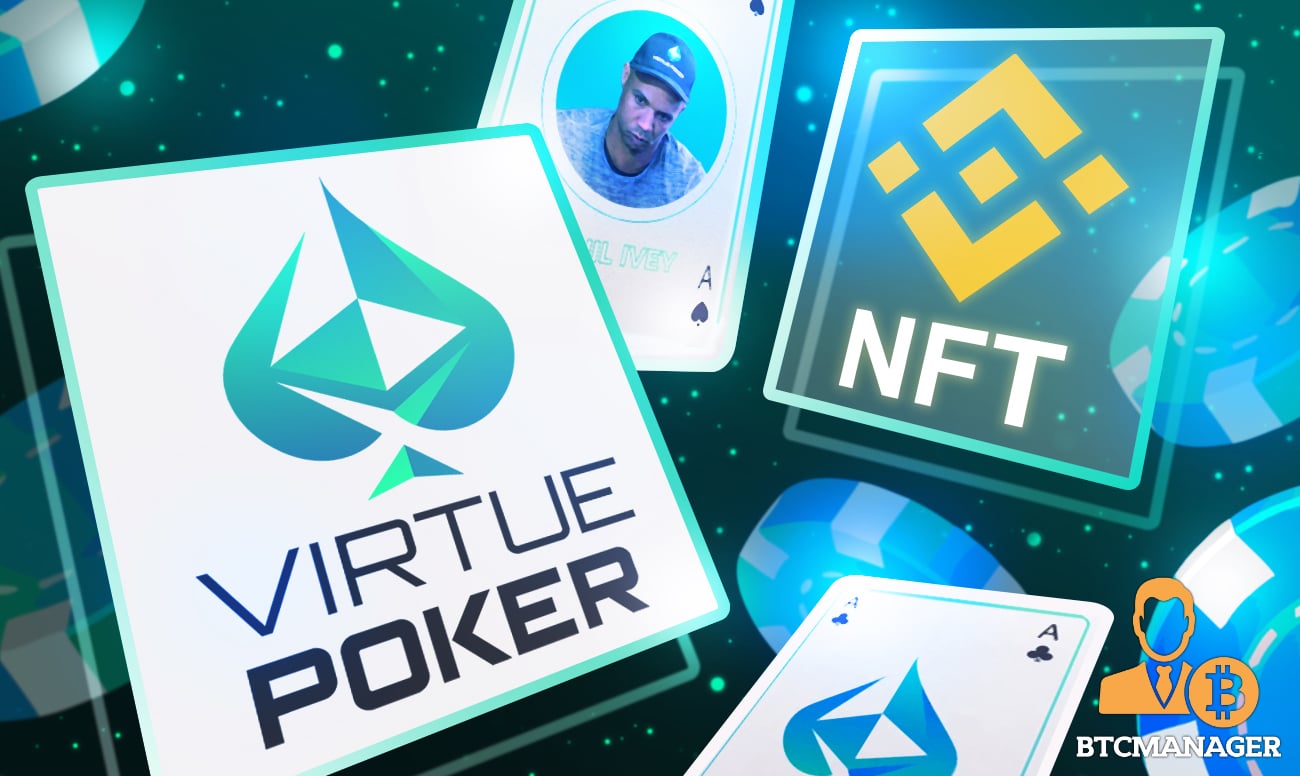 Virtue Poker, a decentralized poker platform on Ethereum, has launched the Binance Mysterybox collection ahead of their Celebrity Charity Poker set for September 26 to drive the adoption of NFTs and help the exchange onboard more users.
Justin Sun, Sandeep Nailwal, and Other Top Profile Blockchain Influencers to Participate
As per a statement on September 16, participants of the Celebrity Charity Poker will include A-listers in the world of poker and blockchain influencers like Justin Sun—the creator of the Tron blockchain–, Hall of Fame (HOF) player, Phil Ivey, Sandeep Nailwal—the co-founder of the interoperable and scalable Ethereum sidechain, Polygon, ConsenSys founder, Joe Lubin, and others.
The Binance Mysterybox collection and Celebrity Event Details
The Binance Mysterybox collection will present a card in a 52-card deck set out as NFTs. 
Part of the mystery box will be the Ace of Spades that Phil digitally signs and comes with a prize of $5k. 
Out of this, collectors who hold the winning hand—comprising two mystery boxes– in every knockout during the Celebrity Event stand to win anywhere between $2.5k and $25k top prize. 
Participants would be free to trade their boxes to increase their chances of winning as they assemble the best hands in the secondary market. 
Virtue Poker limits participants to collect up to 50 completed hands or 100 mystery boxes, storing them in Binance to be eligible for rewards.
The $2.5k prize can be won by a single or multiple participants holding the winning hand in each knockout. 
In cases where there are multiple hands, the prize will be split equally to all winners. 
However, only one winner holding the championship knockout hand can win the $25k top prize even if there will be multiple holders of the championship knockout hand. 
When this pans out, the team will randomly pick a winner.
The RARA NFT Partnership Deal
Besides, there will be a $10,000 Freeroll tournament accessible to holders of two mystery boxes. 
At the same time, Virtue Poker has also partnered with RARA NFT to increase the prizes to the mystery drop and event. 
To amplify their chances of winning rewards, participants can acquire RARA tokens as poker chips via Binance. 
RARA NFT will announce the official address of their wallet from September 23 to 25. 
Users who deposit their poker chips stand to participate in the game. Virtue Poker has said the total RARA tokens sent to the official wallet would be the prize pool. 
Like before, holders of all winning hands will win the prize pool. If there is more than one hand, the one who had transferred the most RARA will emerge as the winner.