Waves Rolls Out New Partnership with Deloitte CIS and USD Gateway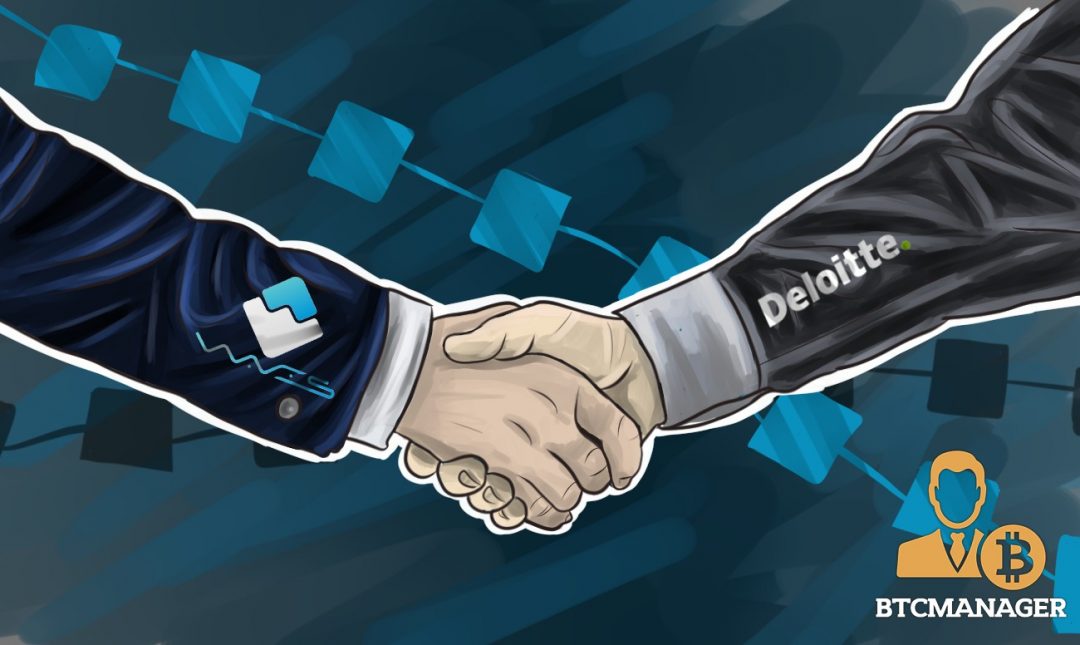 In a move intended to further their footprint in the blockchain world, Moscow-based Waves Platform announced that it had signed a memorandum on a strategic partnership with the prominent global consultancy Deloitte CIS. The partnership is aimed at providing clients with comprehensive initial coin offering (ICO) services and customized blockchain solutions targeting towards specific business tasks.
Deloitte CIS is one of the leading international professional services firms that offers audit, consulting, corporate finance, enterprise risk, and tax and legal services leveraging the professional experience of approximately 3,400 employees in 19 offices of 11 countries across the region. Today, Deloitte has offices in Moscow, St. Petersburg, Ufa, Yekaterinburg, Yuzhno-Sakhalinsk and Novosibirsk in Russia, Kyiv in Ukraine, and several others spanning the former Soviet republics.
Deloitte focuses on the application of innovative approaches in its operations and realizes how important it is to develop the digital economy. Under this memorandum, Deloitte's experts, who possess extensive legal and tax expertise in implementing technology projects, will provide the necessary consulting and methodology tools to businesses and government bodies alike.  This initiative will underscore long-term advantages and opportunities for the companies implementing digital technologies.
Another key objective of the partnership is to develop the legal mechanisms for regulating ICO projects. Currently, no such mechanisms exist in the market. This will help the companies safeguard themselves from project risks and challenges after their initial token offering campaigns have been completed.
Says Artem Tolkachev, Director of Legal Services for Technology Projects at Deloitte CIS: "Blockchain technologies are gaining ground, already allowing startups, investors and other stakeholders to raise significant funds in cryptocurrencies quickly. However, the cryptocurrency market is relatively young, and not all the regulatory mechanisms are in place. This is why we are glad to cooperate with Waves Platform and are confident that our joint effort will help create the necessary conditions for putting together the legal framework for blockchain projects both in Russia and the CIS."
Waves Blockchain Platform will provide technology solutions for the introduction of digital economy tools. In addition, it will assist companies with making the proper strategic during their marketing campaigns to promote new products and select channels best suited for a successful project implementation.  
Waves is a decentralized platform for crowdfunding and creation of digital tokens. Widely recognized as Russia's biggest blockchain project, Waves' core business is asset/custom token issuance, transfer, and trading on the blockchain. Many startups, including MobileGo, ZrCoin, and EncryptoTel, held their ICOs via the platform.
When asked about this collaborative effort, Waves founder and CEO Sasha Ivanov had this to say:
"Our partnership is a significant step towards the mass application of blockchain technology. Presently, blockchain companies are not regulated, as there is no existing legislation as such. Our strategic partnership with Deloitte will allow us to take an active part in the formation of this regulatory landscape. It is important to join this process both for us and the entire blockchain industry in Russia and the CIS."
Waves Launches Landmark USD Gateway
In a separate announcement in June, Waves announced that the USD gateway is live within the Waves client. Waves users can deposit USD via the secure gateway, receiving in return a token that is 100 percent backed by dollar reserves. This can be held, transferred and exchanged for other tokens quickly and at low cost, and withdrawn back through the gateway into the traditional financial system when required.
"Alongside EUR deposits and withdrawals, the USD gateway offers Waves users an easy way to move money into the blockchain ecosystem, enabling them to invest in tokens and ICOs with fiat. This was always one of the key propositions for the Waves platform: the ability to send and trade with fiat-backed tokens," says Waves CEO Sasha Ivanov.
In due course, Waves officials say that gateways for further major currencies will be added, opening opportunities to other areas of the world — including the Chinese market, with a CNY gateway. As with the EUR gateway, the USD gateway partner is Coinomat.
Verified Tokens
In addition to the USD gateway, a number of other minor updates have been made to the latest client. These include adding a 'verified' check mark against the ZrCoin, CryptoPing and PrivateBANKX tokens. Ivanov elaborates:
"Users are reminded that, as an open platform, it is possible for anyone to create an asset on Waves — including those with names that duplicate official assets. Please do not trade a token unless you know exactly what it is. Although asset names can be the same, all tokens have a unique id number. Please check this with the token issuer if you are in any doubt. The green check mark is a shortcut to this, indicating that the token id has been verified by the Waves development team."