West Ham United becomes First English Club to Join Socios.com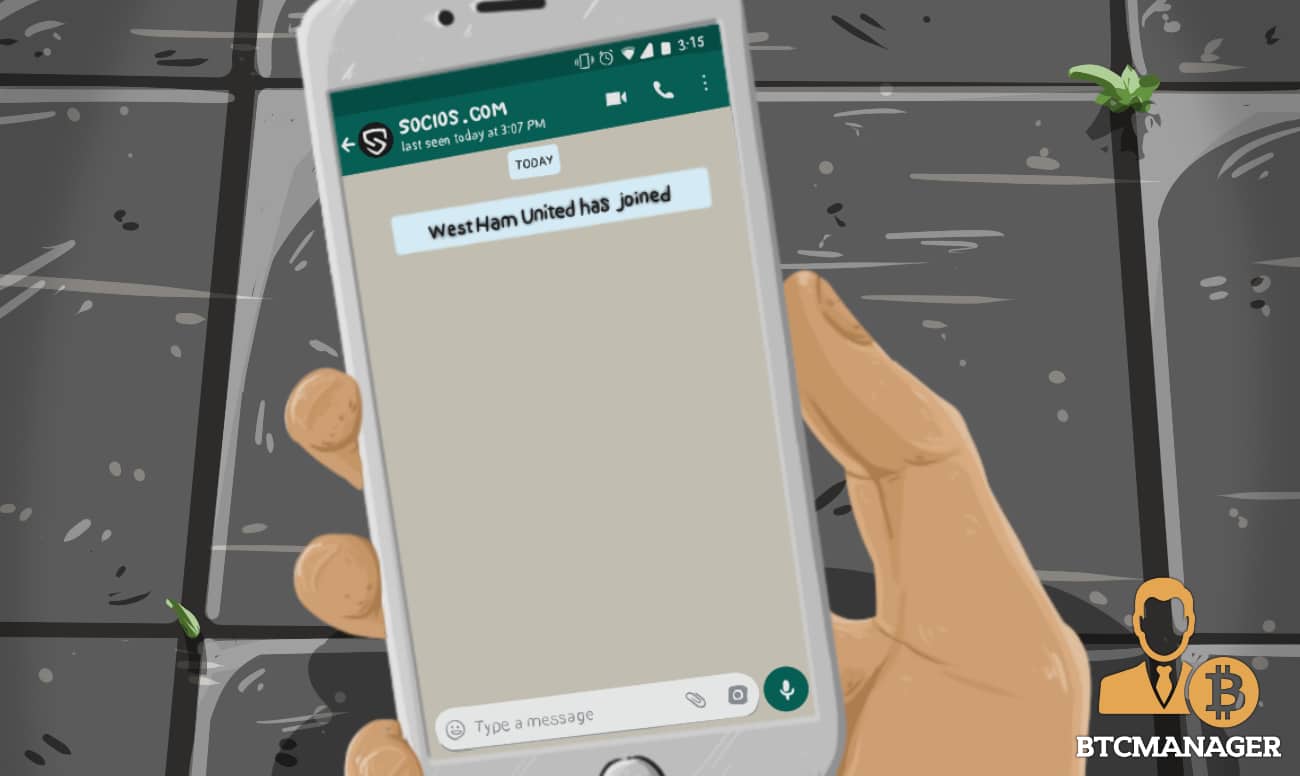 In a bid to evolve its global fan engagement strategy and expand global audience, West Ham United Football Club, an English Premier League has strategically partnered with Socios.com, a blockchain-based fan engagement platform to officially launch a Fan Token which can be used by holders to influence certain club decisions, according to an announcement by the club on April 30.
West Ham United Embraces Cryptos
Per the report, West Ham United F.C. and Socios.com have inked a partnership deal that will see to the launch of a Fan Token at the start of the 2019/2020 season.
Socios.com is a tokenized fan voting platform which will officially launch the Fan Token that enables West Ham supporters and lovers of football all over the world to vote on critical matters at the club.
They can vote for selected club decisions such as the man of the match, player appearances, among several others. Fans will also have access to rewards, games, exclusive merchandise, leaderboards, and compete for once-in-a-lifetime experiences.
Interested fans will be required to purchase Fan Tokens with the $CHZ native token of Socios.com, or earn the Fan Token as a reward. The price of Fan Tokens will be determined by its market demand and the team's performance.
It is the first partnership between an English Premier League club and Socios.com. However, several highly reputed football clubs including Paris Saint-Germain and Juventus have since joined the Socios.com bandwagon.
Exclusive Polls 
Interestingly, the Premier League Club has made it clear that exclusive polls will be run on the Socios.com mobile app, to seek the opinion of fans and give them an opportunity to vote and make their voices heard.
West Ham claims to have over 40 million supporters around the world, with only five million active followers on its social media handles. With the launch of the new cryptocurrency-based program, West Ham United firmly believes it would transform its global fan engagement strategy and expand its global audience.
Karim Virani, Digital & Commercial Director of West Ham United, noted that fans are an integral part of the club, as they make the club unique and West Ham United F.C is excited to have partnered with Socios.com to provide its supporters with a new way of engaging with the club.
Alexandre Dreyfus, CEO & Founder of Socios.com said:
"Having a club like West Ham United adopt fan voting is a big step in realizing our goal of building the world's biggest global football community and marketplace for football fans, alongside demonstrating that blockchain and cryptocurrency is the trusted technology of the mainstream."
Though nascent, innovators across the globe keep formulating highly functional use cases for bitcoin, altcoins and distributed ledger technology (DLT) in numerous areas of the world economy, from finance to healthcare, and all the way to sports and entertainment.
In related news, BTCManager on November 24, 2018, informed that Sporting, a Portuguese football team intends to launch its own cryptocurrency as an alternative method to raise funds for the Club.