Whale moves over 1.4k BTC for first time in 10 years amid crypto downturn
A bitcoin (BTC) whale just moved up to 1,433 BTC that had been dormant for over a decade. This recent development has captured the attention of market watchers, considering the age of the tokens and the coincidence of the movement with the recent market downturn.
Whale Alert, a prominent whale-tracking platform, first called attention to the transaction in a tweet today. The notable on-chain resource highlighted that the assets had been dormant for 10.2 years. Data from Blockchair suggests the transaction occurred today at 05:23 UTC.
Moreover, market data provider CryptoQuant called attention to the development in a recent analysis, seeking to emphasize the possible implications of the transaction.
The CryptoQuant report emphasizes that the movement is likely due to the owners deciding to sell their BTC holdings to realize profits or convert them into cash. While the transaction may not involve significant BTC, it can still contribute to a temporary market drop. 
Furthermore, the investor might have accumulated the assets when BTC traded at around $100. The 1,433 coins would have cost them roughly $143,300 over ten years ago. These bitcoin holdings are now worth $37,842,660 despite the current market's downward movement.
Considering the current downturn in the market, this movement serves as a reminder for investors to be cautious. The fact that previously dormant BTC is now being sold indicates that some investors are taking advantage of the market conditions to secure profits. Any ensuing selling pressure can further exacerbate the decline in bitcoin's price.
Meanwhile, following the resilience demonstrated by BTC in the wake of the SEC's motion to freeze BinanceUS' assets, the firstborn crypto has now succumbed to the bearish sentiments, bringing down the rest of the market with it. Bitcoin ended yesterday with a 3.27% drop, closing below the $27,000 threshold.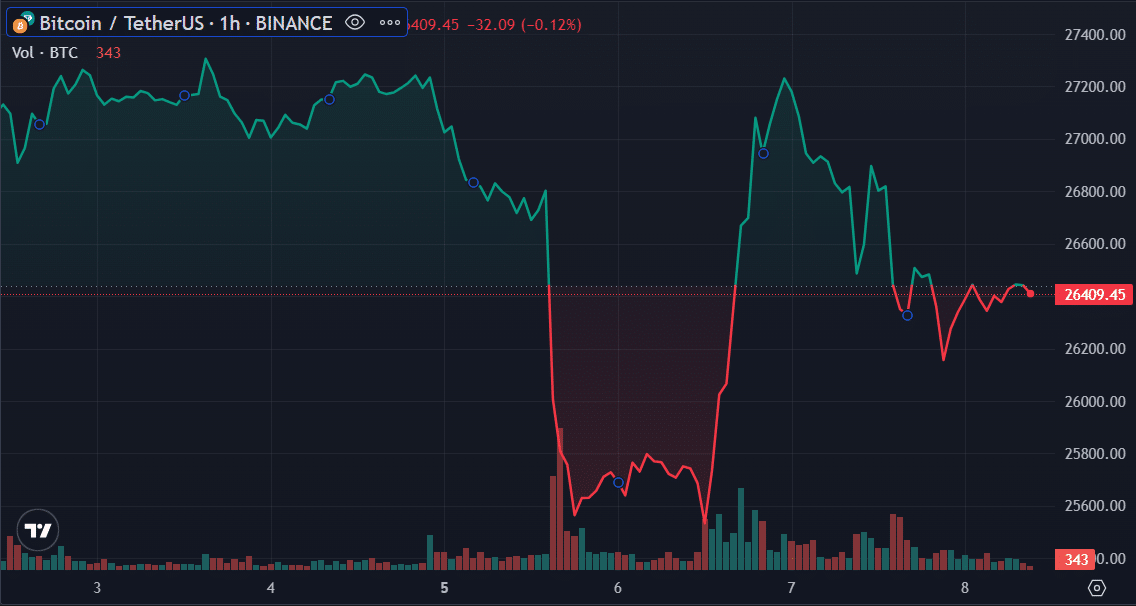 A favorable start to the day saw BTC appreciate to $26,523, but the prevalent bearish pressure summarily opposed it. Bitcoin is still down 1.35% in the past 24 hours, trading for $26,433. However, despite the current conditions, there remains high buying pressure among US institutional investors.