What are Telegram bots, and why are they popular in crypto community?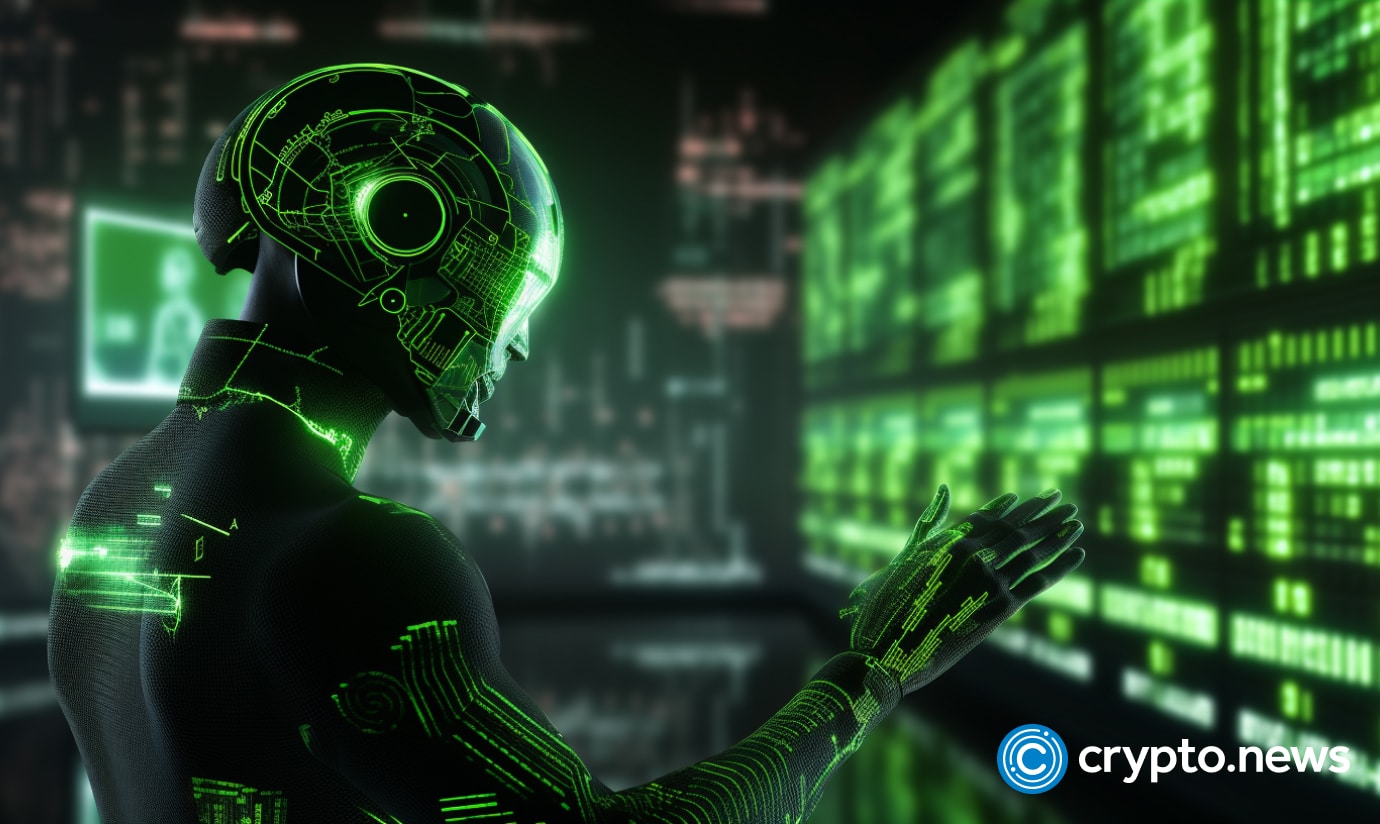 Telegram crypto bots offer convenience, but they come with risks. Explore how they can simplify crypto tasks while staying vigilant against potential pitfalls.
The ability to create bots is one of the main features of Telegram. By interacting with the messenger API, bots allow users to automate many DeFi functions, such as trading, managing wallets, searching for tokens, farming, and much more.
After receiving a command, the Telegram bot generates a main menu, offering choices for creating a new wallet or linking an existing one. Once a wallet is configured, users can deposit funds and choose various transaction options to cater to their needs.
Among the most popular projects, UniBot, Moonbot, and AIMBOT are worth noting. All of these cryptocurrencies saw significant growth in Q2 2023.
Despite the fact that Telegram bots have different use cases, their price dynamics in recent weeks closely correlate with the dynamics of TON, a native coin of The Open Network, created by the Telegram team.
Why are crypto bots needed on Telegram?
Cryptocurrency bots on Telegram are like personal crypto assistants, ready to help buy, sell, and manage digital assets. Here are some main reasons users might consider using a Telegram bot for their cryptocurrency needs.
With the Telegram bot, users can quickly and easily buy and sell various cryptocurrencies such as Bitcoin (BTC), Ethereum (ETH), and others. This is especially useful for those who want to stay on top of the latest market trends and make quick trades when needed.
Another key feature of TG bots is the ability to send and receive cryptocurrencies. Telegram bots also offer cryptocurrency acquiring, which means vendors can accept payments from their clients in cryptocurrency and automatically convert them to fiat currency.
The most popular Telegram bot tokens
According to CoinMarketCap, at the time of writing, the market capitalization of Telegram bot tokens was $91 million, and the trading volume in 24 hours was more than $9.5 million.

The excitement in the Telegram bot token market was largely due to Unibot, a service that allows traders of the Uniswap crypto exchange to make transactions in the messenger. After the successful launch of Unibot, several more bots with similar functionality appeared in Telegram.
According to CoinMarketCap, UniBot (UNIBOT) currently ranks first among Telegram bot tokens in terms of trading volume and market capitalization. Among other features, it allows users to trade on Uniswap V3 without leaving Telegram. Since its launch on June 16, Unibot saw a rapid price increase from $18.18 to an all-time high of $236.43 in August 2023.
The ChainGPT (CGPT) trading bot has also gained significant popularity in the crypto community. From April 10, its price soared from $0.008 to $0.046.
How the official Telegram bot works
The official bot from Telegram, @wallet, allows users to buy, exchange, and transfer cryptocurrencies using bank cards.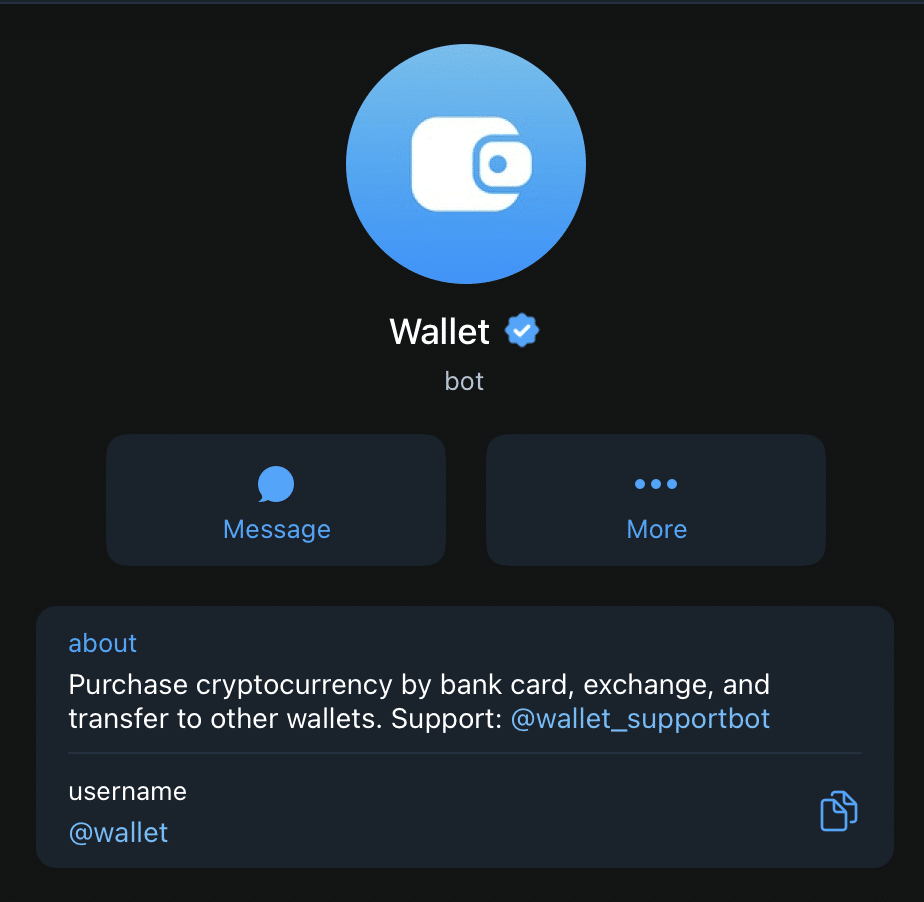 To get started with the service, users need to link their phone numbers and create a virtual wallet. Replenishing funds is not only possible through P2P but also by transferring funds via a cryptocurrency exchange to the address provided by the service (make sure to specify the correct network when transferring).
Buying and selling Bitcoins can be accomplished through the 'Market' section of the web interface using a bank card or via P2P. Furthermore, users have the option to exchange TON, USDT, and BTC with one another, with transactions processed instantly and at favorable rates.
Recently, Telegram has also introduced support for USDT transfers for making purchases in USDT. Users can now send and receive stablecoins in chats with zero commissions.
Are Telegram bots dangerous for virtual assets?
Bobby Ong, co-founder and COO of CoinGecko, also highlighted the growing presence of tokens in the sector while underscoring certain risks. He pointed out that users are required to transfer tokens to a third-party wallet or share private keys to link existing wallets, thereby exposing their funds to potential exploits or rug pulls.
Ong added that he wouldn't be surprised "if one of the bots ends up intercepting or storing users' private keys."
Should you use Telegram crypto bots?
Creating Telegram bots for cryptocurrency can indeed be an attractive avenue for simplifying digital asset investments. They offer a user-friendly and accessible interface that can be appealing to many crypto enthusiasts. However, it's crucial to weigh the benefits against the inherent risks associated with these bots, especially considering the relative novelty of the sector.
When using Telegram bots for cryptocurrency, security emerges as a paramount concern. Interactions with these bots often involve the creation of a dedicated wallet or connection to an existing one, granting the bot access to your private keys. This accessibility raises the potential for exposing your digital assets to risks if the bot lacks robust security measures.
Additionally, Telegram bots necessitate engagement with smart contracts, which aren't immune to vulnerabilities despite rigorous audits. Users must exercise caution when dealing with bots without thorough vetting.
To mitigate risks, you can adopt strategies like trading smaller sums, maintaining minimal funds in the bot-linked wallet, or establishing a new wallet exclusively for bot interactions.