What Role Does 'FemTech' Play In The Bitcoin Economy?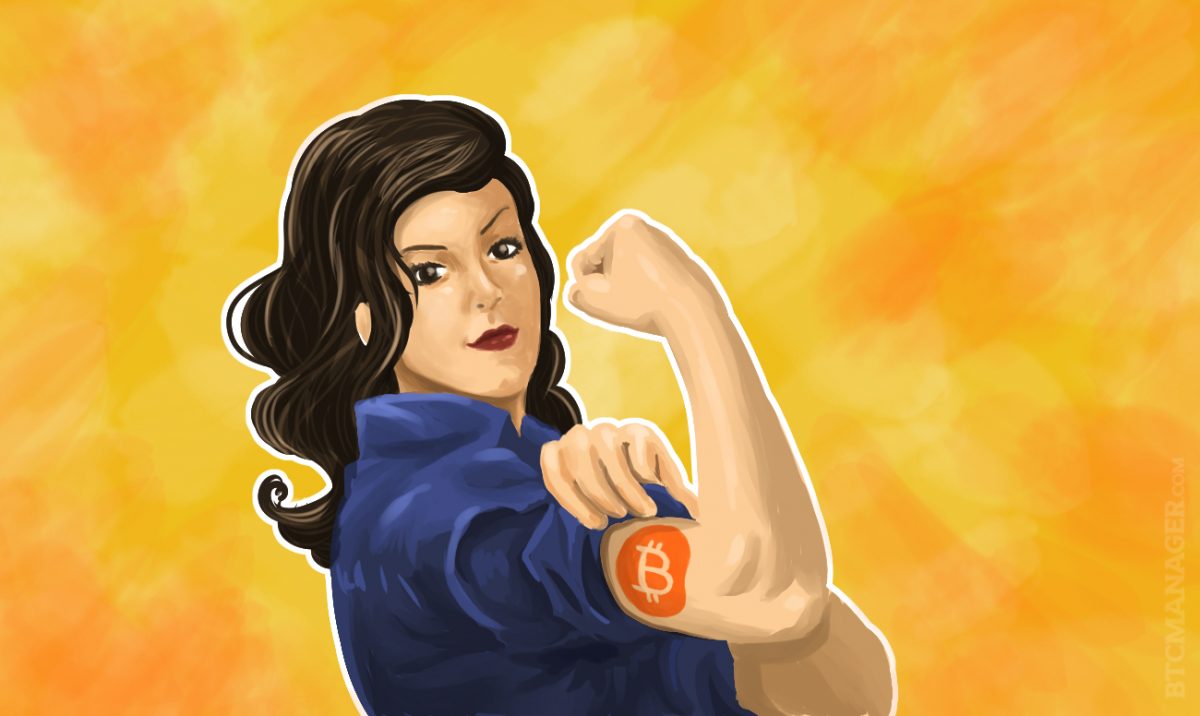 While we are slowly moving towards equality in the workplace in the Western world, it is perhaps somewhat surprising that in technology, the most innovative and forward-thinking industry, women are still severely underrepresented. However, as issues such as the gender pay gap and the glass ceiling are being heavily debated in both traditional and social media, more and more women are pushing boundaries and spearheading innovation in the technology sector. This development is starting to be referred to as 'FemTech'.
FemTech is a trendy new term that in its most simple form stands for women in technology. But more so, it stands for the empowerment of women in technology to take on more leadership roles. The gender gap is still a major issue in the tech industry and the FemTech movement is aiming to change that. There are now several societies at universities, such as Femtech Berkeley, and networking groups, such as FemTech Leaders, that are creating a supportive ecosystem for women to thrive in tech and related industries.
FemTech in FinTech
FinTech is an area in which women are categorically underrepresented in leadership positions. Despite the fact that 80 percent of household spending decisions are made by women, only 7 percent of fintech companies employ female executives. Also, given that 73 percent of women globally report dissatisfaction with their banking services, according to the Global Banking Alliance For Women, it is somewhat surprising that there are not more fintech services addressing this issue.
Despite this acute gender gap in fintech, there are several female thought leaders and entrepreneurs making waves in the fintech sector. For example, Sallie Krawcheck, co-founder and CEO of the first female-focused digital investment platform Ellevest, who recognized that women have different investment needs than men, and created a robo-advisory service specifically designed to meet those needs.
There is also Anne Boden, the co-founder and CEO of UK-based mobile challenger bank Starling Bank and Marta Krupinska is the General Manager and co-founder of UK-based money transfer startup Azimo, who are successfully innovating in their respective fields.
FemTech in the world of cryptocurrencies
Many in the public still view the cryptocurrency space as a playground for hackers, criminals and establishment-hating libertarians who want to avoid having to deal with "evil" governments, banks and corporations. However, the bitcoin economy has grown into a thriving tech startup community with a range of reputable businesses delivering valuable products and services that solve real world problem of consumers and other businesses.
Similarly to the fintech sector, women are still scarce in the bitcoin ecosystem. According to data collected by Coin Dance through its Bitcoin Community Engagement by Gender using Google Analytics, 98.24 percent of users are male and only 1.76 percent are female. While, according to an online survey, 96 percent of bitcoiners are male and only 4 percent are female.
However, despite the acute underrepresentation of women in the bitcoin economy, there are actually several female-lead start-ups that are leveraging bitcoin and the Blockchain to provide improved cryptocurrency-based services. An excellent example is the Kenya-based Bitcoin remittance start-up BitPesa, which is run by Elizabeth Rossiello.
Her executive team consists predominantly of women, with Charlene Chan and Amy Ludlum holding the positions of COO and CFO respectively. Rossiello and her team are providing B2B FX payments across Africa and the rest of the world through the use of bitcoin, and thereby reducing currency conversion and remittance costs for businesses. BitPesa, however, isn't the only successful female-lead start-up in the bitcoin economy.
In fact, looking through CoinFilter's Top 40 Women in Bitcoin list, it becomes evident that despite tech being a very male-dominated environment, there are actually many female pioneers in the global bitcoin economy.
For example, Rhian Lewis, who co-hosts the 'London Women in Bitcoin' meet up and works as a Blockchain consultant. She is also involved with various cryptocurrency-related ventures, such as the altcoin portfolio tracker CountMyCrypto and a start-up called Mamoru that certificates digital proof of ownership for any asset using the Ethereum.
There is also Connie Gallippi, who founded the bitcoin-based non-profit start-up BitGive Foundation. It is the first philanthropic venture empowered by the Bitcoin technology. BitGive aims to leverage the Blockchain to combat corruption in the philanthropy sector through its revolutionary donation transparency platform, which tracks all donations to ensure they are spent correctly. Before founding BitGive, Connie worked with environmental organizations in California. Now she is an advocate for the social value of Bitcoin and a key figure behind the drive to elevate female leaders in the bitcoin economy.
Moreover, FemTech in bitcoin is not only confined to the United States and Europe. There are also several female bitcoin pioneers in emerging markets, such as Botswana-based Alakanani Itireleng, who runs the Bitcoin Botswana Community Group and is organizing the Botswana Blockchain Summit, Dubai-based Ola Doudin, who is the founder and CEO of BitOasis, a bitcoin exchange and multi-sig wallet dedicated to bringing bitcoin to the Middle East, and Luciana Gruszeczka, who is the co-founder and COO of Latin American payment processor BitPagos.
How will FemTech impact the bitcoin economy?
More women are entering tech, fintech and also the cryptocurrency space. As technology is positioning itself as the industry that will generate the most employment opportunities in the next 25 years, this trend will very likely continue. Combining the increasing interest from young women in technology with the much-needed societal push towards more gender equality in the workplace, FemTech will most likely play an increasingly important role in the future.
According to a study conducted by Korn Ferry Hay Group, women score higher than men on almost all emotional intelligence competencies. Given there is a high correlation between business leaders who demonstrate high emotional intelligence and better business results, the study suggests that having more women in leadership roles would create an improved and more profitable business environment overall.
Furthermore, according to a report published by McKinsey, "Companies greatly benefit from increasing leadership opportunities for women, which is shown to increase organizational effectiveness." The reason is that women bring complimentary leadership strengths into the boardroom and are able to enhance perspectives and ideas when placed in leadership roles.
The blockchain technology, with its open source nature and easy accessibility, creates an excellent opportunity for women to push into leadership roles and apply their strengths and business acumen to achieve a more diverse ecosystem for Bitcoin as well as a more stable and socially conscious financial system. Given how the heavily male-dominated financial industry has fared in the last decade, the rise of 'FemTech' is just one reason for a reconfiguration of the people making decisions in the financial sector.
While it remains to be seen what impact FemTech will have on the bitcoin economy in the future, I personally believe that an increased female presence in bitcoin leadership roles will lead to an increase in bitcoin adoption and more innovation in the bitcoin ecosystem.
If bitcoin startups manage to capitalize on the dissatisfaction women experience with traditional banking services, they could attract a largely new user base into the bitcoin economy.  With more female innovators emerging in the bitcoin economy, this could become a reality sooner than later and the effects of that would be very positive for bitcoin adoption and its development.
Due to the open source nature of blockchain technology, women have the opportunity to display their true potential in technology and enterprise, with no room for corporate hierarchies or antiquated social attitudes to hold them back.