Which Are the Best Platforms for Yield Farming in 2022?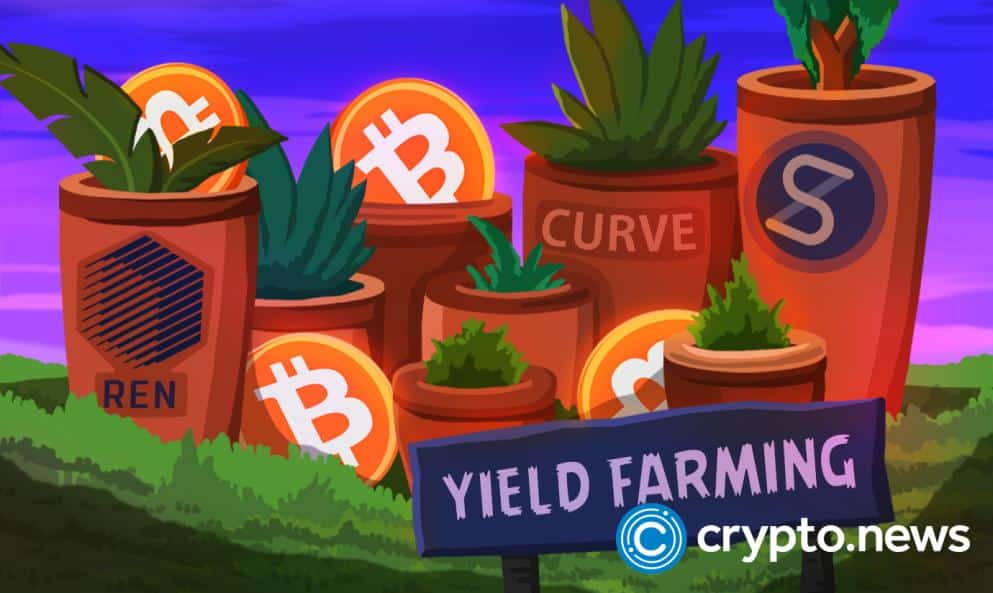 Yield farming is the activity whereby token holders maximize rewards across various DeFi platforms by lending, borrowing, or staking their crypto. The larger the proportion of the pool your contribution represents, the greater the profit. You can maximize returns by regularly depositing reward tokens into different liquidity pools. In addition, you can move funds between different protocols to receive higher yields. In this guide, we will review the best yield farming platforms in 2022;
AQRU
AQRU offers a simple and user-friendly platform that allows investors to make quick and easy money from their cryptocurrency holdings. AQRU offers yield farming for popular cryptocurrencies and stablecoins. For stablecoins such as DAI, USDC, and USDT, the APY is 12%, while BTC and ETH accrue 7%.
To start, investors need to deposit around £100. They can also withdraw their returns in fiat money or cryptocurrency. However, note that this process requires a transaction fee of about $20. Through its integrated dashboard, investors can monitor their earnings in real-time.
Institutional clients can choose between a non-custodial and custodial service. In addition, the platform offers wallet insurance through Fireblocks. This additional safety measure is there to protect your funds.
Unlike other platforms, AQRU does not require a lock-in period to allow investors to withdraw their funds at any time. Its mobile app also allows users to monitor their investments.
One disadvantage to investing with AQRU is that it only supports five digital assets. That means it might be hard for people with a wide variety of crypto assets to access the services. Also, it's important to note that the platform is a custodial provider, which means it will handle your funds.
Quint
If you're looking for one of the best ways to earn interest on your digital currency investments, you should consider investing in Quint. This platform combines real-world cryptocurrency rewards with the interest you can earn on your investments.
The platform's first type of super-staking pool is the Luxury Raffle Pool. This pool lets users participate in a draw for various luxury prizes. These prizes include expensive watches and travel packages.
Another type of super-staking pool that the platform offers is the Quintessential Pool. These pools offer users various perks, such as discounted airline tickets and supercar experiences. While the rewards for these pools change, they remain constant, and all participants will receive them.
The last pool is the Traditional Staking Pool. Through this pool, users can earn high-interest rates on their QUINT tokens. For instance, staking QUINT alone can give users an annual interest rate of 16.28%, while taking a combination of QUINT and BNB can bring users an annual rate of 39.08%.
Note that the interest investors earn from the platform can be reinvested automatically. Unlike the traditional pools, which have lock-in periods, you can harvest the platform's cryptocurrencies anytime. Quint has also made investing easy so you can move between these pools.
DeFi Swap
DeFi Swap is a yield farming and crypto exchange that offers investors high returns. The main factor that sets it apart from other platforms is its native DeFiCoin token, the only crypto you can use for staking on the platform. Investors must lock in their coins for at least 30 days to secure high rates. A 1 year lock-in period offers a 75% annual return, while a 30-day lock-in offers a 30% rate.
Although it's relatively new, DeFi Swap has quickly gained widespread attention due to its high returns and decentralized exchange. Unlike other yield platforms, it allows users to swap their coins into DeFiCoin through DeFi Swap. It also intends to become a part of the decentralized finance ecosystem. That could mean higher rates for investors in the future.
DeFi Swap is currently only available as a decentralized app or online. You can only see available interest rates and staking options through your wallet.
eToro
One of the most important factors when it comes to choosing a yield farming site is safety. eToro is not only safe, but it also allows users to earn passive income from their accounts. The various agencies that oversee the industry regulate the platform, such as the SEC, CySEC, and ASIC.
Unlike other yield farming sites, eToro does not provide conventional services. Its automated staking tool allows users to earn money by holding their tokens in an eToro account.
eToro offers staking services on digital coins, such as Ethereum, Tron, and Cardano. Unlike other yield farming sites, it does not require users to lock their tokens up for a certain number of days. Its flexible tools allow users to manage their assets without worrying about security. In addition to being safe, eToro offers various low-cost exchange and brokerage services.
eToro allows users to buy cryptocurrency on a spread basis, for instance, for just $10. It also doesn't charge users to deposit funds in US dollars. In addition, it does not have fees for storing its tokens in its crypto wallet.
Notably, eToro also offers a variety of low-cost exchange and brokerage services. One is its crypto wallet app, which allows users to exchange their tokens across hundreds of pairs. It also offers a copy trading service, allowing users to trade cryptocurrencies passively.
Crypto.com
If you want to earn high interest in cryptocurrencies, then Crypto.com is a great choice. This provider allows its customers to earn an average APY of 14% when they deposit USDC and other stablecoins into their accounts. However, it's important to note that the exact APY paid will vary depending on various factors.
For instance, if you want to earn 14% on Ethereum, you need to lock up your tokens for three months. You can also stake around 40,000 CRO tokens to get the full 14%. If you're depositing without staking any CRO tokens, then the rate of interest will drop to 6%. However, this provider has various flexible withdrawal options that can accommodate different requirements.
Aside from stablecoins, Crypto.com also offers more than 250 digital currencies that pay an attractive yield interest. Some of these include Bitcoin, Ethereum, Decentraland, and Litecoin.
Although the exact percentage of interest you can earn depends on the lock-up period and the number of CRO tokens you wish to stake, Crypto.com also has a mobile app that allows users to access their accounts even if they are not in a physical location.
Coinbase
One of the world's largest cryptocurrency exchanges, Coinbase, supports millions of traders. With various payment methods and a robust trading platform, it's an excellent choice for anyone looking to get into cryptocurrency. You can easily buy digital currency with a credit or debit card. Coinbase also offers various perks, such as a free account.
The platform offers yield farming through its automated staking tool, which does not have a lock-up period. As of writing, Coinbase only supports six cryptocurrencies in the crypto yield space. These include Tezos(4.63%), Ethereum(4.5%), Algorand(4%), and Cosmos(5%).
The stablecoins that Coinbase supports are USDC(0.15%) and Dai(2%). Although it's an excellent choice for new traders, the exchange's average annual APY is less competitive than other platforms.
Although it's not as secure as other platforms, Coinbase offers some of the best security measures in the industry. These include two-factor authentication, cold storage, and device whitelisting. Also, it's a regulated entity in the US and currently trading on the Nasdaq exchange. With over 50 digital tokens, Coinbase is an excellent choice for investors looking to create a diversified portfolio.
Conclusion
Yield farming is a relatively easy way to earn passive income from cryptocurrency holdings. However, thoroughly researching the various platforms available in the market before implementing this strategy is essential.
As an additional tip, diversifying your funds is one of the most important factors you should consider regarding yield farming. That will allow you to reduce the risk of losing money. In addition, also consider choosing a plan that will enable you to access your assets at any time.