ZCash, Ether, and Monero Miners Can Now Use Nvidia Pascal GPUs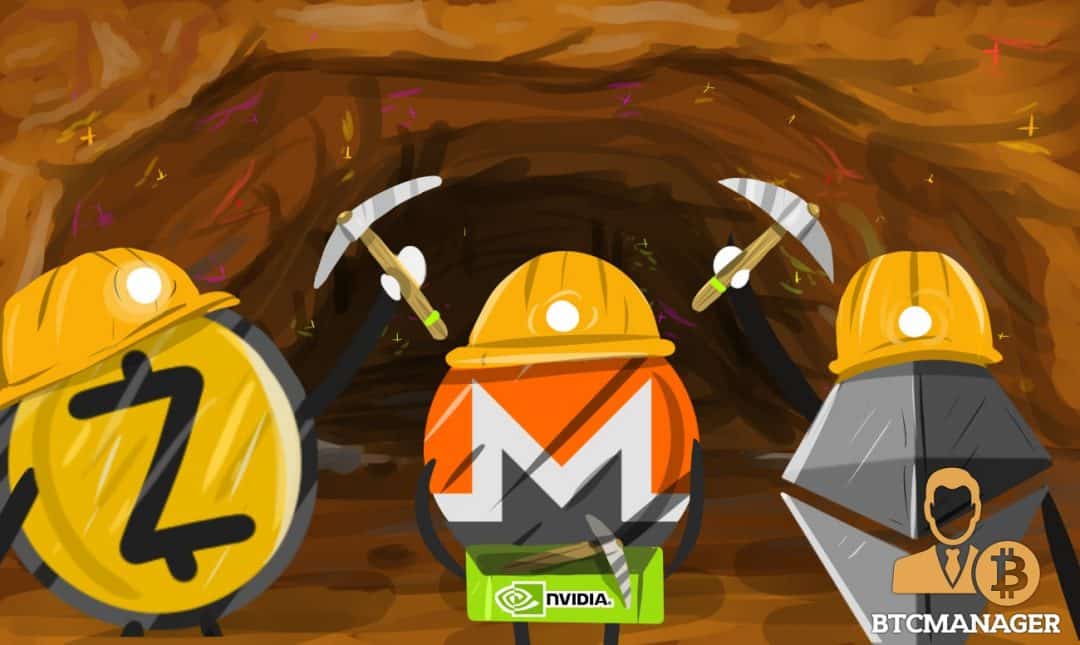 The impressive rally in digital currencies in the past three months has given the cryptocurrency mining industry a boost. Demand for mining equipment is higher than ever as individuals and companies are looking to profit from the increased value of many cryptocurrencies through mining.
As BTCManager reported on June 9, the shares of the semiconductor firm Advanced Micro Devices (AMD) have skyrocketed due to a surge in demand for its graphics cards, which cryptocurrency miners are increasingly using to  bring more digital currency into existence.  
AMD, however, is not the only publicly-traded technology firm that has benefited from the boom in cryptocurrency mining.
Nvidia Pascal GPUs More Efficient Than AMD's
California-based Nvidia produces graphics processing units (GPUs) that are primarily using in the gaming space. Recently, however, cryptocurrency miners have increasingly started to purchase Nvidia's GPUs to boost their mining productivity. More specifically, Nvidia's Pascal-based GPUs.
Nvidia's Pascal GPUs, such as the GTX 1060 and the GTX 1070, have demonstrated to be more efficient than their counterparts produced by AMD. According to research conducted by RBC Capital Markets Analyst Mitch Steeves, who compared the cryptocurrency mining performance of Nvidia's GTX 1070 with AMD's RX 580 GPU for the digital currency ether, Nvidia's GPU required 33 percent less power consumption and is, therefore, a much more efficient graphics card for mining than the popular RX 580.
"If we switch to building a full Data Center environment, electrical costs become increasingly more important (Bitcoin environment), and the older NVIDIA GPUs outperform AMD over the course of a year," Steeves stated.
Nvidia's Pascal-Based Mining Hardware
To profit from the crypto mining boom, Nvidia has launched mining hardware built using eight Pascal GP106-100 GPUs, which are being referred to as "mining cards." The mining hardware is targeted at ether, zcash, and monero miners and aims to maximize the productivity and efficiency of the mining process.
The mining equipment uses an Intel Celeron Mobile processor, a 64GB mSATA SSD, 4GB of DDR3 DRAM, and up to 1600W PSU. The power supply unit (PSU) is not included and is listed as optional to allow users to choose what they need for the specific currency they want to mine. Each cryptocurrency has different power requirements when it comes to mining.
For example, to mine Ethereum's ether, it is recommended to use 1000W PSU, which delivers roughly 200MH/s (+/- 5 percent. To mine zcash, 1050W PSU is recommended, which delivers roughly 2500 Sol/s, while monero mining required around 700W, which delivers roughly 4400 H/s +/- five percent. To run Nvidia's mining machine, seven six pin 12V power connectors are needed plus eight additional six pin connectors to run the "mining cards."
Furthermore, the system is setup for passive cooling on the GPUs while the enclosure makes use of five inflow and four outflow higher power system fans to keep the system cooled and functional.
Should the impressive rally in cryptocurrencies continue throughout the year, bitcoin mining equipment producers will see their business flourish as more and more individuals are jumping onto the cryptocurrency mining bandwagon in the hope to make a nice profit.