ZNS: Ethereum's First-Ever Layer-2 Domain Name Service Goes Live in October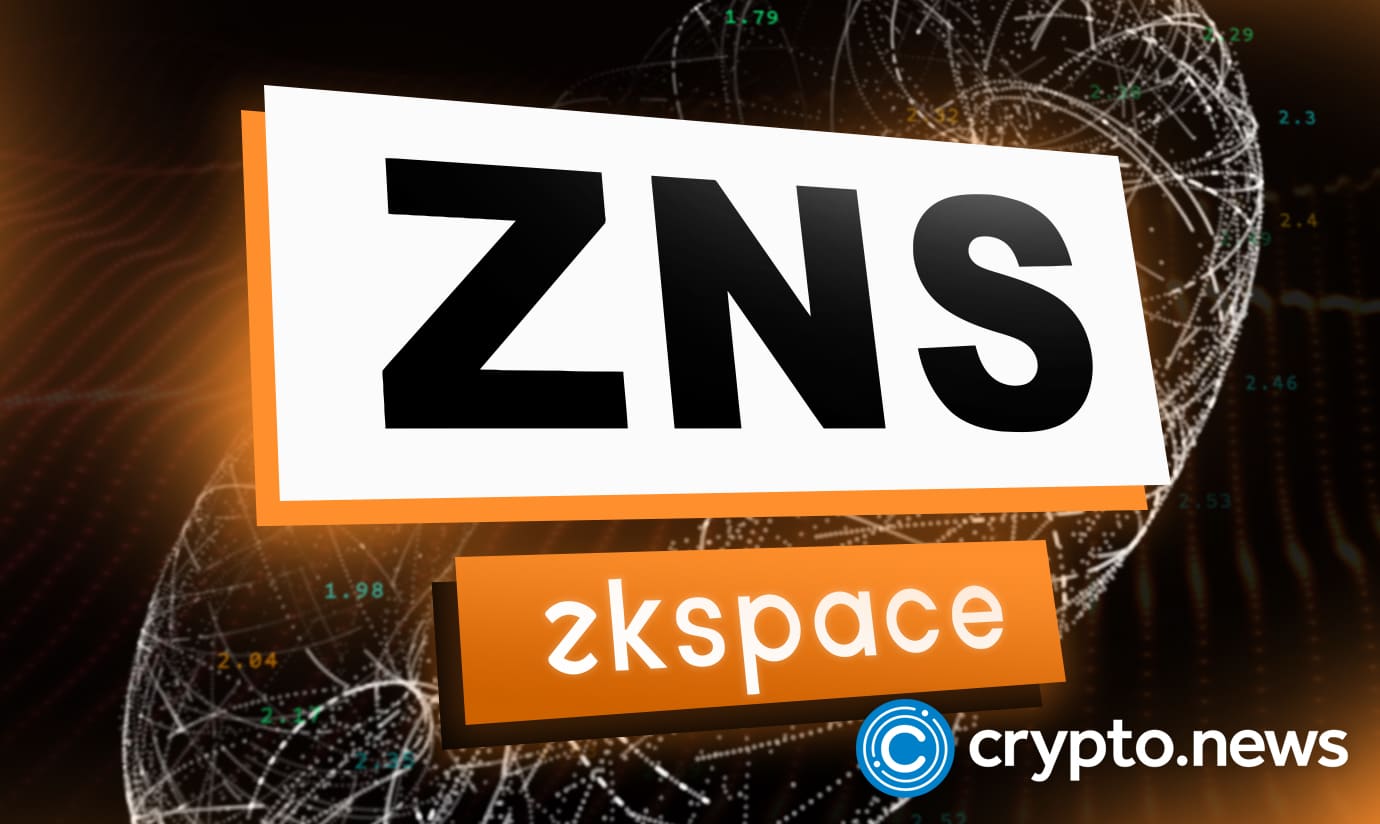 ZKSpace Name Service (ZNS), the first-ever Ethereum layer-2 domain name service, is scheduled to go live in October 2022. With ZNS, users can map their complex 42-bit wallet addresses to human-readable names, making ERC-20 token payments easier and safer, with zero room for input errors. Unlike Ethereum Name Service (ENS), ZNS operations attract zero gas fees and large ZKS token holders can reserve their preferred lifetime ZNS names.
ZKSpace ZNS Set for October Launch
After several months of research and development, ZKSpace (formerly ZKSwap), an Ethereum layer-2 platform has announced that the ZKSpace Name Service (ZNS) will finally go live in October 2022.
Just like the popular .eth names from the stables of the Ethereum Name Service (ENS), the ZKSpace Name Service (ZNS) allows members of its ecosystem to map their complex 42-bit wallet addresses to human-readable names of their choosing, with the only difference being that ZNS names end with .zks and not .eth.
ZNS simplifies ERC-20 token payments by eliminating the need for users to copy and paste long and complex addresses. Instead, ZNS users can simply fill in the ZNS domain name of the fund recipient when sending an ERC-20 token payment or send theirs to their clients when receiving payments.
"For example, when you use ZKSquare to transfer money to your friend Kevin, instead of entering a lengthy wallet address of the recipient, you fill in their domain name, which could be "kevin.zks." Then the system will automatically translate it into the corresponding address of Kevin's, and send the money. Conversely, you can ask your friends to send money to you by telling them your address is "you.zks.""
The ZNS Advantage
While ZNS' .zks addresses come with a plethora of benefits, one major advantage of ZNS domain names or .zks addresses is that they completely eliminate the likelihood of input errors when typing or pasting the address of a fund recipient, thereby significantly decreasing the risk of asset loss.
Since ZNS is the first Ethereum layer-2 domain name service, it offers users an exclusive layer2 Web3.0 identity and anyone can easily search for this address anywhere across the globe. Just like ENS, ZNS has a reverse resolution feature that allows holders to display their personalized .zks addresses or domain names across all ZKSpace Layer-2 products including ZKSwap (an AMM & DEX), ZKSquare (a payments solution), ZKSea (for NFTs), ZKSpace Explorer and more.
Another major advantage ZNS has over major layer1 domain name services like ENS and others is that ZNS name holders do not have to worry about paying crazy gas fees when carrying out tasks such as registering their domain names, changing personal info, or renewing their registration. This translates to better experiences and zero waiting times (for block confirmation) for ZNS users.
ZNS domain names also come with very low registration costs and users get to enjoy a 20 percent discount for registration or renewal periods of two years or more.
It currently costs $100 per year to register a .zks name of 3+ characters, $30 per year for 4+ character .zks names, and 5+ characters .zks names cost only $5 per year.
ZNS users can also buy out a domain name when they register directly for three years or when their renewal term reaches or exceeds three years. Those who join the ZKSpace community and complete simple tasks will be able to obtain a whitelist spot for the ZNS sale which will be announced later.
Lastly, ZKSpace has revealed that it's giving away "free and lifetime ZNS names to large ZKS holders." 
"Users holding 10k, 50k, and 100k ZKS in their ZKSpace layer-2 wallet or layer1 wallet can claim one 5-character, 4-character, and 3-character .zks name respectively. What you need to do is to provide us with your wallet address and the name you want in the Gleam form and we'll allocate the name to you. You can check it on the ZKSpace website after the public registration is done."
New Qatar World Cup NFTs
ZKSpace (formerly ZKSwap) launched the first version of its mainnet in February 2021. It's the first Ethereum layer-2 decentralized exchange based on ZK-Rollups. With the Qatar World Cup just around the corner, ZKSpace is launching the ZKSea Football Metaverse Event, which will feature beautiful NFTs of each team participating in the mundial.
You can buy the NFTs of your favorite teams to participate in the guess-to-earn event. 120 percent of NFT sales will go to the total prize pool, which will be shared among all buyers according to the final ranking of each team after the tournament. Owners of James Rodríguez NFT will have free access to the event.