Zodiac World, ThirdWeb, SpectralFi, Mellow Protocol, and Comm Announce Successful Funding Rounds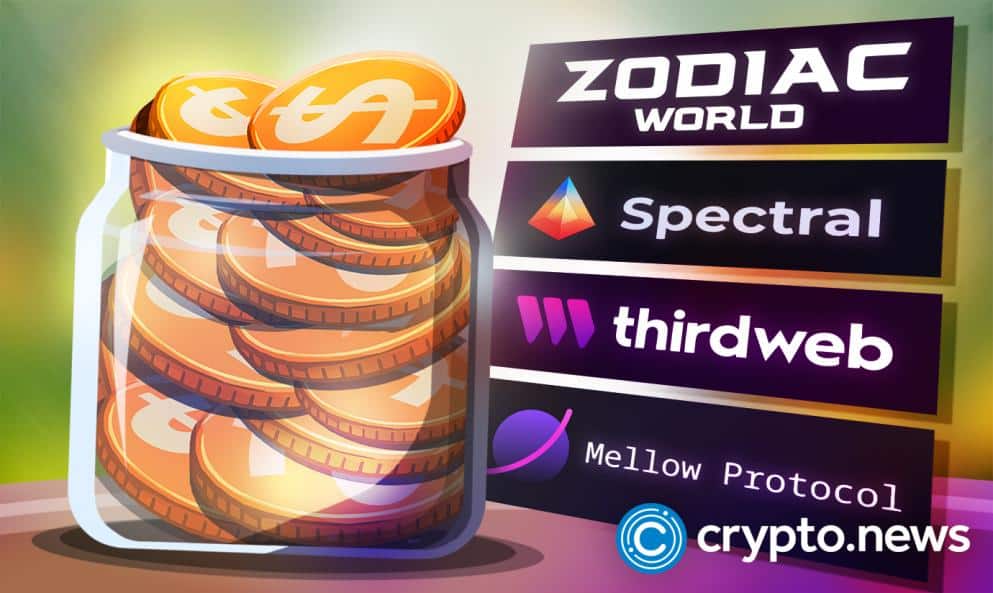 Fundraising continues with several projects, including Zodiac World, Thirdweb, SpectralFi, Mellow Protocol, and Comm, announcing successful rounds. Crypto projects continue to enjoy new investments signifying expansion and growth of the industry.
Zodiac World Completes Funding Round
Just recently, Zodiac World, an ACG creation space, announced the completion of their pre-seed funding round. According to a recently released press statement, Zodiac World said;
"Today, we are thrilled to announce that we achieved the first milestone of our fundraising campaign. We secured the pre-seed investment in the project from our incredible investors: LD Capital and Math Wallet."
According to reports, this funding round was led by @LD_Capital and @MathWallet. However, the platform did not mention the amount raised in this round. The press release also mentioned;
"The capital raised will go towards accelerating the development of our ecosystem, hiring new experienced talents, and building a sustainable community."
ThirdWeb Raises $24 Million in Funding Round
Another crypto project, ThirdWeb, a crypto developer platform, just recently completed a Series A funding round raising $24 million. This funding round was led by @HaunVentures. Accordingly, reports show that several other investors, including Shopify, Coinbase, Polygon, Protocol Labs, and Shrug VC, participated in the round. Reports also indicate that Thirdweb hit a $160 million valuation due to this funding round.
This platform was launched by Katie Haun, a former federal prosecutor, and former a16z partner. Furqan Rydhan, Thirdweb's co-founder and CEO, recently said;
"From our standpoint, we haven't really seen much of an effect on our customers or the developers building these projects. It's really exciting, whether it's a bear market in terms of price or not, that we've continued to see strong growth and have been able to showcase that as part of raising this round. We focus on a software development kit for developers who want to build Web3 applications for things like NFT projects and marketplaces. We fill this gap between the infrastructure, which is like blockchains and node providers, and the actual applications."
SpectralFi Raises $23 Million in Funding Round
SpectralFi, a credit risk assessment infrastructure startup, recently completed successful funding round where they raised $23 million. A tweet by @crypto_dealflow recently said;
"Сredit risk assessment infrastructure startup @SpectralFi raised $23M in a funding round led by @generalcatalyst and @socialcapital. @SamsungNext, @GradientVC, @section32vc, @FTI_US, @circlepay and @jumpcapital also participated in the round."
Sishir Varghese, SpectralFi's co-founder, and CEO, recently said,
"We tried to address some of the gaps in DeFi and realized there wasn't just a gap in risk infrastructure and credit risk, it was just nonexistent. So looking at the larger context, credit risk infrastructure was gated by institutions in the West. In the East, credit institutions are controlled by the government. So we wanted to build a trustless, permissionless way to address credit risk analysis."
SpectralFi will use these funds to help build the credit score and continue developing and scaling.
Mellow Protocol Raises $2.75 Million in Funding Round
On their medium page, Mellow Protocol, an automatic DeFi strategies product, announced a $2.75 million funding round. According to sources, this funding round was led by @arringtonXRPcap, @robotventures, and @paraficapital. According to the medium post, many other investors, including Principle Ventures, Primitive Ventures, @Lemniscap, @fcslabs, P2P Capital, NEMO Ventures, Darren Lau (The Daily Ape, Not3Lau Capital, and Daryl Lau (Not3Lau Capital) participated in the round.
Comm Announces $5m Seed Raise
Comm, a crypto-native chat platform, just recently announced the successful completion of a $5 million funding round. According to their press release, this funding round was led by Coinfund. Several other investors participated, including @EniacVC, @shimacapital, @ElectricCapital, @slow, and @LongHashVC. When speaking about this funding round, Comm's CEO and founder, Ashoat Tevosyan, said:
"I'm thrilled that we've been able to close this seed round which will enable us to bring the next generation of privacy technology to market… Comm demonstrates web3's capacity to deliver sovereign digital identity solutions that overcome the legacy challenges of the existing data model where the user is the product."