3 reasons to look at HedgeUp (HDUP) and Gnosis (GNO) in 2023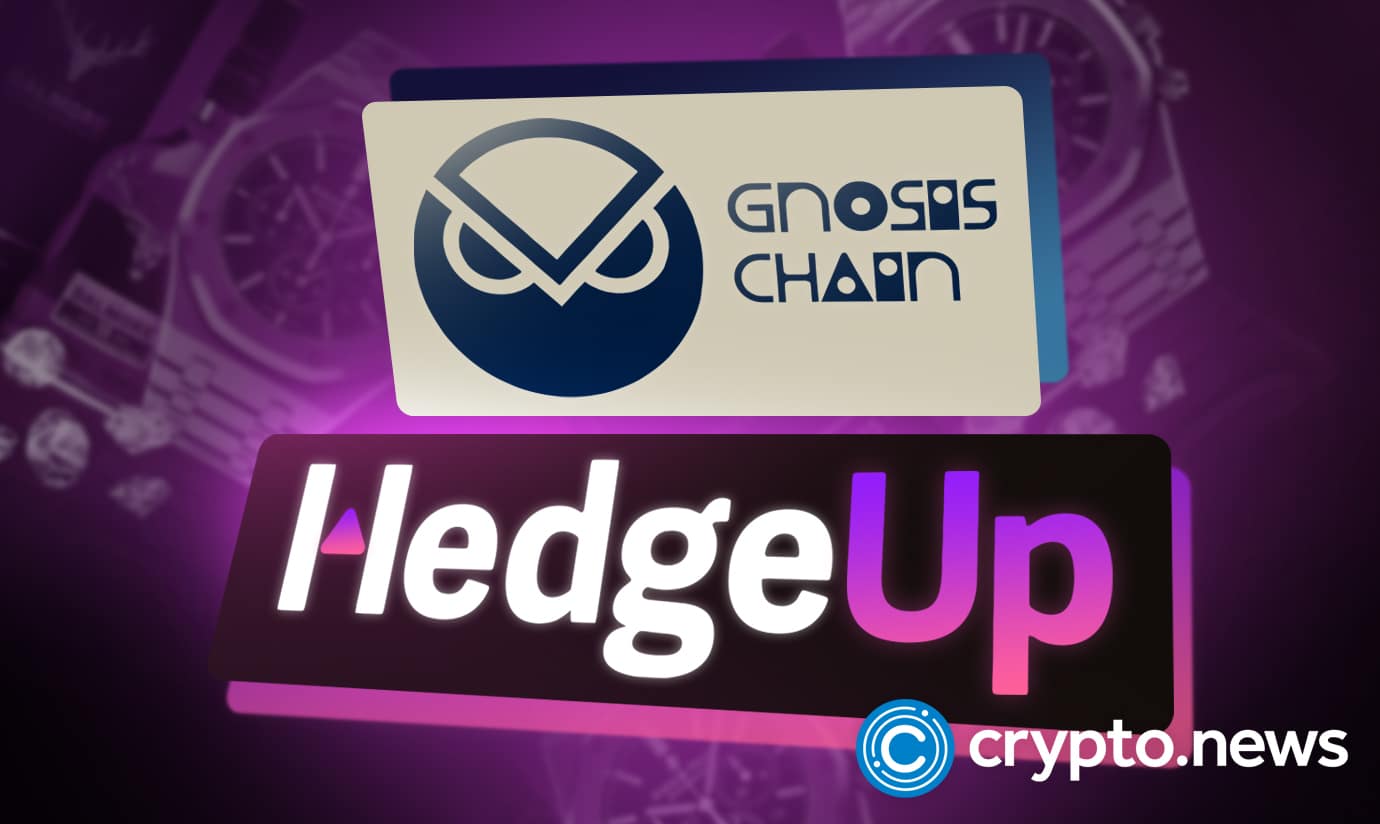 The time when cryptocurrencies were purely meant for generating wealth is long gone. Today, cryptocurrency platforms are being built for multitasking purposes. Early on most users could simply stake or trade a crypto asset but now it's possible to build dApps, deploy smart contracts, mint non-fungible tokens (NFTs), participate in play-to-earn games, earn passive airdrops, and rewards. HedgeUp and Gnosis are among the leading coins that offer their users a wide array of use cases.
HedgeUp: Where blockchain meets alternative investment products
HedgeUp is a blockchain based platform through which crypto users get the chance to invest in alternative investment products like art, aviation, luxury watches, gold, and wine. What sets it apart from other similar platforms is that it enables its users to explore alternative
investment opportunities through fractional NFT markets. HedgeUp users stand to gain with the platform as its basket of products diversifies their portfolio and the assets act as a hedge against market volatility.
The HDUP Token is the main cryptocurrency on the network and it will facilitate various transactional purposes on the platform like staking, marketing activities, liquidity management, and passive rewards.
The HDUP token will be made available on presale for interested buyers. The total supply of the HDUP Token has been capped at 999,000,00. Of the total supply, the highest share has been allocated for presale (35%), followed by exchange listings (17%), reserve (15%), and
marketing activities (14%). The remaining supply will be set aside for charity, staking, rewards, founders and team members, and partners.
The HedgeUp platform leverages the decentralized autonomous organization model for its governance structure wherein every HDUP token holder gets voting rights to present their views about the platform. They are encouraged to voice their concerns about the goals set by the team for the development of the HDUP token. Token holders can look forward to additional benefits and rewards for their active participation.
To help its users make more informed decisions, HedgeUp's analysts and experts will conduct online masterclasses about the various benefits of the alternative investment products ecosystem.
Marking its foray into the metaverse, the HedgeUp platform has rolled out a unique feature called HedgeVerse. Through HedgeVerse, the platform will team up with metaverse companies to establish strong communication lines to support its users in trading activities. The platform will bring together both institutions and investors via Social-Fi and boost
business logistics. HedgeVerse aims to directly benefit those entrepreneurs who are operating global markets and consultants by scheduling virtual meetings to help them understand complex technologies better.
If you have been keeping track of what cryptocurrency analysts are saying, you would know that many of them believe that HedgeUp has an edge over other similar platforms due to its higher growth potential. By facilitating access to the alternative investment products space for crypto users, HedgeUp bridges a gap that previously went unnoticed. Moreover, users also get to earn passive income via multiple sources like an NFT collection, staking tokens, and rewards.
Gnosis' GNO token to be available on Utorg
Gnosis is an Ethereum compatible network that runs validator nodes. The platform is essentially an Ethereum sidechain where contributors across the globe can run a node. Its native token is GNO and it's used for a wide array of transactional purposes on the platform. The blockchain is EVM-based and is secured by stakers spread across the world. It offers a
full-stack toolkit to build permissionless bridges on the mainnet. Apart from being a 99% carbon-negative network, Gnosis offers its users DAO tooling to deploy cross-chain governance mechanisms like voting rights, treasury management, and proposals. These mechanisms can be deployed on the network at the fraction of what it would cost you on the Ethereum mainnet. While GNO is the staking token of the platform, its governance token is GnosisDAO. The governance token offers its holders voting rights that help them in presenting their views about community proposals and contributing to shaping Gnosis' future development.
A key USP of the platform is that it enables users to deploy proof-of-attendance protocols (POAPs) which are redeemable NFTs. These tokens are used for proving if one has attended an event physically or virtually. Every POAP is considered to be a gift from the issuer to the
collector. These redeemable tokens are an on-chain record of experiences, on-chain voting, and contributions. According to the Gnosis team, more than 5 million POAPs have been minted on the network till now. Recently, Gnosis announced that its GNO Token would now be compatible with Utorg, which is a fiat currency payment gateway for cryptocurrencies. With the move, citizens living in 187 countries can purchase the GNO Token with more than 25 fiat currencies. Users will have to register and fill up a KYC form that can be submitted in just three minutes. Also, users have the option of making the payment via 10-plus methods.
For more information on HedgeUP click the links below:
Presale Sign Up: https://app.hedgeup.io/sign-up
Official Website: https://hedgeup.io
Community Links: https://linktr.ee/hedgeupofficial
Disclosure: This content is provided by a third party. crypto.news does not endorse any product mentioned on this page. Users must do their own research before taking any actions related to the company.