$761 Million Lost to Cryptocurrency Heists in The First Six Months of 2018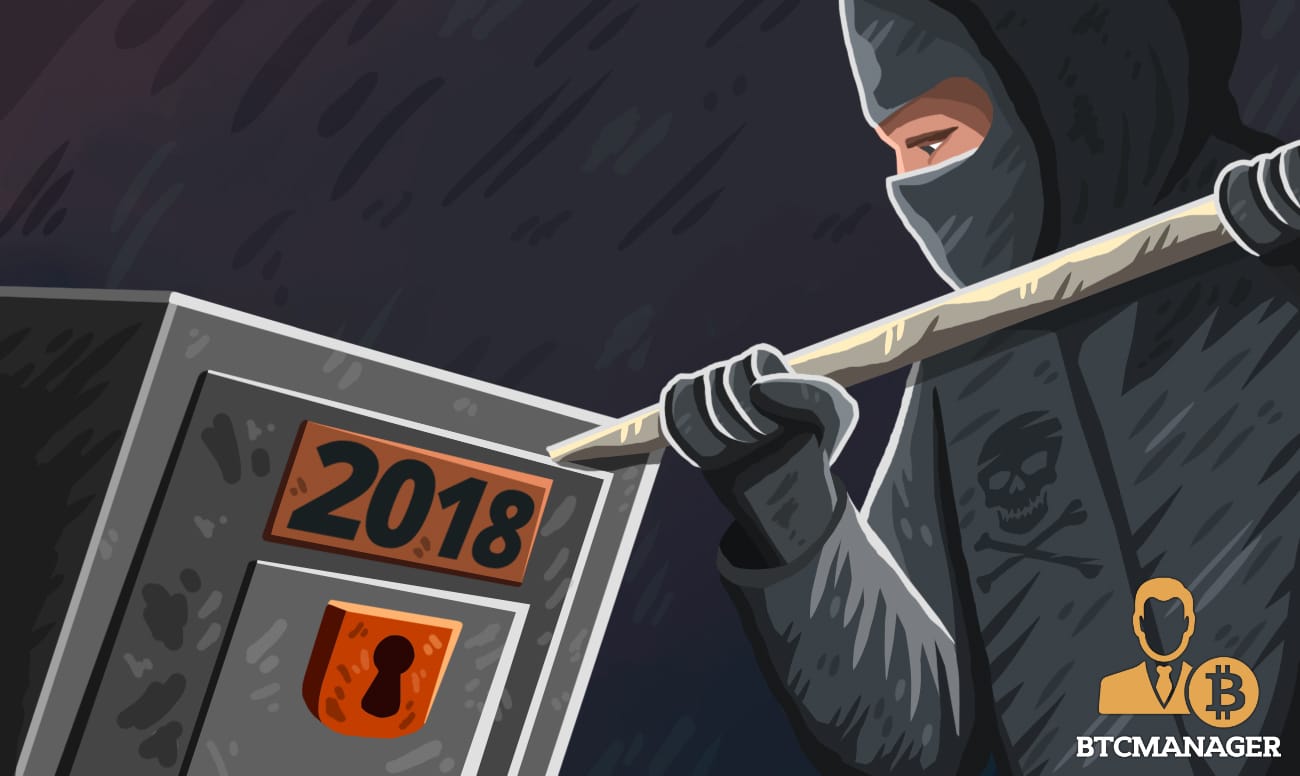 According to a study by cryptocurrency security firm CipherTrace of online heists, a record number of cryptocurrency tokens were stolen from cryptocurrency exchanges in the first half of 2018 alone.
Cryptocurrency Heists on the Rise in 2018
CipherTrace reported that in the first half of 2018, there was more than three times the number of cryptocurrencies stolen and used in money laundering activities in comparison to all of 2017. The Cybersecurity firm found $761m had been stolen and laundered from cryptocurrency exchanges since the beginning of 2018, a considerably larger number than the $266 million was stolen in 2017.
While it's uncertain why the cryptocurrency industry is experiencing a bearish market, The Telegraph suggested that the sheer number of hacks and heists on cryptocurrency exchanges in 2018, may be responsible for the people's loss of confidence in the industry and on popular cryptocurrencies like Bitcoin.
In 2018, there have been a considerable number of cryptocurrency hacks and heists. One of the biggest heists was the one on a Japanese cryptocurrency exchange known as Coincheck. In January 2018, Coincheck failed to implement basic security measures and lost $500 million in cryptocurrency. While Coincheck has agreed to compensate the hack victims, it will be awhile until the victims receive their lost funds.
In June 2018, South Korean cryptocurrency exchange Bithumb lost more than $26 million in a cryptocurrency heist. However, the exchange stated that they managed to recover 45 percent of the lost digital tokens.
Unfortunately, when heists occur, there tends to be a drop in the value of cryptocurrencies like Bitcoin. The Telegraph mentioned that these external events would have most likely contributed to Bitcoin's bearish market. According to CoinMarketCap, Bitcoin is currently trading at $6,676, a third of its all-time value of $20,000 in December 2017.
Cryptocurrencies Popular with Criminals
The Telegraph also mentioned that cryptocurrencies are quite popular with criminals. Bitcoin's pseudonymous nature allows criminals to transfer funds and evade law enforcement. While Bitcoin transactions are recorded on a public ledger, the Bitcoin address of the sender or receiver is not tied to their personal identity.
As criminals opt for popular cryptocurrencies as a medium of exchange, analytic firms like Chainlaysis are also improving their techniques of catching criminals linked to Bitcoin, and money laundering activities. Bloomberg noted many criminals have dropped Bitcoin for privacy coins like Monero designed to avoid being tracked by others.
The European Union's law enforcement agency noted in late 2017 that "other cryptocurrencies including Monero, Ethereum, and Zcash are gaining popularity with the digital underground." When it comes to ransomware attacks, Monero is also considered "one of the favorites, if not the favorite," said Matt Suiche, the founder of Dubai-based security firm Comae Technologies in a phone interview with Bloomberg.