A Threat to Payments but not Fiat?: BTCManager's Week in Review September 12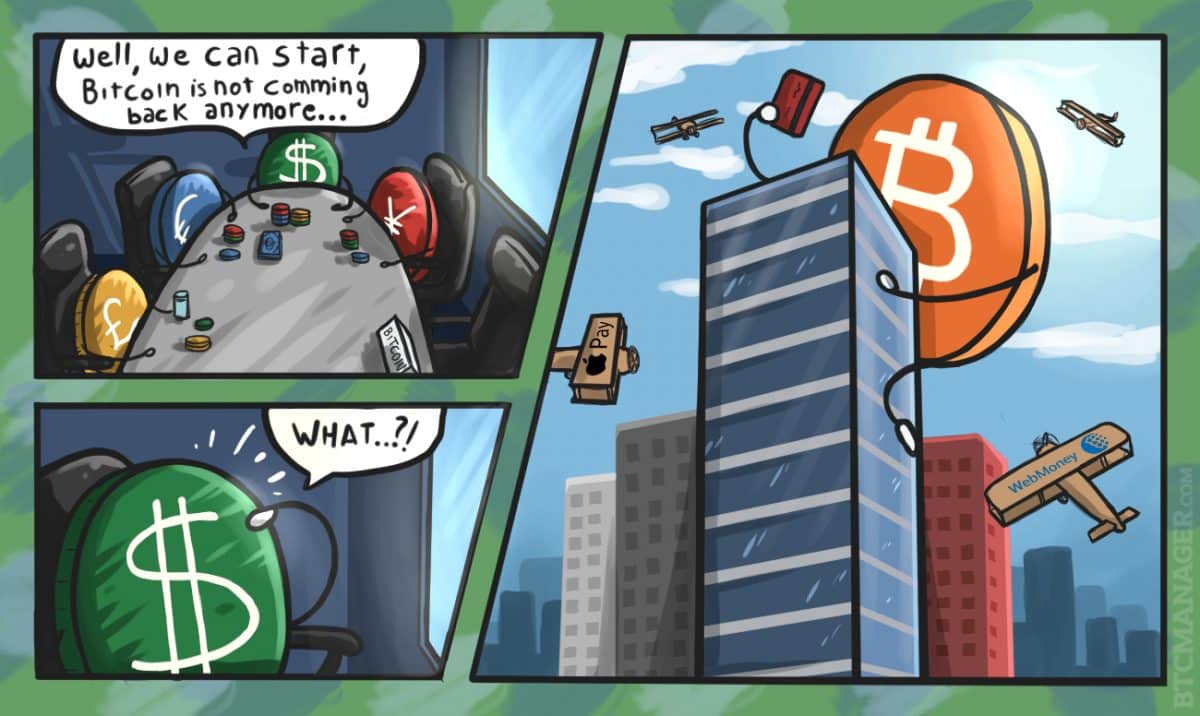 Compiled from contributions by Alexander Lielacher, Jamie Holmes, Joseph Young, JP Buntinx, Michael Scott and Nigel Dollentas.
Santander sees Bitcoin as a Risk to Card Issuers
A recent report issued by Spanish banking giant, Santander, highlights Bitcoin's benefits over typical credit card payments, including substantially faster transaction time, no need for contracts, considerably lower transaction fees, and the free-of-charge use of the blockchain versus expensive back-office transaction systems.
Although most of the businesses that accept bitcoin at the moment are relatively small in size, the idea of bitcoin is catching on. As it grows, bitcoin could pose a real threat to credit card issuers and acquirers.
WebMoney Welcomes Bitcoin Users With Open Arms
In a surprising development, given the Russian government's hostility toward bitcoin,  WebMoney, the global online settlement system and one of Russia's largest online payment processors,will enable Bitcoin payments.
The option to fund an account with bitcoin is available for non-members of the Russian WebMoney service. This allows them to pay for goods and services sold by merchants using WebMoney's online payment processor. Transactions will be converted to WMX – the native transfer title unit maintained by WebMoney – which can then be exchanged for other tokens and currencies.
'Bitcoin Will not Crowd Out Fiat' says SWIFT
According to a research and analysis paper released by SWIFT, "Virtual Currencies: Medium of Exchange or Speculative Assets?" bitcoin's main purpose appears to be as a speculative investment, rather than a medium of exchange.
The paper argues that since the price of virtual currencies is not fixed like government-issued fiat currency and is dependent on demand, users themselves raise the price by purchasing it, and then speculative investors would raise the price further through investment.
While fixing the virtual currency to a fiat currency would alleviate this problem, it would not align with the decentralized and free-market principles that bitcoin and many cryptocurrencies were designed by, although some companies like Tether have been trying to do so.
Apple Integrates Bitcoin with iMessage app
According to a recent beta launch, Apple will integrate the popular digital payment wallet Circle Pay into its revamped iMessage chat app, in conjunction with the new iPhone7 and iOS 10 release on September 13.
Furthermore, the tech giant has also seemed to have removed popular cryptocurrency app ShapeShift, which allows users to convert bitcoin to a variety of other cryptocurrencies. These moves from Apple could see a sizeable chunk of the cryptocurrency community boycotting Apple products altogether and move to devices with other operating systems.
Coinfirm Delivers Regulatory Solutions: Will It Take Hold?
Coinfirm, a new platform for managing risk and compliance has recently emerged as a major player in ensuring better compliance and oversight practices within the financial industry. The model employed by Coinfirm ensures that parties involved in digital transactions are compliant and safe in terms of regulatory and fraud risk. Among their many functions is the monitoring of bitcoin transactions, an increasing area of concern for many regulators.
DLT10 Index to Simplify and Broaden 'Crypto Investing'
The upcoming DLT10 Index will make investing in cryptocurrencies feel more familiar and more akin to traditional asset classes. The DLT10 Index represents a new trend toward gauging the performance of the general cryptocurrency market, indicating the increasing maturity and public interest in the sector. By attracting more traditional investors to cryptocurrencies, who are more accustomed to trading stock indices, the cryptocurrencies part of this fund may enjoy a consistent and stable increase in their value.
IEX to Create Gold Exchange Using Blockchain
IEX Trading Group, a US-based stock exchange, is trying to implement the blockchain technology into its upcoming gold exchange for greater transparency and efficiency in clearing and settling trade orders. Matt Harris, managing director of Bain Capital Ventures, and IEX  believe that the current inefficiency of trades and high transaction fees of orders makes it difficult for investors to productively trade gold and other gold-related assets. Once developed and launched, the new blockchain-based gold exchange of TradeWind markets will be leveraged by The Investors' Exchange of IEX as an equities exchange for professional investors and traders.