a16z Unveils $4.5 Billion Crypto Fund for Crypto and Blockchain Startups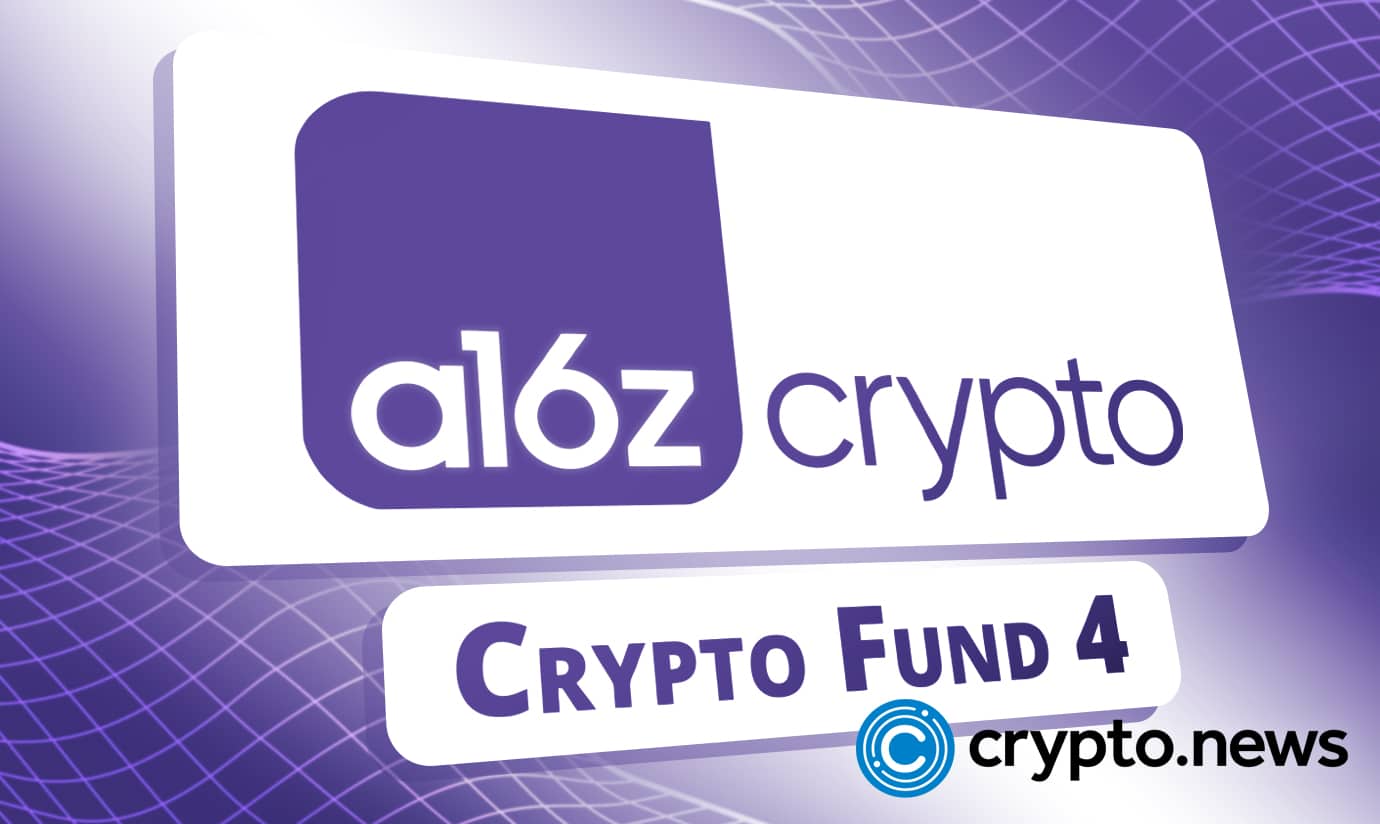 Andreessen Horowitz, a prominent venture capital firm, announced the completion of its fourth cryptocurrency fund at $4.5 billion. This extends the firm's total investment in crypto and blockchain startups to over $7.6 billion.
a16z Establishes Crypto Fund 4
Andreessen Horowitz (a16z), a venture capital firm based in Silicon Valley, revealed on Wednesday that it raised $4.5 billion for a new crypto fund, the firm's fourth and largest to date.
Crypto Fund 4 is twice the amount of a16z's previous crypto fund, which was launched in June of last year, demonstrating that despite the volatility of the crypto market, the firm's partners are eager to increase their exposure to Web3 firms.
"We think we are now entering the golden era of web3. Programmable blockchains are sufficiently advanced, and a diverse range of apps have reached tens of millions of users," a16z partner Chris Dixon wrote in a post accompanying the raise.
"More importantly, a massive wave of world-class talent has entered web3 over the last year. They are brilliant and passionate and want to build a better internet," he added.
According to a16z, of the $4.5 billion raised, $1.5 billion would be dedicated to seed investments, and the remaining $2.5 billion will be utilized for venture investments.
According to Dixon, the company is "excited" about the recent developments in Web3 gaming, decentralized finance (DeFi), decentralized social media, self-sovereign identity, layer-1, and layer-2 infrastructure, DAOs and governance, NFT communities, privacy, creator monetization, regenerative finance (ReFi), new applications of ZK proofs, decentralized content and story creation, and many more sectors.
Fostering Web3 Growth Amid Market Turmoil
The announcement of a16z's latest crypto fund comes at a time when the larger crypto market has suffered a significant fall due to the collapse of the TerraUSD stablecoin and LUNA.
Despite the plunge, Andreessen Horowitz partner Ariana Simpson told investors that the firm is confident in its bets.
In an interview with CNBC, Simpson stated, "Bear markets are often when the best opportunities come about, when people are actually able to focus on building technology rather than getting distracted by short-term price activity."
She added, "While our pace of investment has been high, we continue to invest really in only the top echelon of founders."
a16z and Crypto Space
The venture capitalist firm already has three funds devoted to the crypto industry, the first of which was established four years ago.
Previously renowned for investments in companies such as Instagram and Slack, the firm entered the crypto industry in 2013 with an investment in Coinbase. Since then, it has invested in a variety of crypto ventures, including Avalanche, OpenSea, Solana, and Yuga Labs.
The new announcement brings its overall commitment to crypto and blockchain technology to over $7.6 billion. Last week, a16z also invested in Flowcarbon, a company founded by former WeWork CEO Adam Neumann that aims to combat environmental challenges with blockchain-based carbon trading tools.
Earlier this month, Andreessen Horowitz announced the formation of GAMES FUND ONE, which will invest $600 million throughout the gaming industry.