American Professional Baseball Team Accepting Dogecoin (DOGE) for Tickets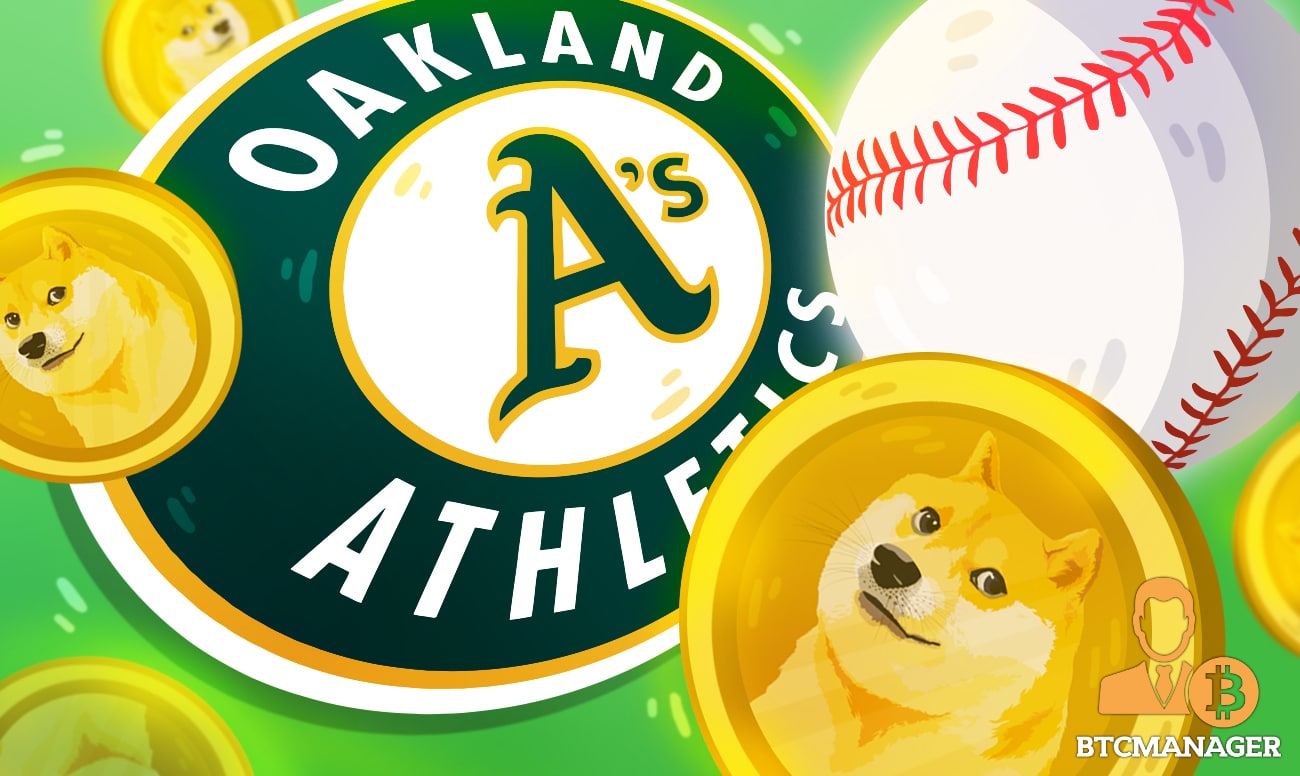 Oakland Athletics (the A's), has announced that baseball lovers can now purchase tickets with 100 dogecoins (DOGE) to see its game against the Toronto Blue Jays. The promo is in commemoration of DOGE's new all-time high of over $0.45 and fans have until May 6, to enjoy the huge discount, according to a blog post on May 3, 2021.
The A's Adopts Dogecoin (DOGE)
In a bid to commemorate dogecoin's (DOGE) latest milestone of surpassing $0.45, Oakland Athletics, a Major League Baseball (MLB) team has announced that fans who hold dogecoin (DOGE) can now buy tickets with it from May 3 to May 6 and enjoy over 40 percent discount. 
Specifically, baseball lovers can now purchase two tickets in a pod in the Plaza Infield for just 100 DOGE ($47.22 at press time) instead of the regular price of around $80. 
"Snag two tickets in a pod in the Plaza Infield for games May 3, 4, 5, or 6, at the Oakland Coliseum for 100 Dogecoin," wrote the A's.
Join us at the ballpark as the Blue Jays roll into town! 

Two-seat pods in the Plaza Infield are available for 100 Dogecoin for the series. 

🔗: https://t.co/RizI8lp46i pic.twitter.com/wdDROnpLJc

— Oakland A's (@Athletics) May 3, 2021
To make the dogecoin integration as frictionless as possible, the A's has partnered with Bitpay, an Atlanta-based bitcoin (BTC) payment processor established in 2011. The dogecoin payments will be handled by Bitpay, while the A's will digitally deliver the tickets via the MLB Ballpark app.
Dogecoin (DOGE) No Longer a Joke 
These are exciting times indeed for hodlers and lovers of dogecoin (DOGE), as the digital currency which initially started as a joke in 2013,  has now metamorphosed into a serious digital currency, thanks to big whales like the "Dogefather" himself,  Elon Musk, who has been an active promoter of the meme coin on social media.
Interestingly,  Musk who's scheduled to host the next episode of Saturday Night Live (SNL), has made it clear that dogecoin (DOGE) will be discussed during the program on May 8, 2021, 
Don't get it twisted! Dogecoin's success is not entirely a result of social media hype, as the digital currency has attracted numerous highly reputed institutional adopters in recent times. 
Earlier in March 2021, Dallas Mavericks' Mark Cuban took to Twitter to reveal that the NBA franchise has successfully sold tickets and merchandise worth over 20,000 DOGE and it hopes to keep fuelling the coin's march to the psychological $1 price region.
In the same vein, BTCManager informed earlier in April 2021, that Newegg, an American online retailer of tech products now accepts dogecoin (DOGE). 
At press time, the price of dogecoin (DOGE) is hovering around $0.4758, with a market cap of 61.59 billion, as seen on CoinMarketCap.