Amun's Inverse Bitcoin ETP to Enable Traders Profit from Bitcoin Price Crash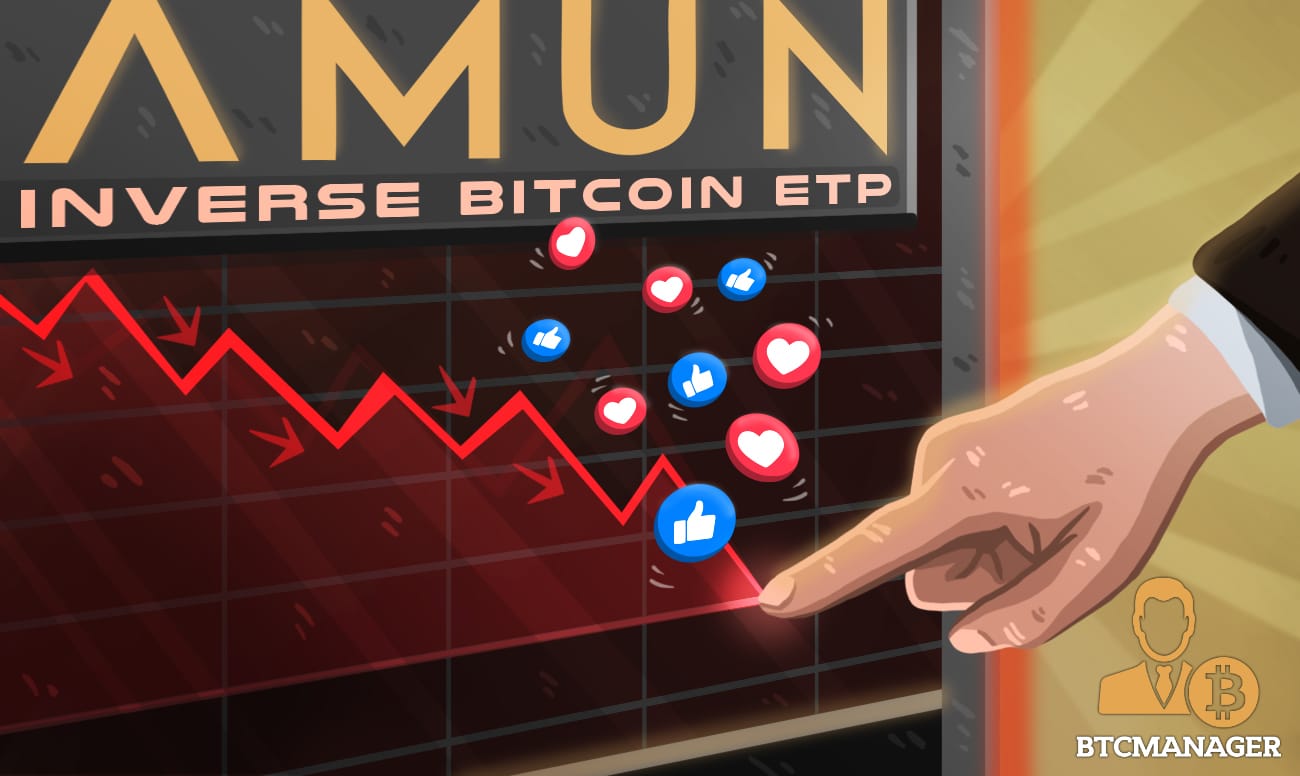 Amun AG, a Swiss-based financial technology firm that creates financial on-ramps for the acquisition, trading and storage of cryptoassets, has announced the launch of its 21Shares Short Bitcoin exchange-traded product (ETP). The new ETP is listed on Switzerland's SIX Stock Exchange and it allows bitcoin (BTC) traders to make a profit whenever the price of bitcoin (BTC) falls, reports The Block on January 23, 2020.
Amun Enables Traders to Bet Against Bitcoin 
While Bitcoin (BTC) 'hodlers' are always praying for the price of the world's flagship cryptocurrency to hit the moon, Swiss-based Amun AG has rolled out a new ETP that will also put a smile on the faces of traders during a bear market.
Per sources close to the development, Amun calls its new inverse exchange-traded product the 21Shares Short Bitcoin ETP (SBTC).
The firm says SBTC is listed on the Swiss Stock Exchange (SIX) and as the name implies, it makes it possible for anyone to make money by betting on negative price movements of bitcoin.
Notably, the firm has made it clear that the new ETP comes with an annual management fee of 2.5 percent and the product is reset at the end of each day, enabling investors to quickly take advantage of short term price movements of bitcoin (BTC).
Amun Rolling Out More Crypto Investment Vehicles 
Commenting on its new inverse ETP, Hany Rashwan, co-founder and CEO of Amun reiterated that while investment products such as its new SBTC already exists in traditional markets like stocks and bonds, the product is a first-of-its-kind for the cryptospace and it's looking to introduce more of such in the near future.
Reportedly, with the launch of SBTC, Amun now has a total of 11 crypto ETPs powered by Bitcoin (BTC), Ether (ETH), XRP and others. 
The firm claims it now has more than $55 million in assets under management, with its most in-demand ETPs being the HODL, Bitcoin ETP and Binance coin (BNB) ETP, which was launched in October 2019.
Amun says all its ETP will now come under the 21Shares brand name, with "21" in this case, referring to the fixed supply of Bitcoin.
Notably, the 11 ETPs that makeup Amun's 21Shares, are listed in US dollars, with just two listed in Swiss francs and three in euros on the SIX exchange, while six out of the 11 ETPs are listed in Swiss francs on BX Swiss.
Amun says its currently awaiting the approval of the Swedish Financial Supervisory Authority (SFSA), to enable it to get its ETPs listed on more exchanges in Europe.