Another Hard Fork for Ethereum? BTCManager's Week in Review Oct. 10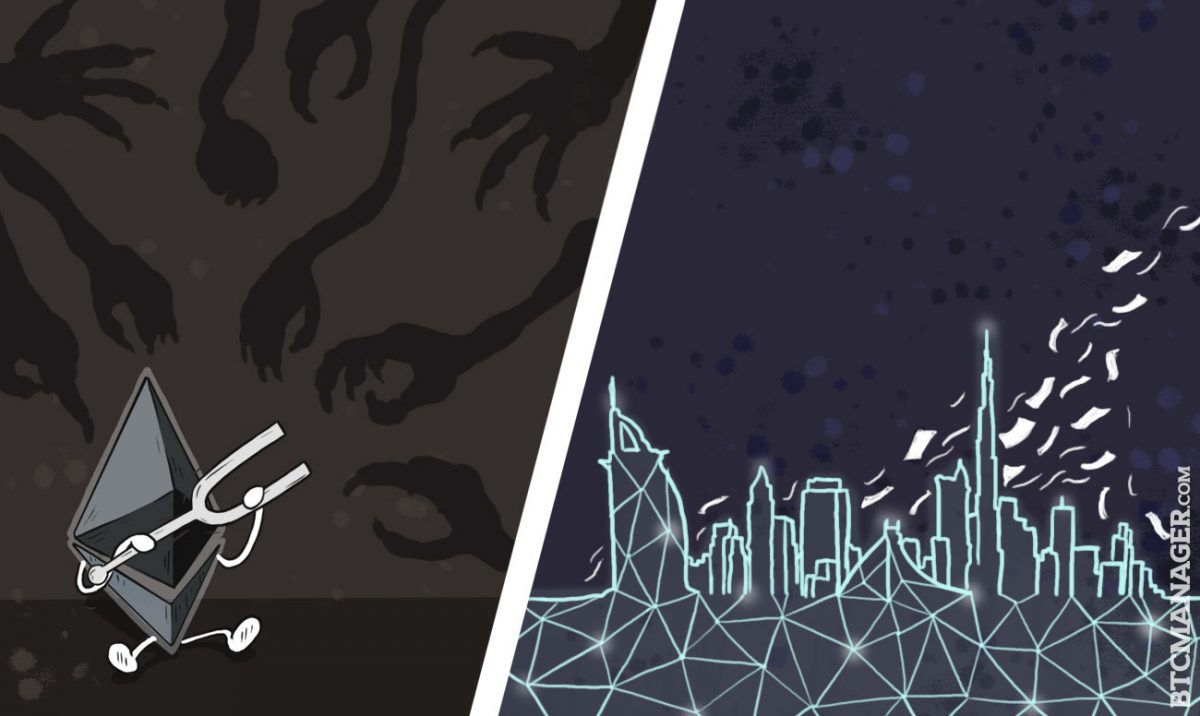 This week's news review is compiled from contributions by Alexander Lielacher, Farzana Begum, James Ryan Moreau, Jamie Holmes, Joseph Young, and JP Buntinx.
Ethereum Continues to Be Exploited; Another Hard Fork?
The Ethereum network is still struggling to deal with various DoS and transaction spam attacks that are causing delays for wallet platforms, exchanges, and users, whereby Ethereum may have to undergo another hard fork to solve the issue. A hard fork would fix the problem, but potentially open up lurking issues that developers are as of yet unaware of.
Dubai and EU Give a Peek into How the Blockchain Transforms Government
Governments around the world are starting to appreciate the multifaceted use of blockchain technology and are looking to adopt the blockchain in various ways, such as the government of Dubai, who are using the technology to cut down on bureaucracy. Also, the European Parliament recently released a paper on using the blockchain to run elections. The paper highlights that e-voting will provide more flexibility and freedom to voters as individuals no longer need to rely on the central government to manage elections.
The Scaling Bitcoin conference held in Milan, Italy, explored a variety of privacy and security-focused solutions to enhance the fungibility, scalability, flexibility and overall security measures of the Bitcoin network. Amongst all presentations, two proposals that intrigued many developers, startups, and users were Mimblewimble and the Lightning Network.
Gatecoin's CEO On Forging Ahead With A Bullish Eye Towards Tokens and ICO's
BTCManager spoke to Gatecoin's CEO and Founder, Aurélien Menant, about his perspective on why he has chosen to position his business so closely with ICO offerings, what he sees as the next big opportunity in the space and which platform is leading the pack.
Nasdaq Files Patent For Blockchain-based Exchange Transaction Data Backups
Blockchain-related patents can bring a lot of legitimacy to the distributed ledger ecosystem. Nasdaq, a company openly favoring blockchain technology for quite some time now, recently filed a new patent that refers to a new project to record transactions. This seems to resemble a new distributed system to record exchange transactions.
J.P. Morgan Unveils Blockchain Project 'Quorum'
Many financial players are focusing their attention on blockchain technology right now. J.P. Morgan Chase is one of those institutions, albeit they are doing things a bit differently. To be more precise, they are working on a way to use a public blockchain for confidential transactions. Where other banks want to keep everything private, J.P. Morgan Chase goes in a bold and different direction.
'Bond King' Bill Gross Believes Investors Will Shift Toward Bitcoin
Prominent fund manager and CEO of Janus Capital, Bill Gross, stated in his monthly investment outlook that in the attempt to boost economic growth central banks have turned financial markets into a casino. As central banks are printing money at unprecedented rates and are effectively trying to fight debt with more debt, Gross is comparing their actions to deploying the Martingale strategy in a casino.
BTC-GBP Outperforms on 'Hard' Brexit Worries
Following the announcement by the UK government of a major shift in economic policy, the British Pound (GBP) plunged to a fresh 31-year low today as Asian markets awoke, with BTC-GBP looking to smash the £500 psychological barrier and outperforming other bitcoin-fiat pairs today. This is the largest decline in the Pound since 'Brexit', on comments from French President Hollande convincing other EU members to negotiate tough with the UK. Also, UK Prime Minister Theresa May confirmed that Article 50 will be triggered, the legislation formally required to exit the EU, in March 2017.