Apple and Barriers to Entry for Crypto: BTCMANAGER's Week in Review September 5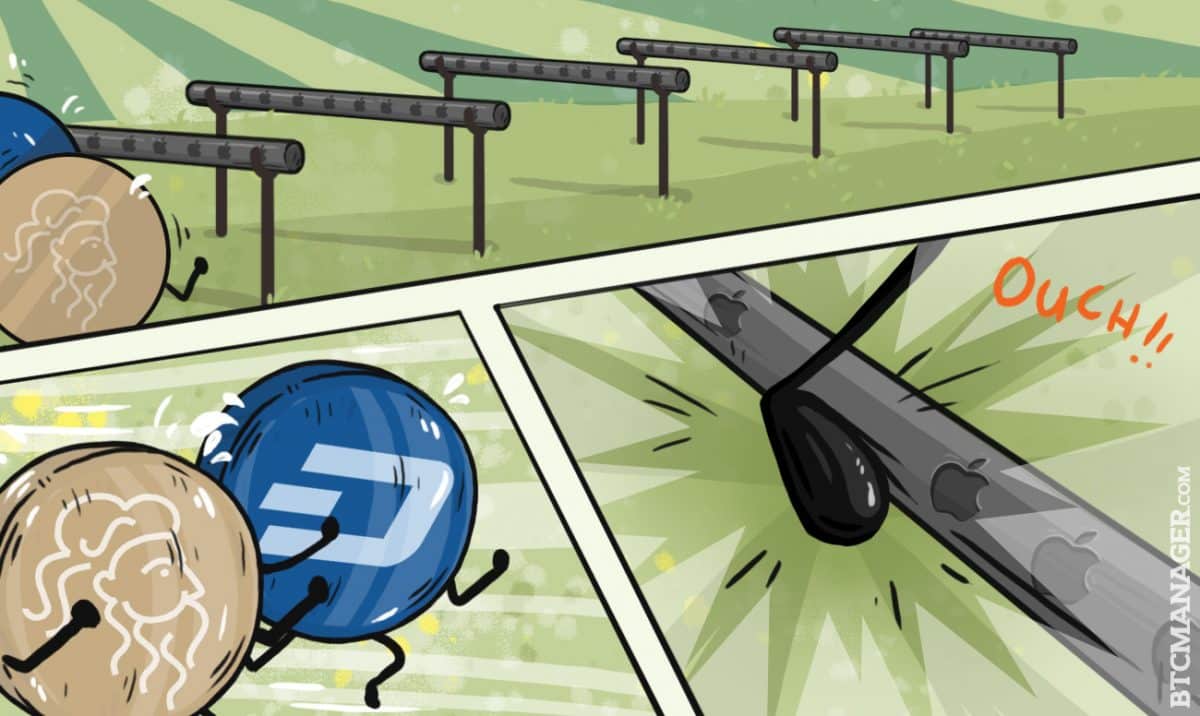 Compiled from contributions by JP Buntinx, Michael Scott, Jamie Holmes and Joseph Young.
Apple Rejects Jaxx's DASH Integration
Shortly after Jaxx's announcement that it would be supporting DASH in its multi-platform wallet, Jaxx CEO Anthony Di Iorio informed the community that Apple has rejected the cryptocurrency, allowing only bitcoin, litecoin, ether, dogecoin, ripple and DAO tokens on its app store. In response to Apple's announcement, the value of DASH has fallen against both the US Dollar and bitcoin, remaining stable around $11.40.
Mycelium's New Wallet and Plutus Introduces 'Tap and Pay'
At a recent Bitcoin meet up, Mycelium revealed new àwallet features including a new user interface, the ability to store a variety of digital assets, including Mycelium tokens and allow colored coin networks.
Also, Plutus introduced its plans to release their 'Tap and Pay' app in December 2016 that will allow bitcoin, as well as other cryptocurrencies, to be spent at any contactless terminal regardless of whether or not the retailer has decided to accept cryptocurrencies. However, the company has also faced issues with Apple as 'Tap and Pay' would compete directly with Apple Pay, with little likelihood of the Plutus app becoming available on iOS devices.
Visa to Test Blockchain-Based Interbank Payments
Visa has secured a strategic partnership with blockchain solutions provider BTL Group, the development team behind Interbit, an Ethereum blockchain-based payment and smart contract platform, to build a blockchain-based interbank payment settlement system.
Visa will pilot-test international transfers of money on the blockchain network over the next 100 days, hoping to see a reduction in cost, settlement time and credit risk.
China Merchants Bank Joins R3 Blockchain Consortium
Shenzhen-based China Merchants Bank has decided to partner with the R3 consortium.
"It is a great pleasure for us to reach an agreement with R3. As a technologically advanced bank, China Merchants Bank has always actively explored new technologies and applied them in our businesses. Blockchain holds great potential for the banking industry, and we look forward to working together with R3 to deliver the innovation required to improve a range of financial services and processes," said Tianhong Zhou, general manager of the bank's IT Department.
Blockchain In Hyperdrive: Collaborative Effort Accelerates Forward
The Hyperledger Project, a collaborative cross-industry forum fostering the advancement of blockchain innovation, announced that seventeen new organizations have joined the fold in an effort to develop distributed ledger, open standards for next-generation, transactional applications. Included in this latest group are a number of existing blockchain projects already engaged in their own consensus and storage models, as well as services involving contracts, identity and access control.
Monero's Run Just Starting; $15 In Sight
Growing interest in Monero, not only from speculators and darknet markets but also from miners, has led to a strong price surge this week. After swinging from $3.70 to a high of $10.79, the market retraced somewhat. However, the uptrend continued with XMR-USD reaching our initial target at $15.18, posting a fresh high at $15.249 on Saturday. The price has since retreated to the $13.00 psychological level but the uptrend remains intact as long as the market can continue to tread above $12.78.