Arbitrix Edge review: how it compares with Bitcoin 360 AI and Biticodes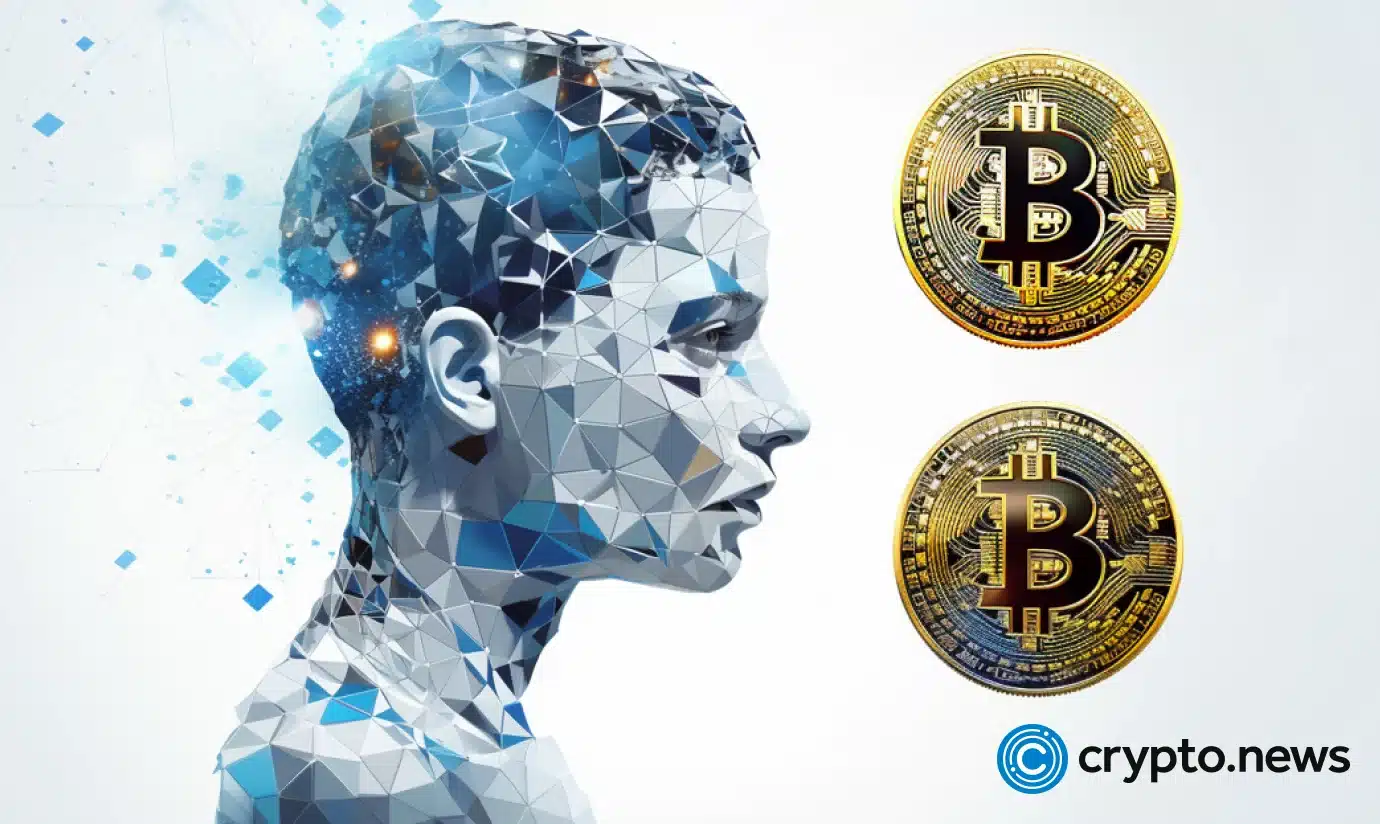 The latest artificial intelligence (AI) developments are making waves across many industries, including crypto trading. Traders now have several AI-powered trading platforms to choose from, but identifying the most suitable platform is a challenge. This review compares some factors traders should consider when selecting the right platform for their needs.
The new generation of crypto trading bots
Crypto trading bots have come a long way in the last few years. The main driver of the advances has been artificial intelligence (AI) and how AI techniques and tools are being combined with trading platforms. It is now possible for specialist trading platforms to use large-scale data analysis, complex mathematical algorithms, and machine learning to track and analyze the crypto markets.
Some of these bots also offer predefined trading strategies that enable traders to choose their trading style and then generate trading signals based on those selected strategies.
The basic idea is that analyzing market prices can result in predictions about what will happen to the price in the future. The accuracy of these predictions varies widely. All such bots aim to be as accurate as possible because higher accuracy means higher profits for users.
The most advanced bots predict future prices and automatically place buy and sell orders. In this way, the bots place trades and make a profit or loss for the users.
The bots also vary in terms of the information they process to make predictions. Some rely on multiple data sources, including news articles, social media, and data from blockchain transactions, while others rely on price data. The most advanced bots use machine learning, a type of AI, to analyze the connections between these different data feeds and to make more accurate predictions.
While crypto trading bots have come a long way, and some cost hundreds of thousands of dollars to access, none are perfect. All bots have a success rate but also a failure rate, which means that they will sometimes result in losses. These bots aim to ensure that the loss rate is far lower than it would be for human traders.
Fortunately, the more advanced bots are also trying to reduce the size of the losses incurred by users. This built-in risk management is made possible by providing tools that make human intervention possible if things don't go well.
Market leaders in crypto trading bots
This review compares three of the most powerful crypto trading bots. It aims to give the reader a clear view as to the advantages and disadvantages of each so that informed decisions can be made as to the best bot to choose.
Arbitrix Edge, Biticodes, and Bitcoin 360 AI are the three bots under evaluation.
In this review, all three bots have undergone an in-depth evaluation process. Instead of just reading about what each bot claims to achieve, the reviewers applied several tests to evaluate how the bots compare in the context of live trading in the crypto market.
The evaluation process began with thorough online research about each of the platforms. We then used each bot to place trades, keeping close track of each bot's performance. Then, finally, we prepared this review to report our findings. We are also updating this review from time to time as new information becomes available.
To summarize the conclusion, we found that the most advanced AI-powered trading platform is Arbitrix Edge. It is, without question, the most powerful bot available today.
In the next part of this review, we will get into all the details, focusing on two considerations. The first consideration is that we want to understand if it is possible for users to start with €250 and then make profits of €10,000 or more each month. The second part is to understand which platforms are legitimate and which are scams.
If you want to understand each platform's benefits, read on.
Arbitrix Edge vs. Biticodes vs. Bitcoin 360 AI
AI is having a big impact on the financial markets, with more and more professional traders using AI as part of their toolkit for better trading.
Arbitrix Edge was under development for a long time to bring the latest AI to the crypto market. It now has a significant history of operations. It has become a popular choice for new and professional crypto traders.
Arbitrix Edge came to market with the latest developments in AI already integrated into the platform, and this gave it a major leg-up relative to its main competitors, Biticodes and Bitcoin 360 AI.
The Arbitrix Edge AI capabilities are so powerful that the platform is now leagues ahead of Biticodes and Bitcoin 360 AI. Some users of all three platforms even claim that Arbitrix Edge makes the other platforms seem completely outdated.
Why do traders prefer Arbitrix Edge?
The Arbitrix Edge platform is aimed at being useful for new traders and professionals. It helps users progress through the journey of making sense of the crypto market over a short period. It has been demonstrated to be a highly impactful trading platform.
Arbitrix Edge allows users to customize their trading experience according to their unique trading styles. This customizability is available on the user interface, which can be adjusted to suit each user's preferences. Moreover, traders can choose from a list of predefined strategies so that the bot can act in a manner that reflects each trader's preferred trading style.
Users of Arbitrix Edge also reported the advantages of starting with a Demo account. The Demo account on Arbitrix Edge lets traders test their selected strategies on real market data and adjust them until they find a formula that fits their risk profile and trading objectives.
The Arbitrix Edge platform uses advanced mathematical algorithms to process vast data and generate predictive analytics for better trading decisions. Each trader's profile and objectives are factored into the algorithms to make exact calculations about expected market movements and place trades in real time while optimizing for the trader's performance. The level of AI employed by Arbitrix Edge puts it far ahead of alternative platforms.
The most important differentiator between these three platforms is the level of performance. In our evaluation, we found that Arbitrix Edge achieved more accurate results most of the time. The success rate of the platform is also higher compared with the other platforms.
See the chart below for a breakdown of this comparison: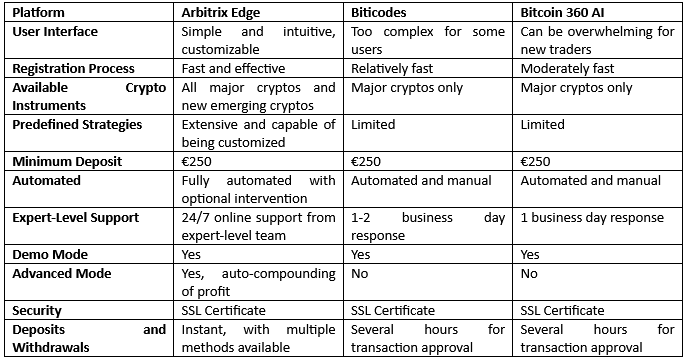 The Advanced Mode mentioned in the comparison table above is a feature unique to Arbitrix Edge. It enables traders to automatically reinvest their trading profits to increase earnings. The compounding of profits supercharges returns by putting more funds to work. When done right, this leads to an exponential increase in profitability.
Arbitrix Edge features
Arbitrix Edge offers several features and benefits that make it stand out.
Diverse instruments
Users of Arbitrix Edge can access a wide variety of cryptos. Instead of being limited to the major cryptocurrencies like Bitcoin (BTC) and Ethereum (ETH), users can also access a variety of meme coins and alternative coins. These assets include Dogecoin (DOGE), Shiba Inu (SHIB), Polygon (MATIC), XRP, and many more.
Heightened security
The platform has been through major security checks. It has secured an SSL Certificate—all users of the platform benefit from the use of firewall security. Thanks to the growing list of partner platforms integrating with Arbitrix Edge, traders can also prioritize working with regulated brokers when using the platform.
Fast and secure deposits and withdrawals
Arbitrix Edge supports a variety of wallet options for deposits and withdrawals. This means traders have the flexibility to choose. Deposits and withdrawals are usually completed in a matter of minutes.
Demo accounts
All platform users can test their selected strategies in a live market data environment before putting any real money to work. This enables them to tune their strategies according to their unique profiles and trading objectives. When traders feel ready, they can instantly move to live trading mode.
Highest success ratio
The Arbitrix Edge platform came out of a long research and development process. At the end of the testing, the platform achieved an astonishing average success rate of 73.85%. This performance is unmatched by the other platforms, putting Arbitrix Edge far ahead of its competitors.
Automated trading with optional intervention
Traders using the platform can set it to run on auto-pilot but always have the option to intervene and make manual trades if they choose to. This hybrid approach that combines auto-trading with human intervention leads to effective risk management for most traders.
Trading of multiple instruments 
The platform's AI engine keeps running 24/7 and can easily place trades across multiple cryptos simultaneously. Unlike manual trading, where the parallel trading of different assets is challenging, Arbitrix Edge makes it streamlined and effective so that no opportunities are missed.
Free to use with platform partners
Arbitrix Edge is free for anyone who registers with one of the platform's partners. All you need to do is set up your account and deposit €250. This amount provides the capital that goes into your trading account and is what you can use as funding to start placing trades in the live market.
The registration process
Arbitrix Edge eases how new traders register. Here, we provide a step-by-step guide to show you how simple it is:
Step 1: Visit the website at https://arbitrixedge.com/
You can read more about this platform and what makes it unique on the website.
Step 2: Submit your contact details
Once you are ready, enter your details in the form provided
Step 3: Receive a call from a broker partner
One of the Arbitrix Edge partners will call you to explain more about the platform and how to open your account. At this point, you must deposit €250 to proceed. Once you complete the registration, these funds will be used in your trading activity.
Step 4: Access the platform
Once you have login details, you will receive access to a Demo account to explore the platform and start testing the predefined strategies. When ready, you can activate auto-trading and start putting your funds to work in a live market environment.
Security advantages
The Arbitrix Edge platform has demonstrated an extreme commitment to trader security. Firstly, it has obtained an SSL certificate, meaning the platform is highly resilient against attacks. Secondly, the platform works with proven and regulated partner brokers who have been through stringent screening. From the start of the registration process, all traders benefit from the cautious and secure approach. This covers the protection of user data and the delivery of highly secure payment methods.
Expert-level support
The support representatives at Arbitrix Edge have undergone extensive training to ensure that all traders receive the care and attention they deserve. The platform itself can support fully automated trading. However, some of the actions that traders take outside of actually placing trades means that it is crucial that traders can call someone trustworthy for support. Many of the competing platforms provide chatbot support. However, Arbitrix Edge will always connect you to a human support agent who has familiarity with the platform and can assist in any matter, including deposits and withdrawals.
User feedback
Our evaluation found that most traders have expressed satisfaction with their experience with Arbitrix Edge. Hundreds of users from various jurisdictions have confirmed that Arbitrix Edge is their choice platform in crypto.
Tips for new traders
Here are some recommendations for new traders who are considering Arbitrix Edge. It is worth keeping these tips in mind to get the most out of the platform.
Seek guidance from account managers
The platform offers automated trading while allowing for human intervention, and it is a good idea to take advantage of the partner broker's support team, as they will help to improve your trading experience. The knowledge and expertise of these support agents can accelerate your learning. They can ensure that you are using the platform effectively.
Check your account daily
Arbitrix Edge is an automated platform, so you are not required to spend much time trading daily. For many traders, 15-30 minutes daily is more than enough. Even though little time is needed, it is important to check on your account once every day so you can make any adjustments to your strategy as may be required.
Review your statements
With Arbitrix Edge, you will have total visibility into all the activity on your account. You can pull up your account history to see your deposits, withdrawals, and trades at any time. You can also download these reports. Depending on your country of residence, you may be required to use these reports when filing your tax reports. Your trade history data is secured and protected, and you can be confident that your information will not fall into the wrong hands.
Trade responsibly
After registering to trade using Arbitrix Edge, you should limit the amount of funds you are dealing with. The crypto market is volatile and risky, and even the best tools carry some risk. It would help if you avoided trading with funds you cannot afford to lose. It is your responsibility to set your limits.
Conclusion
In this review, we have thoroughly explored the advantages and disadvantages of Arbitrix Edge relative to its main competitors.
The platform offers a sleek and powerful tool for new and experienced traders to navigate the volatile crypto market. All kinds of traders can benefit from the long list of predefined strategies, the advanced analysis tools, and the intuitive user interface Arbitrix Edge offers.
Traders can deposit a minimum of €250 with one of the partner brokers. Moreover, Arbitrix Edge appears to be ahead of competitors like Biticodes and Bitcoin 360 AI in critical criteria.
When used correctly, Arbitrix Edge can provide traders with a way to make sense of the markets and even automate the running of trading strategies. Every trader can choose the plan that works best for their financial profile and objectives, and all traders have the option to turn off auto-trading and to intervene in trading decisions manually.
In our experience and the experience of other reviewers, Arbitrix Edge is also not a scam. It is a legitimate platform for professional crypto trading.
Competitors we have evaluated, including Biticodes and Bitcoin 360 AI, have mixed performance evaluations and reviews. Some commentators have questioned the legitimacy of those platforms. 
Disclosure: This content is provided by a third party. crypto.news does not endorse any product mentioned on this page. Users must do their own research before taking any actions related to the company.