Assange DAO Raises over $38M to Help Free Julian Assange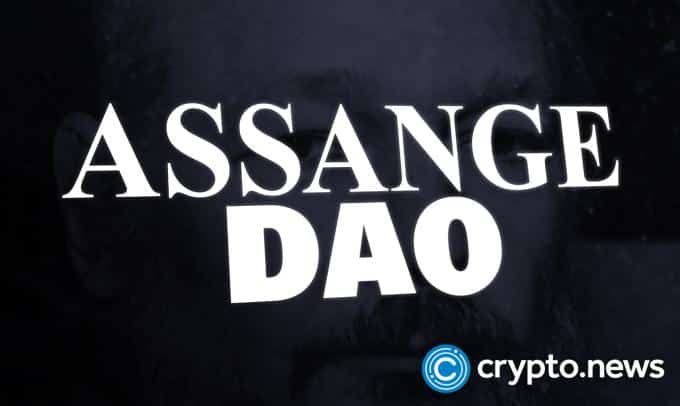 AssangeDAO, the platform aiding in the donation to help free Julian Assange has been posting an impressive performance over the weekend. By Feb. 8, 2022, over 14K ETH have been donated through the DAO to help free Assange in his extradition case.
AssangeDAO Raises Over 14 K ETH in Donations for WikiLeaks Publisher
AssangeDAO is a decentralized organization set up to help in the prison liberation of WikiLeaks publisher Julian Assange. The DAO seeks to help free him after a British court imprisoned him for leaking war crimes. Now Julian is fighting extradition to the US after its court overruled a British court decision to bar extradition last December.
According to JuiceBox, the community funding organization leading the donation, contributions officially started last Friday. The campaign gained traction over the past weekend and has been skyrocketing over the last 36 hours to hit the current mark.
Per AssangeDAO's official Twitter feed, the contribution is the largest ever JuiceBox ETH raise. It has already eclipsed the ConstitutionDAO's fundraise of last November that sought to purchase the original United States Constitution.
The comparison between AssangeDAO and CostitutionDAO's contribution is based on the ETH donated. However, the value of ETH was way higher in November than now. At the time, ConstitutionDAO managed to raise $49M.
More about AssangeDAO and the WikiLeaks
The founding of AssangeDAO traces back to last December when the US won its appeal against a British court ruling that had barred Assange's extradition. Assange faces one of the longest imprisonments if extradited to the US. He will be facing 175 years in jail for leaking war crimes. The official website reads that Assange faces this imprisonment for giving truthful information on the crimes.
AssangeDAO is a ''Collective of Cypherpunks'' that raises ETH in return for its JUSTICE tokens. The DAO will also build an NFT collection called ''Censored.'' The collection will be built by digital artist Pak collaborating with Julian Assange. The proceeds from this project will then fund Assange's legal bills and campaign for awareness on his extradition case.
Julian Assange has been serving jail time in London's Belmarsh prison for three years. Before the current jail time, Assange also spent about seven years in Ecuadorian Embassy in London under asylum protection. He claimed the asylum protection status for the ongoing war crimes case.
Cryptos' Usage in Donations Increases
Cryptocurrency is cementing its role in charity and donations as one of its major use cases. Over its operational history, many charity organizations and other similar parties have benefitted from cryptocurrency donations. Even though some organizations like Mozilla Firefox have received backlash for accepting crypto donations, this use case is gaining traction.
Currently, Redcross accepts BTC, BCH, ETH, DOGE, and four USD pegged stablecoins(GUSD, USDC, PAX, and BUSD) for donations. These donations help save the lives of people in need of emergency response services offered by Redcross. American Cancer Society also accepts BTC and Altcoins donations.
According to a report by The Giving Block, crypto donations skyrocketed to $69.6 M in 2021 compared to $4.2 M in 2020. The average donation size also eclipsed the average cash donation by 82 X. The report detailed that the average crypto donation stood at $10,445 compared to $128 for cash donations.
These developments show that cryptocurrency occupies an important space in donations and charity since it does not rely on trusted third parties.