Astar (ASTR) Listed on Binance U.S. after Expansion in Asia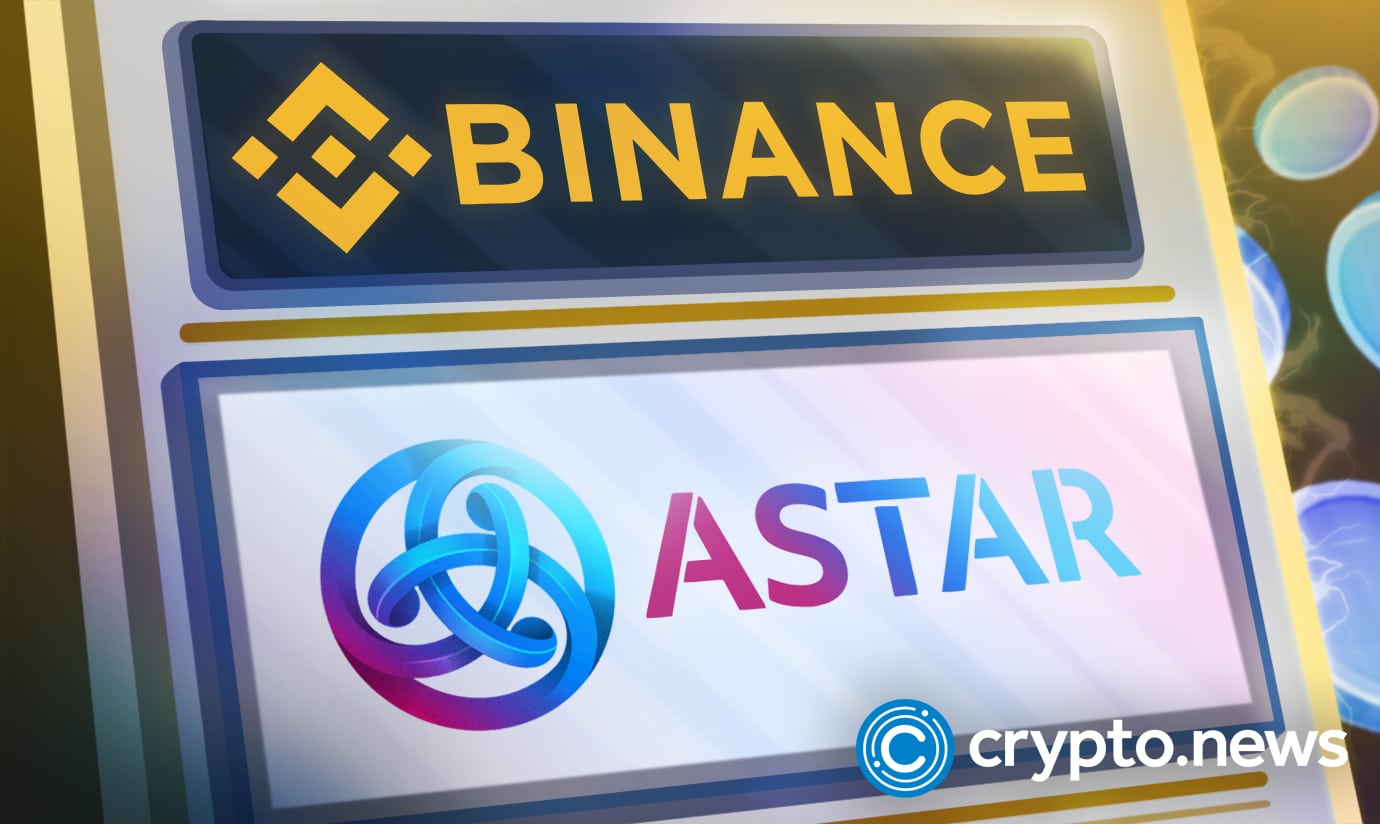 Astar Network's ASTR is now listed on Binance U.S. Users of the regulated exchange can trade ASTR against Tether (USDT) and the US dollar (USD) from 8:00 EDT on September 14, 2022. The team expects the listing to give U.S. residents exposure to Astar Network, while also making its smart contract ecosystem available to a global audience.
ASTR Token Live on Binance U.S.
Astar Network, Polkadot's leading Parachain that supports decentralized applications (dApps) development with Ethereum Virtual Machine (EVM) and WebAssembly (WASM), has officially entered the United States crypto space, as its native ASTR token is now listed on the Binance US exchange.
Per a press release shared with crypto.news, Binance US started accepting ASTR deposits on Sept. 13 at 8:00 EDT, with trading expected to go live at the same time on Sept. 14. Binance US users will be able to trade ASTR against the USDT stablecoin as well as the fiat USD.
As with all token listings, ASTR's availability on a regulated exchange like Binance US will significantly boost the image of the project, while also giving US residents exposure to both the token and Astra Network's smart contract.
An Important Milestone
It's worth noting that the listing of the ASTR token by Binance US represents a massive milestone for the project, as the country's crypto regulatory policies are regarded as one of the strictest in the world, and exchanges are only allowed to list tokens that meet strict criteria.
Specifically, for any digital asset to get listed on Binance US, that token must meet the exchange's Digital Asset Risk Assessment Framework, solve real-world problems, and its underlying technology must be secure to transact with and build upon.
At the time of writing, only 100 cryptocurrencies out of the more than 600 crypto assets available on Binance global are listed on Binance US and ASTR has now scaled that very high hurdle, making it the first token from the Kusama and Polkadot ecosystems to go live on Binance US.
Astar Network Founder and CEO, Sota Watanabe said:
"We are very excited to officially enter the American market through Binance US. Since closing our last funding round, led by US investors like Polychain and Coinbase, entering the US market has been a top priority. Astar already has a strong presence in Asia, especially Japan, and now we have an opportunity to follow suit in the US with our localized team."
Astar Gaining Traction in Asia
In addition to making inroads into the U.S. market, Astar Network is also gaining significant traction in Asia, as a survey recently conducted by Japan Blockchain Association found that the project is more popular than even Ethereum, Solana, and Avalanche in the region.
Notably, Watanabe embarked on a tour of Japan recently and held discussions with city majors concerning Web3 use cases in the country. He is also set to become an advisor to GMO, one of Japan's largest internet firms, and Dentsu, its largest advertising company.
As part of its drive to foster blockchain interoperability, Astar recently connected to Moonbeam Network, and the integration will lay the foundation for the launch of WASM projects and encourage devs to build unique use cases on Astar that leverage Polkadot's powerful cross-consensus messaging (XCM) format.
Astar Network is supported by all major exchanges and Tier-1 venture capitals. To accelerate growth on Polkadot and Kusama Networks, Astar Space Labs offers an Incubation Hub for top TVL dApps.