Bancor's (BNT) Trading Volumes Spike 470% after v2.1 Launch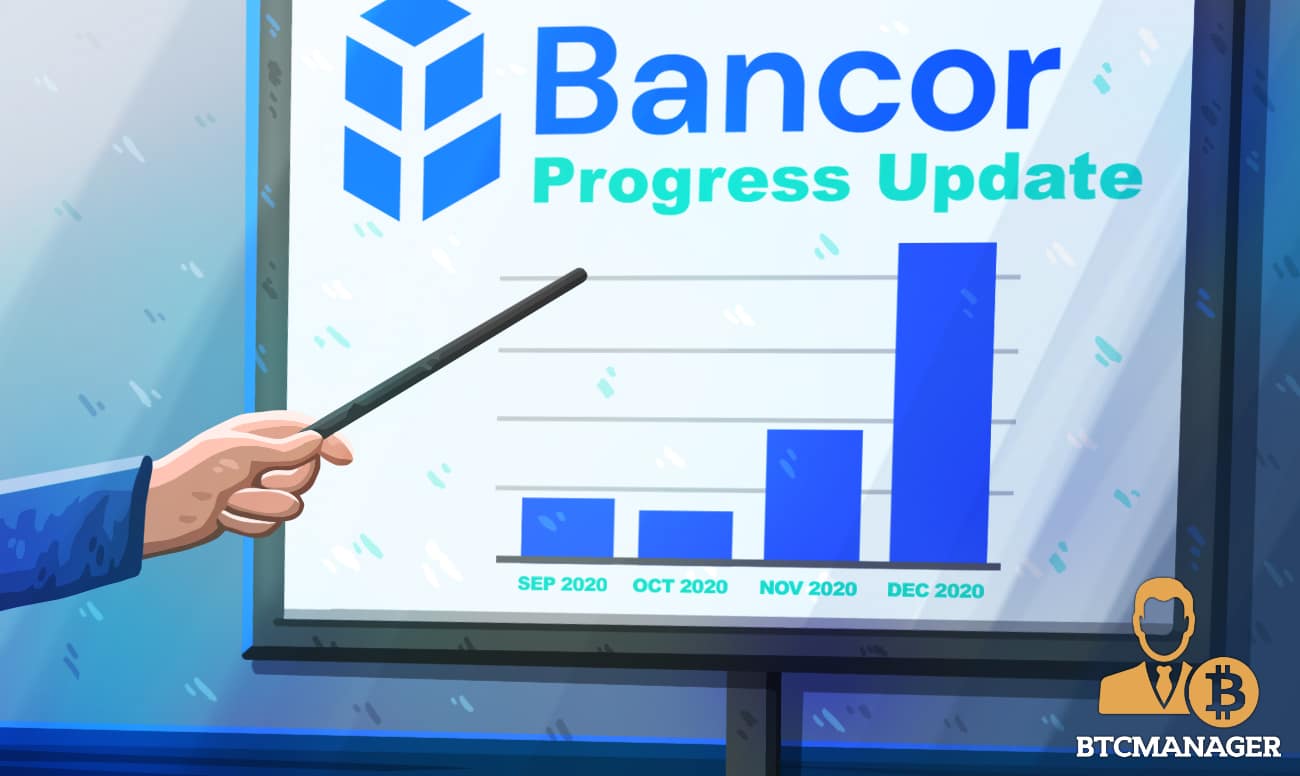 Bancor, one of the world's leading decentralized exchanges active in Ethereum and EOS, broke several records in December as per the latest monthly recap on Dec 31.
TVL Rises 6.7X
According to the summary, the network's trading volumes and liquidity rose to new all-time levels, roughly two and a half months after the release of Bancor V2.1.
Data from Defi Pulse, a site that tracks DeFi protocols in Ethereum, shows that Bancor's monthly trading volumes soared 470 percent. At the same time, total assets under management rose 6.7X to $134 million on Dec 30.
It was in December that the BNT token was also listed on Coinbase.
Bancor's Total Value Locked (TVL) has since risen to $142 million at the time of writing. The protocol now holds 18.2k ETH, down 1.2k ETH in the last day.
This is a 14X increment from late October 2020, signaling the popularity of decentralized finance protocol and trustless swapping of popular ETH and EOSIO-based digital assets.
Bancor v2.1 Mitigates Against Impermanent Loss
Unlike the architecture taken by centralized exchanges like Coinbase and Binance, most decentralized exchanges, including Bancor, use the Automated Market Maker (AMM) for order matching.
Here, there is an avenue for users (liquidity providers) to supply liquidity in a pool, enabling traders to swap tokens. In return, and to incentivize participation, liquidity providers receive a share of fees.
However, one of the major blips in this model is the impermanent loss problem. To counter this, Bancor v2.1 introduces a single-side exposure to AMM pools through elastic BNT supply.
The protocol co-invests with the liquidity provider, via a DAO, for single-side token exposure helping mitigate against impermanent loss problems.
Adding More "Protected Pools"
Initially, the program kicked off with 60 protected "AMM Pools" in Ethereum. It has since been extended. In December, more tokens were included in some AMM pools enabling BNT liquidity mining.
Now, SNX and AAVE governance tokens will receive liquidity mining rewards for three months, joining the likes of ETH, LINK, WBTC, DAI, and six other tokens.
In January, Bancor will activate Liquidity Mining rewards and Joint Liquidity Mining. Presently, this program's code is being audited by third parties.
However, once it goes live, liquidity providers will claim pool rewards, re-stake in the same or different pools for even more BNT bonuses.
In September 2019, as per a BTCManager report, Bancor restricted US-based traders from accessing its exchange, citing vague regulations in the United States.