Bank of America Prohibits Customers From Purchasing Cryptos Using Their Debit & Credit Cards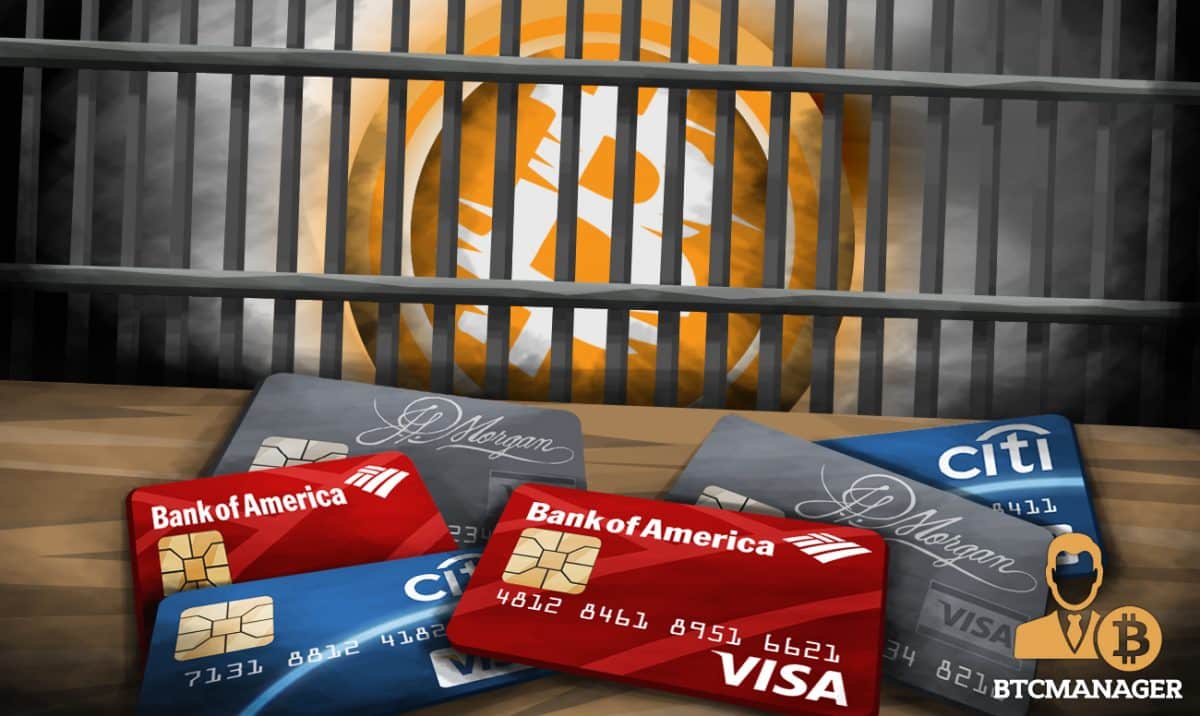 In an interview on CNBC, Catherine Bessant of the Bank of America (BofA), said cryptocurrencies as payment system are "troubling," as it makes it difficult to catch those who make use of the virtual currency for illegal transactions. Therefore, BofA will disallow the use of its credit or debit cards for the purchase of virtual currency.
Crypto Is "Troubling" as a Payment System
Bessant said:
"As a payment system, I think it's troubling, because the foundation of the banking system is on the transparency between the sender and the receiver, and cryptocurrency is designed to be nothing of the sort. In fact [it's] designed to be not transparent."
While expressing her view on the cryptocurrency's underlying technology, she said- there's a need for the distributed ledger technology, but cryptocurrencies themselves are bad as a tool for making payments as they are not built to for transparency.
The banking system itself was based on transparency, especially with financial transactions between two parties. Cryptocurrencies, on the other hand, are meant to keep both sides of the transaction hidden. The challenge has made it extremely difficult for the police and relevant authorities to clamp down on several illicit activities which includes cryptocurrency theft by cyber attackers.
"The way we sort of quote-unquote catch bad guys is by being transparent in the financial moment of money," she mentioned in her statement, "Cryptos is the antithesis of that."
Cryptocurrencies Can Crush Mediators
Despite the bank's decision to not allow it's customers from using their debit and credit cards to purchase digital currencies, they have not held anyone back from purchasing cryptocurrencies for investment via any other means.
It's now clear that the battle against cryptocurrencies, be it bitcoin or other alternative cryptocurrencies, has taken a new level as it is considered as a mode of payment rather than asset class. It's only not being accepted as a mode of payment as it breaks all rules to be linked to a real person.
There are certain advantages as well as disadvantages of this, but the benefit far outweighs the downside if taken into deep consideration. It should be clear that before the invention of cryptocurrencies, there have been various cases of illegal transactions. On the other hand, cryptocurrencies aimed to eliminate mediators which stood as intermediaries between two parties.
With cryptocurrencies, transactions can be made without the burdensome transaction fees imposed by mediators. Cryptocurrencies will also help to make payments globally a more straightforward process than it used to be. All the criticisms about the new technology, even by prominent people have only resulted in the crypto market growing even further.
Are cryptocurrencies threat to existing inefficient banking system? Share your views in the comments section.