BAYC prices plunge as BendDAO lists 31 BAYCs in liquidation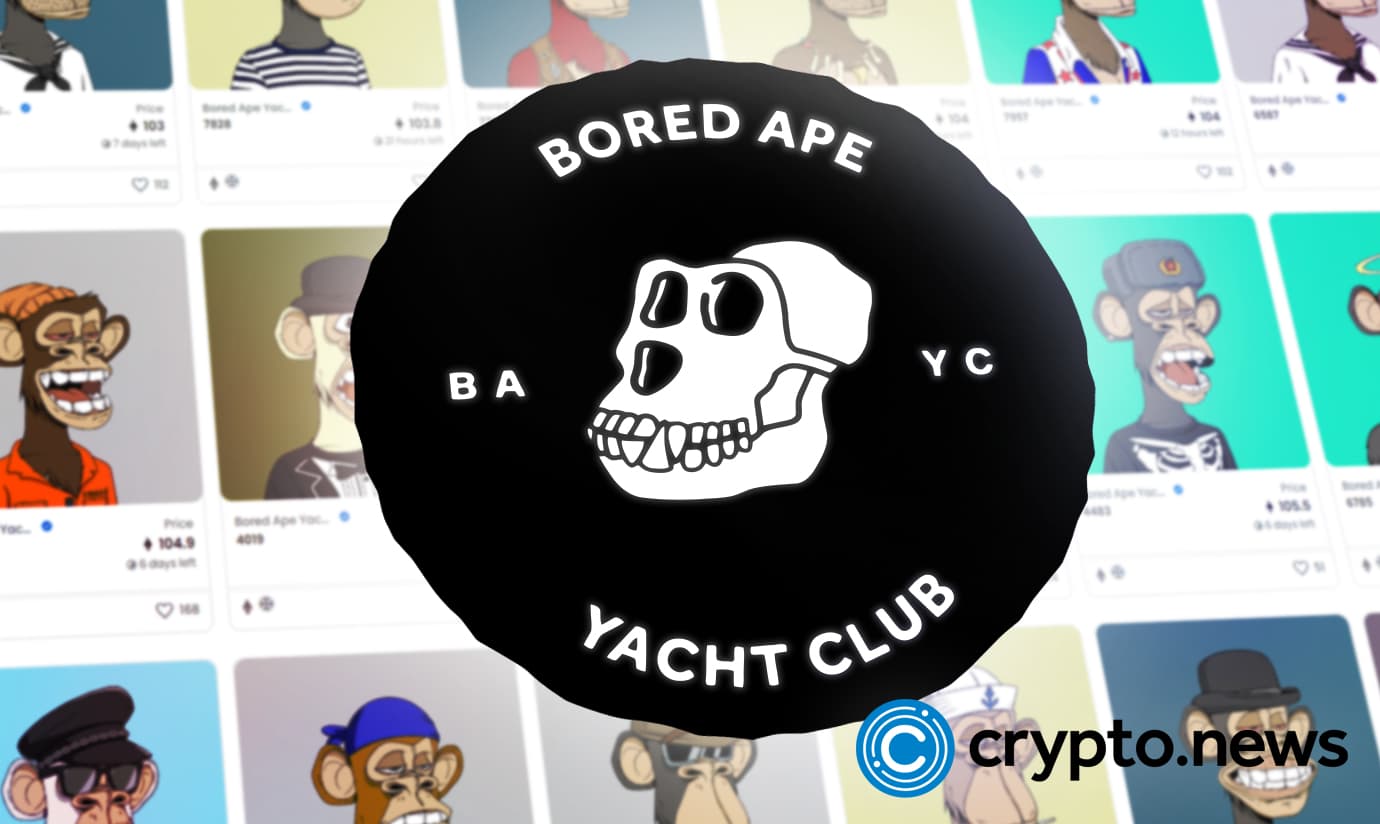 BAYC prices take a daily nose dive as the crypto world experience hard times.
BAYC sells at 50 ETH, lowest in many months
A Popular Ethereum project, the Bored Ape Yacht Club, is experiencing a drastic drop in prices as ETH falls and owners potentially panic-sell their valuable NFTs.
BAYC's floor price is now around 50 ETH across OpenSea, x2y2, and Blur marketplaces. On OpenSea, where the floor price is 52 ETH, there have been 11 wETH offers accepted in the past 24 hours.
CryptoPunks have also passed BAYC for the No. 1 spot on Lucky Trader's NFT Power Rankings. All this despite the news of Yuga Labs (parent company of both Punks and Apes) and its acquisition of Beeple-backed 10KTF. As BAYC prices continue to drop, BendDAO has listed about 31 BAYCs in its liquidation auction as the price continues to fall.
Most of the NFT market is down as the crypto world continues to deal with the after-effects of the bankruptcy of FTX, one of the largest exchanges in the world.
Yuga Labs acquires WENEW
Amidst this price crash of its celebrity NFT, Yuga Labs, the parent company behind Bored Ape Yacht Club (BAYC), has acquired Web3 ecosystem WENEW and its flagship NFT collection 10KTF, adding to its growing portfolio of popular non-fungible (NFT) projects.
10KTF is an interoperable digital storefront where holders from top NFT collections (BAYC, Cool Cats, Moonbirds, and others) can mint and collect one-of-a-kind NFTs featuring their digital avatar on various metaverse-ready digital wearables. The collection has attracted legions of devoted community members, gaining popularity by releasing serialized and narrative-driven content from fictional shop purveyor, Wagmi-san.
"We're excited to join Yuga and continue building amazing things in NFTs and web3 together."

They said in a statement.
Following the acquisition, Figge will join Yuga's leadership team as the Chief Content Officer, responsible for pushing the boundaries of imagination and creativity at Yuga through out-of-the-box content strategies and experiences. Beeple, aka Mike Winkelmann, will join Yuga Labs as an advisor.
In addition to Figge, nearly 20 WENEW employees will move to Yuga, bringing Yuga's full-time staff to over 100 people worldwide.
Arguably the most successful NFT project, the Bored Ape Yacht Club (BAYC) is a collection of 10,000 uniquely generated bored apes stored on the Ethereum blockchain. Launched on April 23, Bored Ape Yacht Club had a mint price of 0.08 ETH, and the collection sold out on April 30, 2021. Since its launch, the project has dropped multiple companion collections, including Bored Ape Kennel Club, Mutant Ape Yacht Club, and Other Deed for Otherside. It has helped onboard several high-profile and celebrity collectors to the NFT ecosystem.
WENEW is an NFT powerhouse known for web3-centric partnerships with celebrated brands such as Louis Vuitton, Playboy, Wimbledon, Gucci, Puma, and others; in addition to these high-profile collaborations, WENEW is home to the narrative-driven NFT collection, 10KTF.