Binance Labs invests in Ankr, a Multi-chain Infrastructure Provider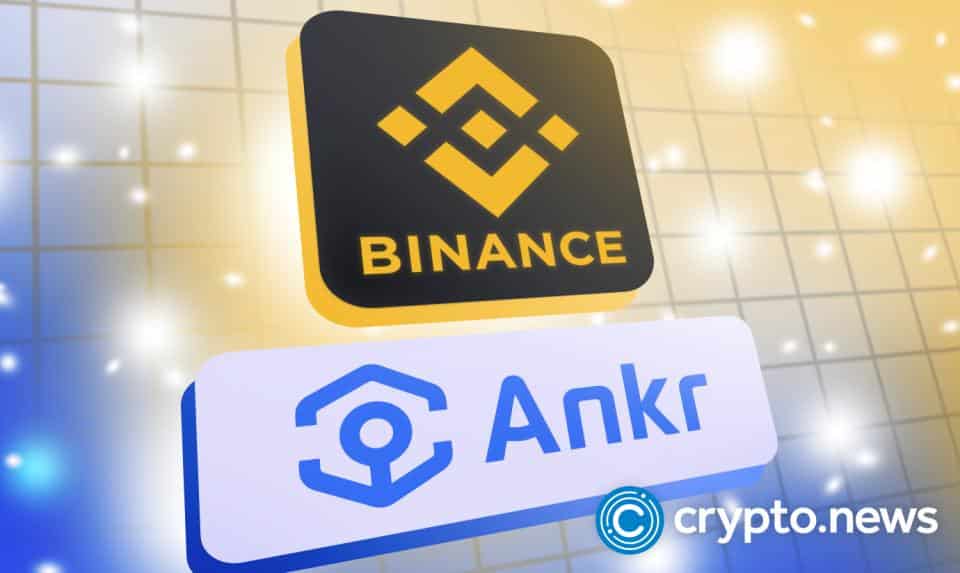 Ankr, one of the top infrastructure providers priming several blockchains, including the fast-growing and vast BNB Chain ecosystem, has received a strategic investment from Binance Labs, the venture capital and innovation lab for Binance.
Ankr Receives Funding from Binance Labs
In a press release on August 11, Ankr said it would proceed to accelerate improving and expanding its RPC service. On average, Ankr receives over seven billion daily requests in the more than 18 layer-1 networks it hosts its RPCs.
Ankr's immediate objective following funding from Binance Labs is to build out a blockchain developer suite comprising a wide array of services, including its liquid staking and blockchain gaming Standard Development Kits (SDKs) and its Apps-as-a-Service (AaaS) solution.
By doubling its effort on making the BNB Chain more robust, Ankr is demonstrating its commitment to helping scale one of the most active smart active platforms by dApp count and activity. According to Ryan Fang, the Chief Operating Officer at Ankr, the infrastructure provider will help make BNB Chain-based DeFi protocols more composable through their BNB Liquid Staking solution. This feature brings DeFi composability on top of staked BNB. Accordingly, BNB holders have several options for increasing their revenue streams through DeFi protocols on the BNB Chain. Also, Ankr aims to expand the Binance Application Sidechain (BAS) ecosystem to enable the implementation of innovative use cases that demand highly scalable infrastructure.
Commenting, Ryan said:
We are very excited to count Binance Labs as a strategic investor. BNB Chain is the chain with the highest number of daily transactions and active users. We are committed to further supporting BNB Chain, enhancing BNB token utility by enabling DeFi composability using BNB Liquid Staking, and expanding the Binance Application Sidechain (BAS) ecosystem to enable innovative use cases requiring a highly scalable infrastructure and other innovative infrastructure services opening the gates to permissioned sidechains.
Ankr Builds to Make the BNB Chain More Robust
Binance Labs' investment in Ankr following the platform's tireless contribution to making the BNB Chain more scalable, usable, and robust. Through their continued support to strengthen the network, end users and protocols deployed end up as major beneficiaries.
Over the recent past, Ankr has initiated several upgrades such as the Erigon upgrade, Archive Node upgrade, and the latest BNB Application Sidechain (BAS) scalability solution. Subsequently, this has led to better services, accelerating the adoption of blockchain solutions across the board.
Through the Erigon upgrade, for instance, the storage requirement for node operators and dApp owners dropped by 75 percent. At the same time, the improvement increased RPC request performance by a massive 10 percent.
Binance Labs has invested in over 180 Projects
Ankr is one of the over 180 projects to find support from the venture capital. Before investing in a project, Binance Labs thoroughly assess the project's founders and proposal.
In May, Binance Labs announced the launch of Season 4 of its incubation Program with 14 early-stage startups after successfully incubating leading projects like Polygon and Perpetual Protocol.
As Crypto.News earlier reported that Coca-Cola announced launching a surprise NFT collection on Polygon.