Bitcoin Banknotes of Low Value Launched in Singapore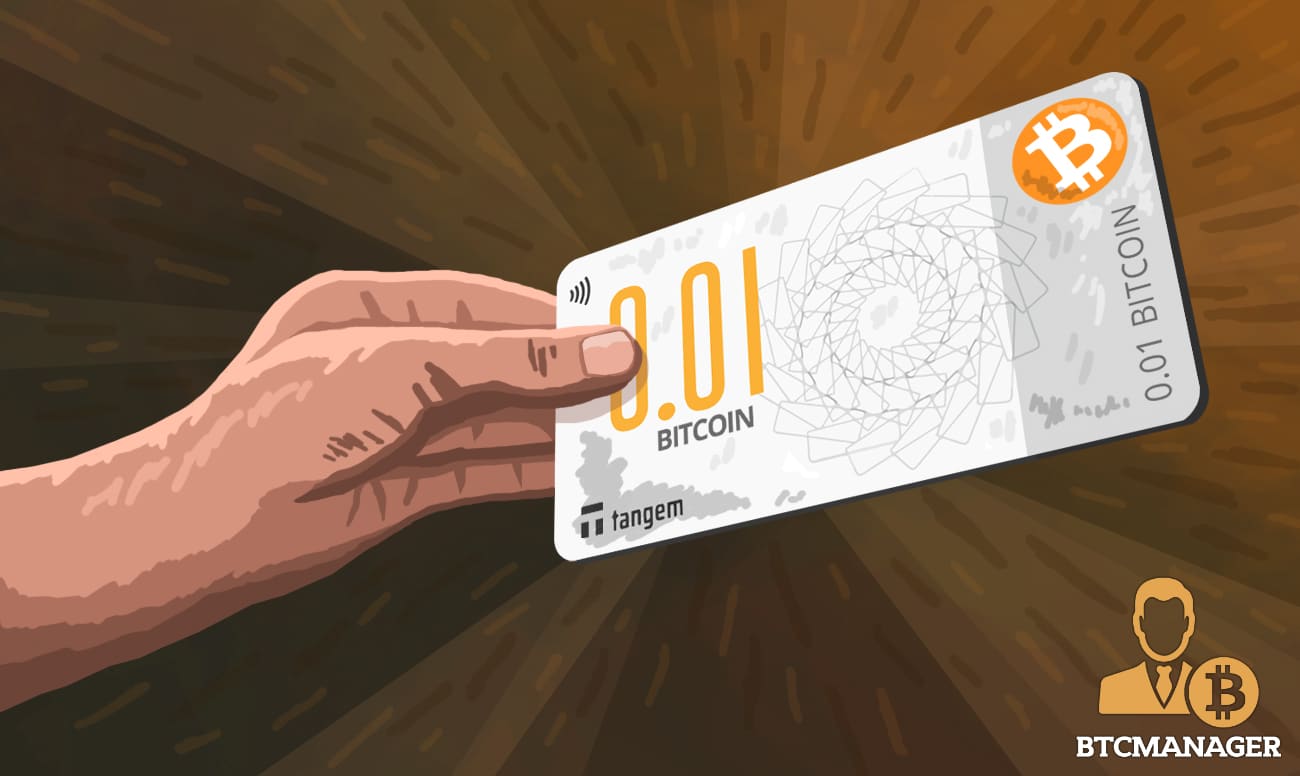 The sovereign city-state Singapore is going to be the first country to issue  Bitcoin (BTC) banknotes or smart notes for hardware storage. Tangem, the company behind the notes, announced the launch on May 3 at the Megafash Suntec City store in the island nation.
Tangem's banknotes are available in lower denominations of 0.01 and 0.05 BTC. At current bitcoin prices, these would amount to $93 and $465 respectively.
Tangem is headquartered in Zug, Switzerland and has a presence in Hong Kong, Israel, Russia, Singapore, South Korea, and Taiwan. The company stated that it would ship 10,000 production units to retailers across the globe for commercial pilots.
Physical Bitcoins
The banknote is not per say a paper/plastic equivalent of any fiat, instead of a smart note with an S3D350A chip manufactured by Samsung Semiconductor. The bitcoin banknotes have one similarity with fiat currency notes which is that they represent a set of value and can be administered physically at an outlet. These notes are unique as they are self-contained wallets in themselves with a private key to be used.
Tangem notes can be handed over to the retailer along with its blockchain private key. They cannot be restricted by technology limitations and are anonymous. These wallet-notes use high-grade EAL6+ protection for all cryptocurrencies. The uniqueness of chip technology guards the wallet against attack vectors on hardware and software levels. The sophistication of chip technology over the years with debit and credit cards has given a highly secure product and made the "cost of hacking a single banknote uneconomical."
With an NFC-capable mobile device, you can check the value of a Tangem bitcoin note to ensure it is valid. The open source code for Tangem's Android and iOS apps are available on GitHub and Tangem stated on May 3 that Swiss security firm, Kudelski Group, has completed an extensive review of the code relating to the product itself.
Tangem believes that the bitcoin smart notes are in demand as only five million people actively trade cryptocurrencies, i.e., people having over $100 in crypto and there are most probably 20 million wallets. Bitcoin smart notes will even draw in institutional investors to the crypto space.
Will Tangem draw in the interest of traditional investors? Share your views in the comments section.