Bitcoin Miner Puts Billboard Outside Buffett's Office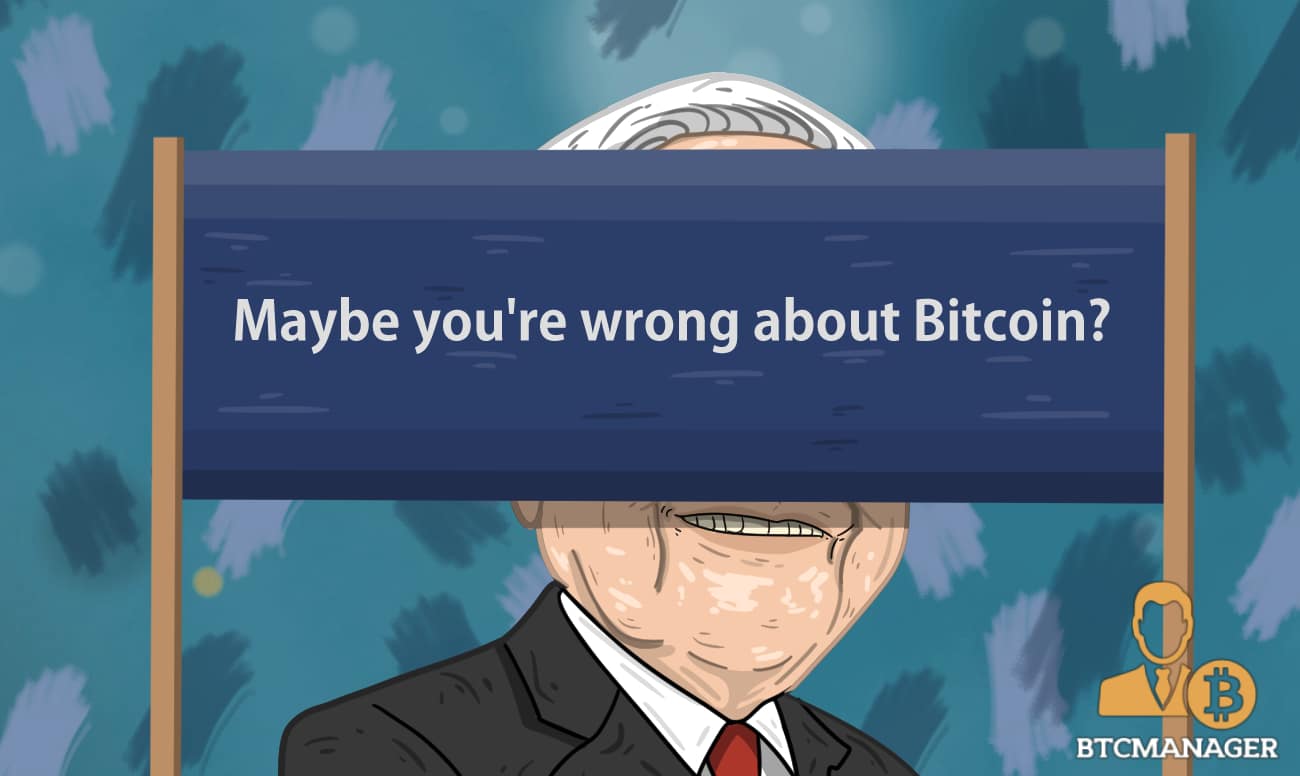 Bitcoin skeptic Warren Buffet is goaded by Mining firm that put in place a billboard saying "Maybe you're wrong about bitcoin."
Bitcoin came into the scene in 2009 and since then, and it has continued to grow steadily. With its highs and lows, it is getting new converts daily which has increased its popularity in a short space of time. But there are still more people who have adamantly refused to believe in its prospects or invest in it. There are lots of people who see digital the currency as a sham, partly because it upsets the centralized policy in place, and also because they see it as a Ponzi scheme.
In 2018, however, its price and the price of other leading cryptocurrencies have nosedived, as against the very impressive rise their prices had in 2017. Bitcoin has declined by 40 percent since the start of this year. There have been several warnings not to invest in this bubble, as it has often been described. While others have heeded the warning and stayed clear of the cryptocurrency, many others believe it is here to stay and are ready to school "unbelievers" about its prospects
The Billboard Game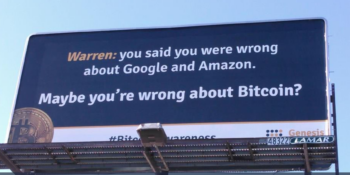 Source: Twitter
Warren's stance on cryptocurrency has not gone down well with everyone. On May 16, 2018, a cryptocurrency mining company claimed to have put billboards near Warren's Omaha office, trolling him.
Marco Krohn, co-founder of Genesis Mining, he tweeted the picture of the billboards with the caption "Some new billboards outside Warren Buffett's office!" The billboards read: "Warren: You said you were wrong about Google and Amazon. Maybe you are wrong about Bitcoin."
With a hashtag having the words "BitcoinAwareness," the billboards were in allusion to Warren's admission that he was wrong about not investing in Google and Amazon in their early days. Marco thinks the billionaire is wrong in his stance on bitcoin so far and believes that the cryptocurrency is here to stay.
Buffet: The Skeptic
Warren Buffett, chairman, and CEO of Berkshire Hathaway is a longtime skeptic of bitcoin. The Oracle of Omaha, whose words investors all over the world consider sacrosanct, believes that it is unwise buying Bitcoin as he believes it's more of a gamble than an investment. He thinks that cryptocurrencies will come to a bad ending and has solemnly sworn not to invest in them. Concerning cryptocurrencies, Warren believes, almost with certainty, that the craze will have a bad ending.
In May 2018, his stand on cryptocurrency was reiterated in at the Berkshire Hathaway 2018 annual shareholder meeting held on May 5, in Omaha, Nebraska, this time calling it "rat poison squared," according to CNBC. On May 7, he went further to say that bitcoin creates nothing and calls it a non-productive asset because the buyer has to rely on the next person to pay more and both of them are excited because of the next person coming along. Berkshire Vice Chairman and longtime confidant of Warren, Charlie Munger, joined his voice to Warren's, in referring to bitcoin as poison and called cryptocurrency trading "just dementia."